WASHINGTON ― Despite failing to pass any major piece of President Donald Trump's agenda, Senate Republicans joined their House colleagues for August recess on Thursday, heading out of town for 33 days with looming legislative deadlines and no clear path forward on health care.
Senators headed for the airport after passing a largely noncontroversial FDA user fee bill, but recess really started late last week, when Republicans were dealt an embarrassing floor defeat of their most modest health care plan to date. And even though Senate Republicans spent four days this week approving Trump administration nominees and discussing new legislation that could potentially ― technically ― serve as their long-promised "repeal and replace" of Obamacare, Republicans leave Washington with almost nothing to show for seven months of unified control of the government.
Instead, GOP lawmakers are 12 scheduled legislative days away from a government shutdown and a potential debt ceiling crisis. They are no closer to an alternative for the Affordable Care Act than they were months ago. They have no infrastructure bill. No plan for tax reform. Neither chamber has even approved a budget, which would be a necessary prerequisite for the GOP to pass a tax plan through budget reconciliation, a parliamentary procedure that requires a simple majority instead of the filibuster-proof 60-vote threshold.
Majority Leader Mitch McConnell (R-Ky.) said this week that Republicans plan to start on tax reform after Labor Day, with the House moving first as mandated constitutionally. But there's little agreement within either chamber about what tax reform should look like. The only thing Republicans seem to agree on is that they want to cut rates. How they do that, by how much, for whom, whether cuts should add to the deficit, whether they should be offset, how they should be offset ― all those questions remain unanswered.
With all of those details unresolved, there are plenty of ways for tax reform to fall apart just as health care did, particularly if Republicans continue to rely on only GOP votes to rewrite massive parts of the tax code.
On health care, Republicans have refused to admit total defeat, with senators sending out new legislative proposals to be scored by the Congressional Budget Office during the August break. When HuffPost asked Senate Republicans this week whether it was appropriate for them to be leaving town without their promised health care bill passed, the best answer lawmakers could muster was that the CBO needed time to score their proposals. In the words of Sen. David Perdue (R-Ga.), "the wheels of this bureaucracy keep turning."
But Republicans have nonetheless started to acknowledge that there may not be a viable path forward. Certainly, a sweeping bill to end Obamacare looks as if it has returned to its death, and every day the legislation lies dormant, the zombie bill gets closer to never being revived.
One of the immediate priorities for the House and Senate when its returns on Sept. 5 will be keeping the government open.
The appropriations process has effectively broken down in Congress, with neither chamber approving top line spending numbers for the next fiscal year in a budget, so a continuing resolution looks likely.
Before they left for August break last week, the House was able to pass a so-called minibus ― a downsized omnibus bill that encompassed four of the 12 appropriations bills ― but that legislation is going nowhere in the Senate, and most lawmakers acknowledge that a regular appropriations process where Congress approves individual spending bills is hopeless. Instead, a continuing resolution simply pushing back the funding deadline seems like the best bet, with perhaps a few side deals to win over Democrats and some reluctant Republicans.
One of the hot topics in the Senate this week was whether, in the absence of a GOP health care plan, Congress should stabilize insurance markets and take a potential grenade out of Trump's hands by appropriating so-called Cost Sharing Reduction payments. Some Republicans ― such as Trump ― characterize those Obamacare payments as a "bailout" for insurers, but the payments just reimburse insurers for the lower rates they charge low-income individuals.
However, because Congress never specifically authorized those payments after Obamacare passed, the Trump administration has threatened to halt the CSRs and throw health insurance markets into chaos. Amid the threat of the administration stopping the payments, some insurers have raised prices next year by roughly 20 percent ― all because Congress hasn't acted and Trump has expressed a willingness to blow up the markets to prove a political point.
Democrats could insist that CSR payments be part of a continuing resolution, just as Republicans could insist that some of Trump's funding for a wall on the U.S.-Mexico border be included.
But, at the same time, the threat of the government reaching its debt limit is drawing closer. If, as expected, Congress attaches raising the debt ceiling to a continuing resolution, conservatives may not vote for that legislation without either structural spending changes or adjustments to how the U.S. prioritizes debt payments. Neither of those changes look likely, meaning a healthy number of Republicans in the House may just vote no, which could give Democrats more leverage in the negotiations, leading to a deal that may hew even further away from Trump's priorities.
If Trump doesn't find any deal sufficient, he may just veto it, shutting down the government and potentially giving Democrats another data point in their argument that Republicans can't govern.
Trump is the wildcard in all of these negotiations. In the aftermath of the health care bill falling apart, Republican senators have blamed the White House for its lack of a plan. Sen. Lindsey Graham (R-S.C.) said Wednesday that Trump's willingness to endorse any bill ultimately sidetracked the process. "If you're for everything, you're for nothing," he said.
But Trump has been pointing fingers at Congress for their failure on health care. He said over the weekend that Senators shouldn't vote on anything else before taking another run at health care ― advice that senators promptly ignored.
"We've got business to do up here," Sen. James Risch (R-Idaho) said this week, "and the first branch of government operates differently from the second branch of government."
Even with his lowest approval rating to date, Trump continues to kick lawmakers in the shins. After reluctantly signing a bill this week to impose sanctions on Russia ― legislation Trump only seemed to sign because it passed with veto-proof majorities in both chambers ― Trump dinged Congress for worsening relations with Russia.
"Our relationship with Russia is at an all-time & very dangerous low," Trump tweeted. "You can thank Congress, the same people that can't even give us HCare!"
The president seems to think he can blame Congress for his lack of accomplishments. He might be right. But he is also relying on congressional Republicans to do his bidding, take fire from voters for unpopular priorities like health care, run interference on investigations like Russia, and ignore his often unpredictable behavior.
At the moment, Trump seems to need Congress more than it needs him.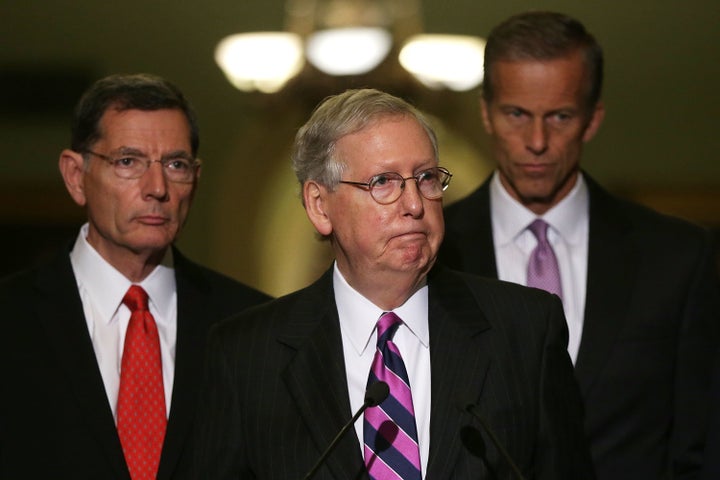 Popular in the Community