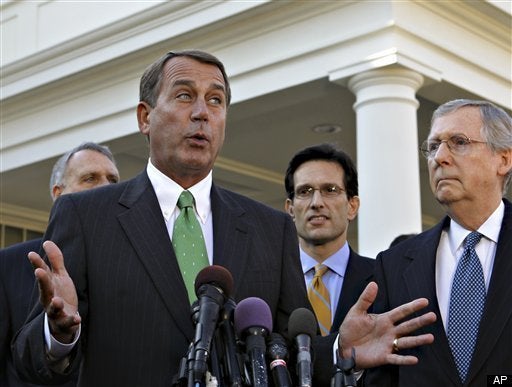 Can it get any worse for the GOP?
Republican popularity has sunk to its lowest point in the party's grand old history, according to new polls conducted by the New York Times, CBS, Wall Street Journal and NBC.
A New York Times/CBS study finds the GOP stuck with a mere 28 percent approval rating, while a Wall Street Journal/NBC poll sees the party struggling even more, at 25 percent.
Both reports noted that today's Republican Party, which has held the executive branch for 20 of the last 28 years, garners less public approval than ever before.
...the poll found that the Republican Party is viewed favorably by only 28 percent of those polled, the lowest rating ever in a New York Times/CBS News poll.
25 percent hold a favorable view of the Republican Party, which is an all-time low for it in the poll.
Democrats fared considerably better in both polls, earning the approval of 57 and 45 percent of the public, respectively. President Obama's ratings were even higher, at 63 and 56 percent.