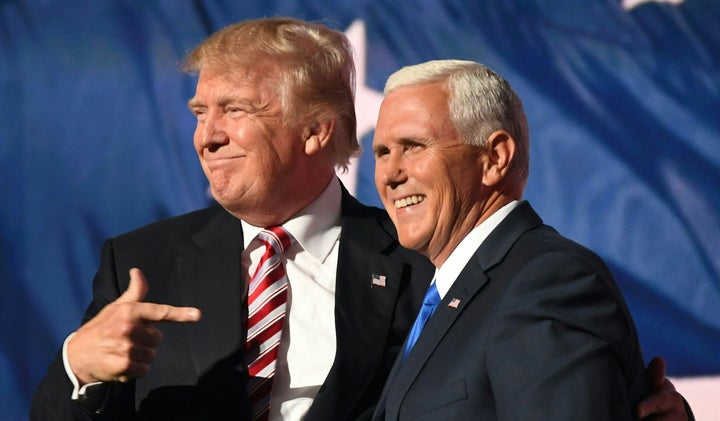 CLEVELAND ― What a year it's been for marriage equality. Same-sex couples can now get married anywhere in the country, and public support for marriage equality remains strong. A majority of young Republicans back same-sex marriage; in the party overall, a new HuffPost/YouGov poll found that most don't care either way on the issue.
But you wouldn't know it by what's going on at the Republican Party's highest levels.
The GOP adopted its most anti-LGBT platform in history at its party convention this week in Cleveland. It advocates going back to defining marriage, legally, as between one man and one woman. It supports adoption agencies that refuse to serve same-sex couples; affirms "conversion therapy," a discredited practice of trying to turn gay people into straight people; calls for banning transgender people from using bathrooms that match their gender identity and endorses controversial legislation that would allow taxpayer-funded discrimination against same-sex married couples in the name of religious freedom.
In a sign of how extreme the platform is, LGBT advocates considered it a victory to see that this year, at least, there is no fear-mongering reference to the "homosexual rights agenda."
But the disconnect doesn't seem to be between the GOP and the rest of the country. Rather, it's a small group of people at the top who are becoming increasingly out of the step with what the majority of rank-and-file Republican voters actually want.
One of the most coveted seats within the GOP is on the platform committee. Every four years, its members draft the official document that defines the goals of the party. For proponents of traditional marriage, retaining seats on this committee is strategic to ensuring the party's platform stays in line with their views ― but not necessarily the views of most party members.
"Frankly, the platform committee is the last stronghold of traditional marriage support, politically, in this country," said Rachel Hoff, the first openly LGBT member of the committee. "It's absolutely not representative of the Republican Party on those issues."
Hoff was part of a small group of committee members earlier this month who pushed for more LGBT-inclusive language in this year's platform. She made an emotional appeal to her peers to "include me and people like me" in the platform and offered amendments to soften the document's language targeting LGBT rights. They rejected all of her amendments.
She saw a silver lining in some of the votes, though. Of the committee's 112 members, 22 voted with her to strike the language in favor of marriage being between one man and one woman. A similar amendment in 2012 only had five supporters.
"So, there's some signs for hope or encouragement, or at least that things are changing," Hoff said. "We've got a long way to go."
"Frankly, the platform committee is the last stronghold of traditional marriage support, politically, in this country."
Walking around the Republican convention, it was clear how much attitudes have changed within the GOP. The vast majority of party activists who spoke to The Huffington Post either said they wished the anti-LGBT language wasn't in the platform or it was non-issue to them. Even many who said they support traditional marriage were confused about why their party continues to focus on it when there are more pressing problems with the economy and national security.
"If I had my way, I wouldn't have addressed [LGBT] issues. No language at all," said Chris Calcagno, 44, an alternate delegate from New Jersey. "But these people from the Midwest, the South, they hammer on those issues. They're really ― they're annoying. But unfortunately, we're wrapped up in this together."
Bill Knowles, a 53-year-old alternate delegate from Georgia, said he's as "conservative as conservative gets" but he thinks it's time for his party to get with the times.
"You know, we're a family values party, but at the same time, family values have changed over the years. And the definition of a family has changed over the years. I think we need to be a little more flexible," he said. "We're not inclusive in a lot of people's minds."
"At my age, it's not important. It's a non-issue," said Howard Kline, a 55-year-old Texan who said LGBT issues weren't something he wanted to make waves on. "It's one of those things ― you just kind of dance with who brung you, you know? If that's what the party wants to do, that's what the party wants to do."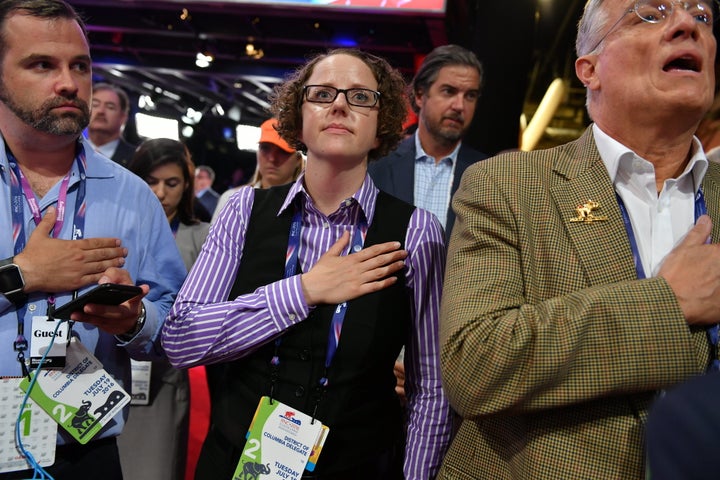 Beyond the platform, there are signs that the 2016 cycle might not get any friendlier for LGBT rights. Last week, Trump chose Indiana Gov. Mike Pence as his running mate, a man who has made a name for himself fighting abortion and LGBT equality. The move was widely seen as a way for Trump to beef up his bona fides with evangelical conservatives, who have been skeptical of him throughout the primary for his changing positions on social issues.
Pence is perhaps best known for waging a high-profile fight for "religious freedom," signing a law last year that could have allowed businesses to discriminate against LGBT individuals. After intense national backlash that cost his state economically ― and embarrassed many members of his party ― Pence backed down and signed a revised version of the law.
Megan Robertson is a GOP strategist in Indiana who helped lead a successful state campaign to stall a proposed constitutional amendment banning marriage equality in 2014. She does not support Trump ― or Pence ― and was more than happy to sit out the convention this year.
"There is literally no place on the planet I would less like to be than Cleveland right now," Robertson said. "Here's the upside: Pence being gone means we can have somebody new in Indiana, and that's exciting ― being able to move forward from what we've seen here. All the stories that everyone was writing about folks being excited that he was moving up because we could get somebody new in there are true."
Robertson, like Hoff, believes that an unrepresentative minority in the party continues to control institutions like the platform committee. And it's giving the GOP a bad name.
"I don't think people are going to read that platform document and say, 'Man, I really want to be a Republican,'" Robertson said. "Some people have got control of the process, and taken over a bit, and it's going to take a little while for that to even out. And it may frankly take us losing more elections, which will inevitably happen if they continue down this route. I mean, conversion therapy? Are you kidding me? It's offensive."
She added, "I'm getting married in November. But my party [where] everyone tells us to unify and shut up is more interested in me going through conversion therapy than me getting married and being in a family. It's really appalling."
Ultimately, Republicans will have to diversify their platform committee if they want their party to moderate its positions on LGBT people. Rep. Marsha Blackburn (R-Tenn.) co-chaired the committee in 2012. HuffPost asked her if she thinks it's important to keep those provisions in.
"You know what? I have not read the platform. I chaired it last time and I haven't read it this time," she said, walking away. "So I'm not going to speak to the platform. I'm not."
Before You Go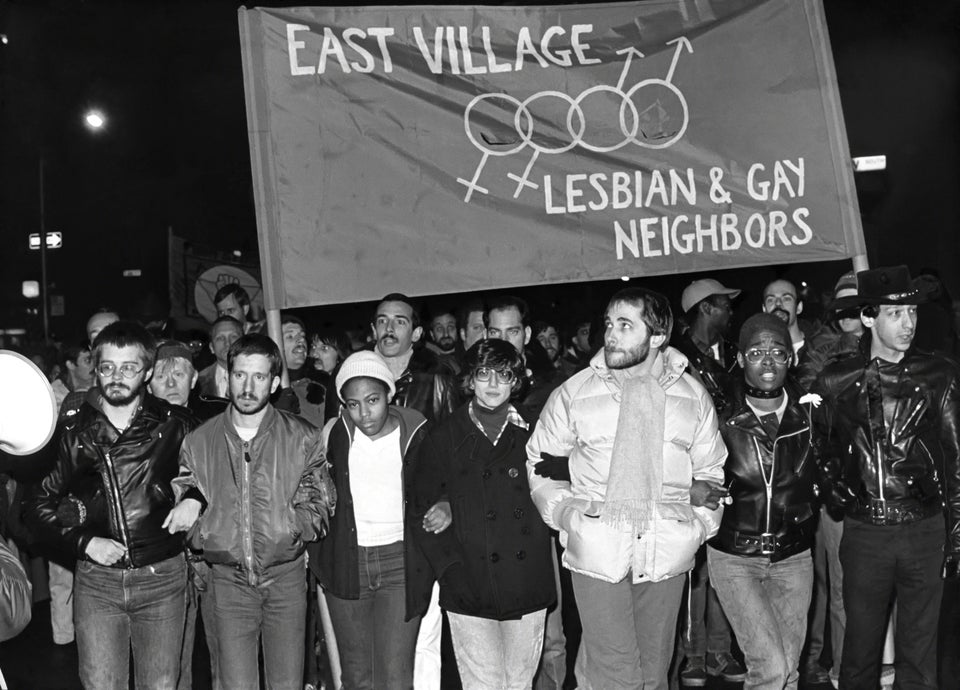 LGBTQ History
Popular in the Community