A new survey of voters in a dozen Republican-held districts indicates that the government shutdown has made the House increasingly vulnerable to a Democratic takeover.
Polling in the districts, conducted by the liberal-leaning Public Policy Polling and paid for by MoveOn.org, follows similar polling that found voters hostile to lawmakers supporting the shutdown.
Democrats need a net increase of 17 seats to retake control of the lower chamber, and the prior polling found 17 Republicans trailing generic Democratic opponents before voters were told they had supported the shutdown. After they were told -- which a Democratic challenger would waste no time doing while campaigning -- another four Republicans fell behind.
In the latest survey, based on a dozen Republicans, five trail Democrats and another is tied. Once voters were told the Republican supported the shutdown, another three fell behind the Democrat.
Of the 36 Republican-controlled districts where voters were surveyed by PPP, 29 of them could flip -- more than enough to give control of the chamber to Democrats.
A generic challenger, however, may paradoxically be stronger than the actual challenger. Democrats struggle to find top-tier candidates to run in midterm elections because it's easier for a Democrat to win during a presidential year. "Democrats aren't yet poised to mount serious challenges to a clear majority of the Republicans running on competitive turf, let alone actually win," wrote Nate Cohn after PPP released its latest batch of polling. "So you should probably take this morning's PPP poll with an additional grain of salt: It's about how House Republicans would fare against a 'generic' Democrat, not the mediocre one they'll face in 2014."
The more vulnerable a House seat looks, however, the easier it is to find a viable challenger.
PPP did not poll Democratic-held swing districts and may have found a similar phenomenon if it had. However, the tea party wave already wiped out many of those, making the remaining Democratic seats harder for Republicans to take over.
The firm's 2012 presidential polling was highly accurate, but surveys it ran in 2011 in GOP-held districts ultimately didn't bear out as well.
Republican operatives note that much can change between now and Election Day, which is 13 months away, especially if a deal on the shutdown is reached that voters find favorable.
Recent polling on blame for the shutdown has been breaking sharply against Republicans, whose party approval is at record lows.
The five new districts PPP finds in immediate danger are California's 25th District, Florida's 27th District, Michigan's 6th District, Pennsylvania's 6th District, and Washington's 8th District.
Before You Go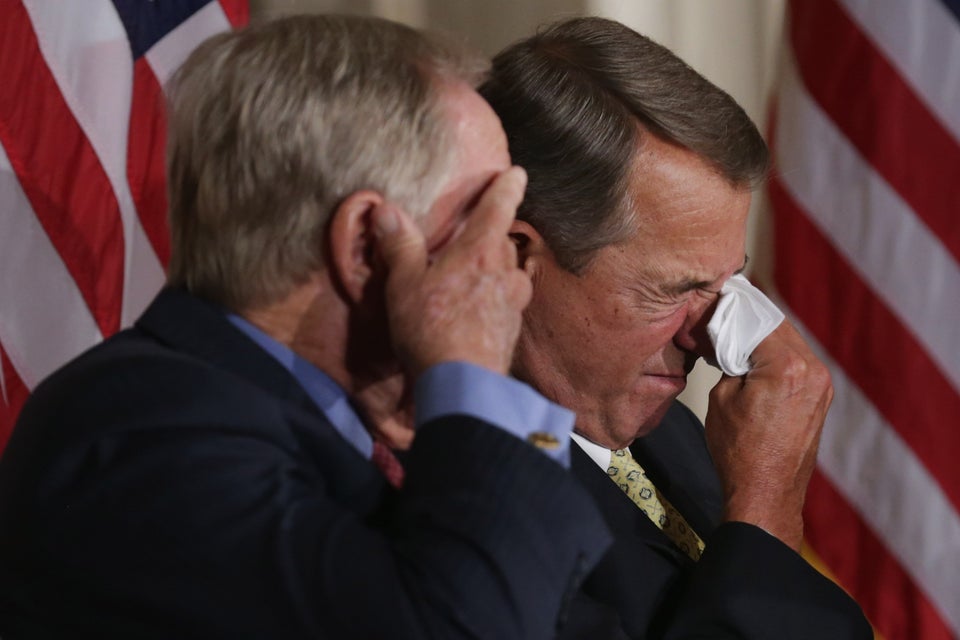 John Boehner Cries
Popular in the Community