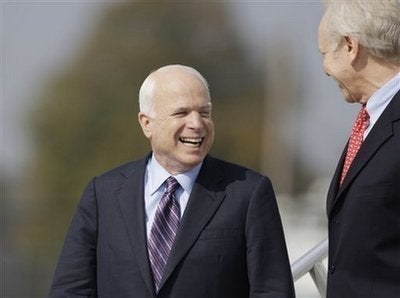 While Barack Obama may be drowning out his opposition on the airwaves, spending copious amounts of cash on television advertisements in key markets, evidence suggests that John McCain is well ahead in one form of political outreach.
The outlets responsible for the 12 documented McCain-favorable calls include the RNC, the McCain campaign itself, and third party organizations. Their work, not surprisingly, is being done across a wide swath of swing states: Michigan, North Carolina, Minnesota, Missouri, Colorado, Wisconsin, Virginia and New Mexico.
On Thursday, Talking Points Memo posted one such RNC/McCain campaign call being made in Virginia, in which recipients are told that "Barack Obama and his fellow Democrats aren't who you think they are... They say they want to keep us safe, but Barack Obama said the threat we face now from terrorism is nowhere near as dire as it was in the end of the Cold War. And Congressional Democrats now want to give civil rights to terrorists."
Obama, by contrast, has had four documented robocalls made on his behalf, but only in two states: Kansas (kind of random) and Missouri.
The findings are a reflection of the financial straits in which the GOP finds itself. Robocalls, as Shaun Dakin, the CEO of the National Political Do Not Contact Registry describes it, "are the tool of the underfinanced campaign and the underdog."
They also tend to be politically ineffective, to the extent that recipients don't always pay attention, don't actually receive the call, or are turned off by the incendiary tones or messages. Occasionally, campaigns will run robocalls that seem to be coming from the opposition because they know voters hate being bothered and will blame the perceived caller.
But this could very well be the playing field that the McCain campaign and RNC have to deal with. And as the campaign winds down, it would not be terribly surprising to see the robocall disparity between Democrats and the GOP groww wide.
Popular in the Community