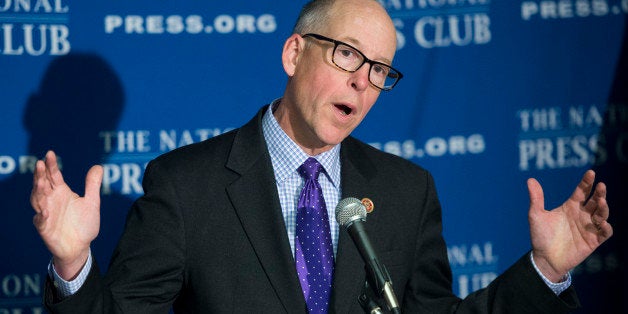 WASHINGTON -- Republicans may gain "six to eight" House seats in this year's elections to retain control of the chamber, the head of the GOP campaign committee said Tuesday.
National Republican Congressional Committee Chair Rep. Greg Walden (R-Ore.) said frustration over Obamacare and policies that he said hinder job growth make the 2014 elections "a better cycle for Republicans."
"Part of what we have been successful at is getting very local -- what matters to the people in that district, wherever that district is," Walden said. "That's how you're going to win a race."
Improvements in the way the NRCC identifies concerns relevant to voters is helping candidates sharpen their messaging around the country, said Walden.
Walden downplayed differences between tea party incumbents and moderate Republicans. The two factions have recently clashed over legislative priorities.
When asked about immigration reform, Walden said he expects GOP colleagues to tackle it "down the road" rather than in the coming months.
"It's a matter of how we go about that and when we go about that to get it right," Walden said. Some Republicans have opposed passing any immigration bills this year.
Walden said the NRCC is aggressively targeting West Virginia's 3rd Congressional District, now represented by Rep. Nick Rahall (D-W.Va.). The NRCC has criticized Rahall over his votes on pollution cap and trade, EPA regulations and funding. State Sen. Evan Jenkins (R) is Rahall's challenger.
"At some point, some of these members, such as Nick Rahall, got to true-up and answer-up, because if he comes back, he's a vote, extensively, for the people who put the people in charge who will do great damage to coal country because his party is headed that way more than the Republican is, certainly. And so I think it really is a problem," Walden said.
Rep. Steve Israel (D-N.Y.), chairman of the Democratic Congressional Campaign Committee, has named Rahall to the committee's Frontline program for endangered Democratic incumbents. The Rothenberg Political Report lists the race as leaning Democratic.
"Rahall has been the overwhelming choice of southern West Virginians because he stands for commonsense values, will protect Social Security and Medicare and will relentlessly fight for good-paying West Virginia jobs," Israel said in a recent statement.
A spokesman for Rahall told The Huffington Post the incumbent has "always put West Virginians first" and "all the rhetoric from the 'Shut Down the Government and Bankrupt America' crowd that Rep. Walden represents won't change that."
Calling all HuffPost superfans!
Sign up for membership to become a founding member and help shape HuffPost's next chapter
BEFORE YOU GO
PHOTO GALLERY
West Virginia Chemical Spill