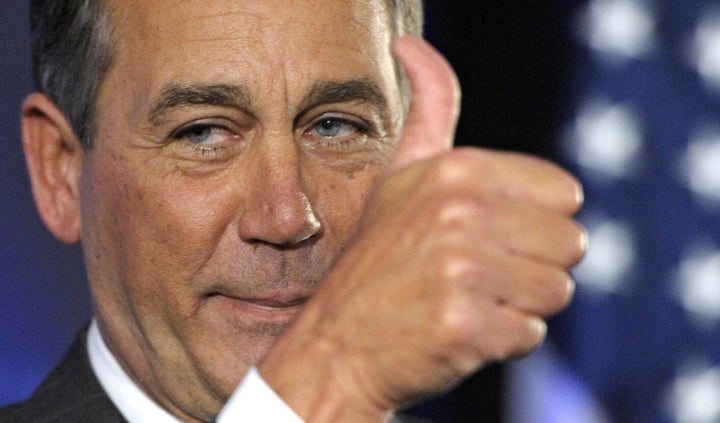 WASHINGTON -- Republicans trumpeted their historic election gains as a sign that the American public is ready for change -- clearing the swamp and renewing the focus on job creation. But so far, it seems like the GOP is unable to resist first going after its longtime nemeses, whipping up the base with fears about groups like National Public Radio (NPR), Planned Parenthood Federation of America and Fannie Mae and Freddie Mac.
On Tuesday, GOP rising star Rep. Mike Pence (R-Ind.) sent out an e-mail asking supporters to donate money to help him take down the pro-choice group Planned Parenthood:
House Republicans vowed to prevent abortion funding in our Pledge to America, and I'm ready to deliver that promise with legislation that will prevent abortion providers like Planned Parenthood from receiving a single dime from the federal government.

But your support is critical. With a new Republican majority, Planned Parenthood is running scared. The fear of losing their federal funding has led them to target me for my pro-life positions. They've even named me to their 2010 Election Hall of Shame for advocating a pro-life agenda on Capitol Hill! But I refuse to back down, so I need to know that you will stand strong with me for the sanctity of life.

Will you take a moment right now to follow this link to make an emergency contribution of $25, $50, $100, $250 or whatever you can spare to help me prevent Planned Parenthood and any other abortion provider from receiving our tax dollars?
"It is reprehensible that Rep. Mike Pence is raising money to advance his political career by playing politics with the health of millions of American women by calling for the full defunding of Planned Parenthood," responded Cecile Richards, president of Planned Parenthood. "The simple fact is that millions of women across the United States rely on Planned Parenthood for their primary and preventive health care, including annual exams, lifesaving cancer screenings, contraception visits, and testing and treatments for sexually transmitted infections."
While many Republicans have advocated staying away from social issues in order to focus on jobs and the economy, Pence has argued that the two are inextricably linked.
"We must recognize that our present crisis is not merely economic and political, but moral," Pence stated in a September speech at the conservative Values Voter Summit in Washington, D.C. "A political party that would govern this great nation must be able to handle more than one issue a time. We must focus on our fiscal crisis, and support our troops. We must work to create jobs, and protect human life and defend traditional marriage."
"Nothing in the Republican agenda is responsive to the jobs issue," said congressional scholar Thomas Mann of the Brookings Institution. "They are counting on the president being held accountable for sluggish growth and high unemployment over the next two years. History supports their view that they will benefit and Obama will suffer if the economy fails to pick up steam. In the meantime, they can energize their base. It's cynical given the pain and suffering in the country but it could work."
Rep. Darrell Issa (R-Calif.), in line to become chairman of the powerful House Oversight and Government Reform Committee, has also indicated that he will be going after Fannie Mae and Freddie Mac. Also on his target list: climate scientists and the much-maligned Environmental Protection Agency.
Popular in the Community