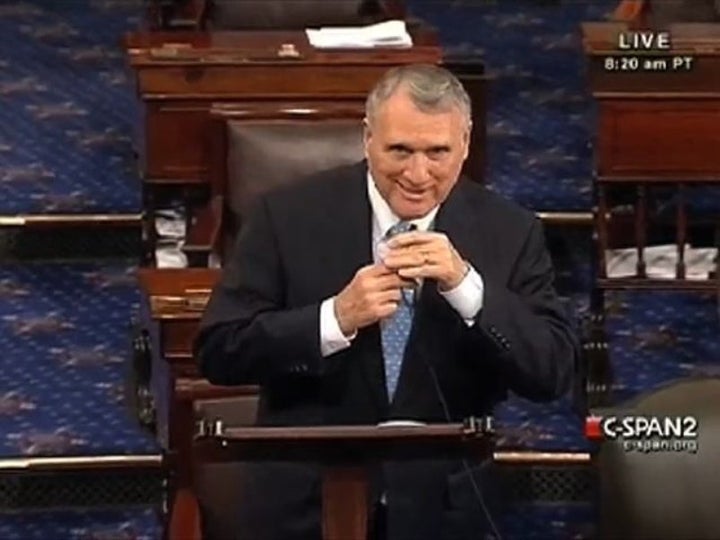 Democrats took to the Senate floor on Tuesday to try to break a logjam that has 101 executive branch nominees backed up. A new Senate rule that aims to make "secret holds" more difficult requires a senator to publicly declare his or her hold six legislative days after the nominee is brought to the floor.
Republican have holds on scores of nominees, so Sens. Sheldon Whitehouse (D-R.I.) and Claire McCaskill (D-Mo.) went to the floor to call up the names, knowing that the GOP would object.
When Whitehouse began, however, the Republicans had failed to show and Whitehouse threatened to ram them all through if they didn't arrive.
"For the record, I'm informed that the minority was aware that I was coming to make these unanimous consent requests, that they had full knowledge that this was going to come, and if they are unable to get somebody to the floor to object, that is, as far as I'm concerned, not my concern," said Whitehouse.
Just seconds later, Minority Whip Jon Kyl (R-Ariz.) arrived, setting off a surreal series of requests and objections that HuffPost's Ben Craw pulled together in the clip below.
Whitehouse read off five names, followed by McCaskill, who read off 17. She returned later in the day and read 58 more. Sen. Byron Dorgan (D-N.D.) asked for one, bringing the total to 81 for the day.
The clock is now ticking on the nominees, though Republicans with holds -- a hold is merely a threat that an objection will be made to a unanimous consent request to proceed to a vote on the nomination -- may be able to wiggle out of going public by dropping their holds and picking them right back up, or teaming up with other Republicans and swapping the holds back and forth. It's never been tried before, so where this is heading is anybody's guess.
In the meantime, there'll be more floor shenanigans, or what McCaskill says her mother refers to as "shizpoodledog."
Video produced by HuffPost's Ben Craw
Popular in the Community