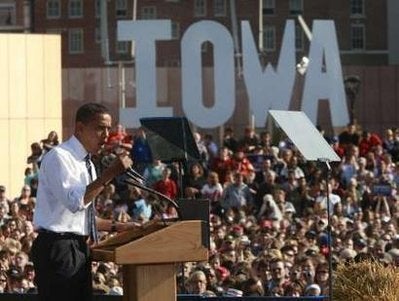 Spokesman Nathan Treloar told the Huffington Post on Tuesday that while he has "seen reports coming out that its Republican lawyers" objecting to student ballots, he claimed "this could be a local thing" at the county level.

RELATED: Check Out HuffPo's Voting Problems Big News Page

Asked whether the state party has encouraged or endorsed the strategy, in which students who did not register to vote by affixing a PO box to their official university mailing address are being challenged, Treloar said "No, not that I have been made aware of." Treloar then suggested contacting the Republican chair in Poweshiek county, where Grinnell is located.
But if the Iowa Republican Party is not eager to be associated with the challenging the ballots of young voters, they have yet to communicate their displeasure to those who are responsible for the tactic.
Reached by phone, Poweshiek Republican county chair Harry Meek not only claimed responsibility for the strategy, but said he had no idea whether the state party backed his move. "Yeah, it was us," he admitted, sounding somewhat resigned. Asked if he knew how the state party viewed their legal challenge of young voters, Meek said, "I couldn't tell ya."
"We were told that Secretary of State in Iowa had made some concessions for students -- as long as they put down the [university] post office address along with a PO box, that was adequate. So the ones we challenged were those that didn't have a PO box. It's real simple, we're just going by the rules. It says so right on the challenge affidavit."
Alec Schierenbeck, Vice President of the College Democrats of America and a student at Grinnell College, sees it differently. "That is a technicality that they're using to try and disenfranchise students," he said, noting that while only 50 votes have been challenged out of 700 early ballots on campus, the result is mass confusion on campus today. "At the last minute, we've had to rearrange the way we are getting out the vote on campus. I fear some voters were disuaded by the idea they're going to go to polls today, and a lawyer is going to harrangue them and shake a book at them. It spreads a lot of disinformation."
Schierenbeck says that all students who cast challenged ballots have been contacted, and are signing statements in advance of a Thursday hearing on the issue. "Given the [last-minute] context of challenge, and the history of way we've registered, we're optimistic these votes are going to be upheld," he said.
"The is a last-minute tactic by a party that's adrift, and has little left to do but disenfranchise people," Schierenbeck added. "That's why the state party has cut them adrift. They don't want to take responsibility for it, either."
Popular in the Community