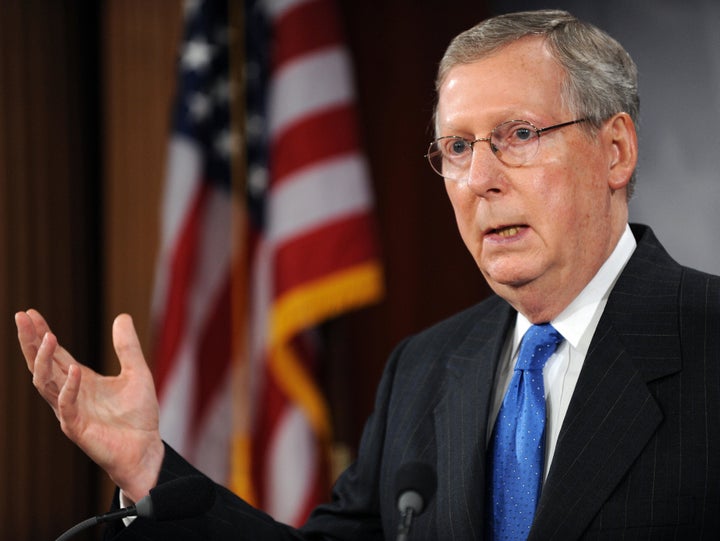 The Senate Republican leader made clear on Wednesday that his party, despite all its griping over the public health insurance option, abortion-funding or health care for illegal immigrants, is simply and flatly opposed to the "core" of the Democratic health care reform proposal.
Satisfying every Republican demand short of scrapping the entire project, said Minority Leader Mitch McConnell (R-Ky.), would still not capture GOP support.
"Senator Kyl and some of the others have talked about some of the things that are happening in committee," McConnell told reporters, referring to Senate Finance Committee Republican Jon Kyl of Arizona.
"But the core point is this: At the end of the day, if the government plan is either in the bill or out of the bill, whether they will be able to argue successfully or not whether tax funds are gonna be provided for abortion, whether or not they will be able to argue at the end that dollars for health care for illegals is in or out, what we do know is what the core of the bill is going to look like. We know that for sure," he said.
And the bottom line, said McConnell, is that Republicans don't like the bill at all.
"It's going to be a trillion dollar bill," said McConnell. President Obama has said he won't sign any bill that exceeds $900 billion over ten years, but what's a few billion?
"We know it's going to have half a trillion dollars in Medicare cuts. We know it's going to raise taxes on individuals and business. So however these other issues are resolved, the core of the bill is a trillion dollar government attempt to take over one-sixth of the economy, which slashes Medicare by half a trillion dollars, and raises taxes on most Americans," he said.
The Finance Committee is currently debating a health care proposal crafted in part to win Republican support. On Tuesday, the committee rejected two amendments that would have established a public option for some patients who couldn't afford private insurance. Every Republican and five Democrats opposed the first amendment; two Democrats flipped to support the second, but it still fell short.
Republican have loudly complained that some of the subsidies to purchase insurance could end up paying for abortion services, which is not true. Republican have also expressed concerns that undocumented immigrants might be able to buy health insurance in exchanges that are set up as a result of reform.

Popular in the Community