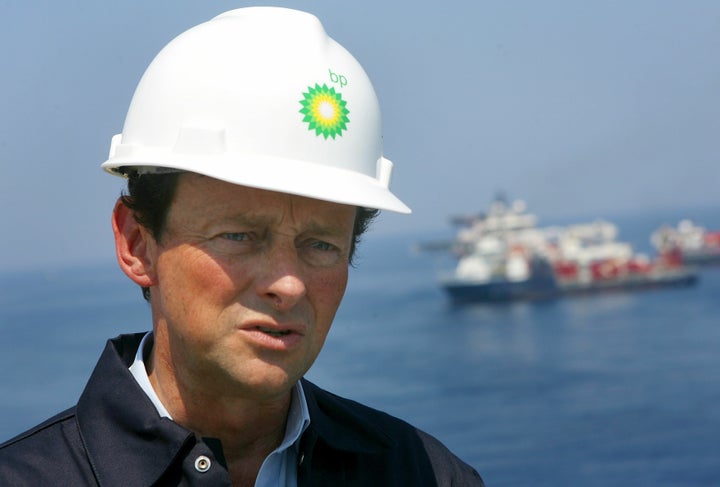 Republicans on the Hill have calculated that President Obama's successful demand that BP set up a $20 billion escrow account to pay out claims is ripe for political attack. In the wake of Wednesday's White House announcement, a host of GOP officials are raising questions about both the process by which the deal was made and the deal itself -- going so far as to apologize to BP on America's behalf.
"I'm ashamed of what happened in the White House yesterday," said Rep. Joe Barton (R-Tex.) during a hearing on Thursday morning with BP's CEO Tony Hayward." I think it is a tragedy in the first proportion that a private corporation can be subjected to what I would characterize as a shakedown -- in this case a $20 billion shakedown -- with the attorney general of the United States, who is legitimately conducting a criminal investigation and has every right to do so to protect the American people, participating in what amounts to a $20 billion slush fund that's unprecedented in our nation's history, which has no legal standing, which I think sets a terrible precedent for our nation's future."
"I'm only speaking for myself. I'm not speaking for anyone else, but I apologize," Barton added. "I do not want to live in a county where anytime a citizen or a corporation does something that is legitimately wrong, [it is] subject to some sort of political pressure that, again, in my words, amounts to a shakedown."
[UPDATED BELOW: Barton retracted his apology Thursday afternoon]
Airing criticisms against the notion of forcing BP to fork over $20 billion in liability revenue would seem like a fairly risky proposition considering just how reviled the oil giant is in the current political environment. And Democrats quickly jumped on the congressman's remark, as well as those from other Republicans, as evidence of a lack of sensitivity for the victims of the spill.
White House spokesman Robert Gibbs during Thursday's daily briefing suggested strongly that Barton should no longer serve as the ranking member of the Energy and Commerce Committee after his apology to BP this morning,

"As somebody who is going to oversee -- as we look into what the company is doing -- to begin by apologizing for the company, I think is an interesting way to start," Gibbs said.

Asked, explicitly if he thought Barton should step down from the position, the press secretary replied: "I will let Republicans make that decision."
"What is shameful is that Joe Barton seems to have more concern for big corporations that caused this disaster than the fishermen, small business owners and communities whose lives have been devastated by the destruction," said Gibbs. "Congressman Barton may think that a fund to compensate these Americans is a 'tragedy', but most Americans know that the real tragedy is what the men and women of the Gulf Coast are going through right now. Members from both parties should repudiate his comments."
"While the President has worked to ensure that BP is held fully accountable to the families and small businesses of the Gulf, Republicans and Joe Barton are proving that they are only accountable to BP and the oil industry," added DNC spokesman Hari Sevugan. "While the President has secured a guarantee of at least $20 billion for Gulf Coast residents, Republicans and Joe Barton have lined their pockets with BP contributions and stock dividends. While the President has gotten BP to rightfully apologize to the American people for their reckless behavior, their inexcusable response and their insulting approach, Republicans are apologizing to BP. Republicans could not have this more backward, and it raises serious questions as to why they are on the side of BP and the oil companies instead of that of the American people."
Indeed, despite saying he was speaking on his own accord (and not on behalf of the Republican Party) but Barton was far from alone. The Republican Study Committee, a group of conservative members of the House, was even less diplomatic with a statement describing the Obama administration's actions as a "Chicago-style political shakedown."
"These actions are emblematic of a politicization of our economy that has been borne out of this Administration's drive for greater power and control," wrote chairman Tom Price (R-GA).
Price was echoed later in the evening by Rep. Michele Bachmann (R-Minn.), who said during an appearance on CNN that the president appears to be using BP as a "permanent ATM card," with eyes on taking over "private industry."
None of the critiques, however, matched the more philosophical pushback offered by Mississippi Governor Hailey Barbour, who objected to the idea of forcing BP to invest money for the purpose of paying out claims when the company could simply use that money to expand offshore drilling so that they could make money to pay out claims.
"If they take a huge amount of money and put it in an escrow account so they can't use it to drill oil wells and produce revenue, are they going to be able to pay us?" Barbour told The Associated Press on Wednesday.
For certain, Barton, Bachman, Price and Barbour's comments represented some of the more extreme remarks aired on the issue. But they aren't isolated within the GOP tent, nor are they far removed from the sentiments of party leadership. Minority Leader Mitch McConnell's office has not commented directly on the escrow account, an aide confirms. House Minority Leader John Boehner (R-Ohio), meanwhile, immediately distanced himself from Barton, telling Fox News on Thursday that he didn't know the context for the apology offered to the oil company, but "I'm glad BP has accepted responsibility for their actions."
House Minority Whip Eric Cantor, however, has been critical of Obama for not placing his focus on the right venue.
"I don't want to pile on the president, but people need leadership right, and the President has not offered any plan to help the people right now who need it most," the congressman said in a statement. "We're facing a real environmental catastrophe right now and the President has taken no demonstrative action to show that he has a plan and is going to get it done. I do commend the President working with BP to establish the fund, and clearly BP has to pay. For their part, they've stepped up and taken responsibility. But the President still has not offered a fix to the problem at hand, which is plugging the leak and cleaning the mess."
On Thursday morning, meanwhile, Sen. Robert Menendez (D-N.J.) tried for the fourth time to eliminate the $75 million cap on liability for economic damages that oil companies must pay in the wake of a spill. His effort for a unanimous consent agreement was rejected, once more, by Sen. James Inhofe (R-Okla.), who said the policy would make drilling offshore economically prohibitive for smaller oil companies.
UPDATE: Barton's office sent out the following statement on Thursday afternoon retracting his apology to BP:
I apologize for using the term 'shakedown' with regard to yesterday's actions at the White House in my opening statement this morning, and I retract my apology to BP. As I told my colleagues yesterday and said again this morning, BP should bear the full financial responsibility for the accident on their lease in the Gulf of Mexico. BP should fully compensate those families and businesses that have been hurt by this accident. BP and the federal government need to stop the leak, clean up the damage, and take whatever steps necessary to prevent a similar accident in the future.

I regret the impact that my statement this morning implied that BP should not pay for the consequences of their decisions and actions in this incident.
Popular in the Community