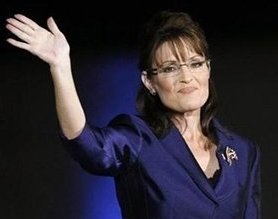 Another day, another story about Palin's clothing and styling expenditures. On Wednesday it was the news of more spending on "accessories," as revealed in a new report filed with the Federal Elections Commission. Then on Thursday it was the story of another $55,000 in payments by the McCain campaign to Palin's hair and makeup stylists during the election's final weeks. And today it's the revelation of yet more spending on stylists, this time for Palin's "fashion stylist." The New York Times reports:
A woman who appears from campaign finance records to have been Alaska Gov. Sarah Palin's fashion stylist was paid $54,900 by the Republican National Committee, according to a new report filed with the Federal Election Commission.
A charge for that amount to "Lisa Kline & Co." for "Consulting-Campaign" appears on Oct. 17 in the R.N.C.'s latest campaign finance report. Ms. Kline is a New York stylist whose name had previously appeared alongside some of the much ballyhooed $150,000 in charges for clothing and other "campaign accessories" from luxury stores like Saks Fifth Avenue and Neiman Marcus.