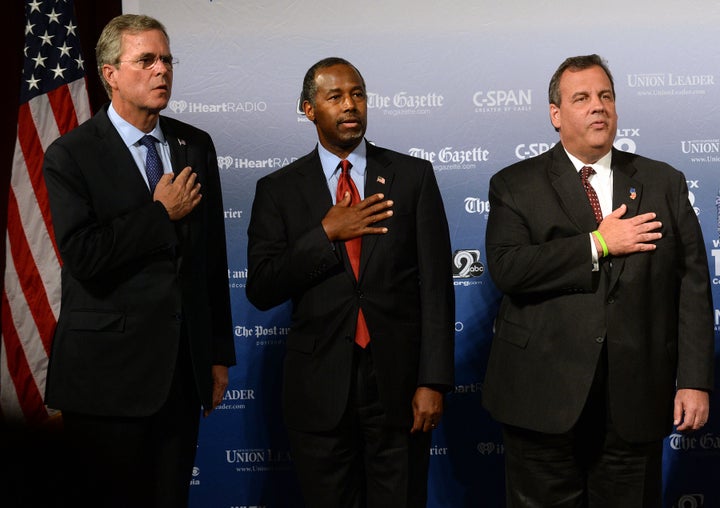 WASHINGTON -- Enraged by a string of controversial videos showing Planned Parenthood officials discussing aborted fetal specimens, conservatives in and out of Washington are pushing to shut government down, if necessary, to stop federal funding to Planned Parenthood.
Some Republican presidential candidates have picked up the call, urging Congress to do anything in its power to defund the women's health group after a procedural vote in the Senate on Monday failed to advance a bill doing just that. Other presidential hopefuls, however, are more cautious about using such a blunt tactic that proved unsuccessful in the past.
Joining the shutdown caucus on Tuesday was real estate mogul Donald Trump, the current frontrunner for the Republican presidential nomination. Trump credited Sen. Ted Cruz (R-Texas) for leading efforts to defund the Affordable Care Act in 2013, arguing that if Republicans "had stuck together they would have won that battle."
Cruz, too, supports employing the tactic again. According to Politico, the Texas conservative and presidential candidate supports using "every tool available to stop funding what appears to be a criminal enterprise." A request for confirmation with his spokesperson was not immediately returned on Tuesday.
Former Hewlett Packard CEO Carly Fiorina would also shut down the government in order to defund the group. In a Monday interview with conservative radio host Hugh Hewitt, the presidential hopeful and only woman in the race argued Republicans ought to press Democrats on when exactly life begins.
"We have to educate the American people about how extreme Democrats are," she said.
The 16-day government shutdown in 2013 ultimately hurt Republicans in the polls, and the effort failed to extract concessions from Democrats. A protracted fight over women's health service providers could also attract more women voters to the polls, potentially in favor of Democrats.
For those reasons, perhaps, some Republican presidential hopefuls have cautioned against the tactic.
"We should just defund Planned Parenthood. We shouldn't be throwing around threats like that. It doesn't help," New Jersey Gov. Chris Christie (R), who opposes abortion, told CNN on Sunday. "We didn't do too well when we shut down the government the last time. I think everybody should take a deep breath. We should be very firm as a party that this type of conduct by an organization, the harvesting and selling of fetal body parts, is just deplorable."
Sen. Rand Paul (R-Ky.) echoed the sentiment.
"I support any legislation that will defund Planned Parenthood. But I don't think you start out with your objective to shut down government," he said on Sunday.
A spokesperson for Sen. Lindsey Graham (R-S.C.), a defense hawk who has staked his presidential campaign on foreign policy experience, framed the issue as a matter of national security.
"Senator Graham does not support shutting down the government because that means degrading our first line of defense against terrorists and putting our nation at risk," the senator's press secretary, Brittany Bramell, told The Huffington Post.
Mike Huckabee, the deeply religious former governor of Arkansas who is a staunch social conservative, was more cautious. When asked whether he would support shutting down the government over federal funding to Planned Parenthood, the governor's spokesperson only told The Huffington Post that Huckabee "supports de-funding Planned Parenthood." Last week, however, Huckabee said he was open to the idea of using federal troops and the FBI to stop women from having abortions.
A spokesperson for former New York Gov. George Pataki said he "doesn't support federal troops, shutting down government or other useless grandstanding that leads to more gridlock."
"What he does support is building a coalition of people of conscience, Democrats and Republicans, who care about women's health and are sickened by these practices to reallocate Planned Parenthood's funding to other women's healthcare providers," added David Catalfamo, the governor's press secretary.
Spokespersons for Wisconsin Gov. Scott Walker; former Florida Gov. Jeb Bush; former Texas Gov. Rick Perry; Sen. Marco Rubio (R-Fla.); and former Pennsylvania Sen. Rick Santorum did not immediately return a request for comment.
Support HuffPost
The Stakes Have Never Been Higher
Popular in the Community