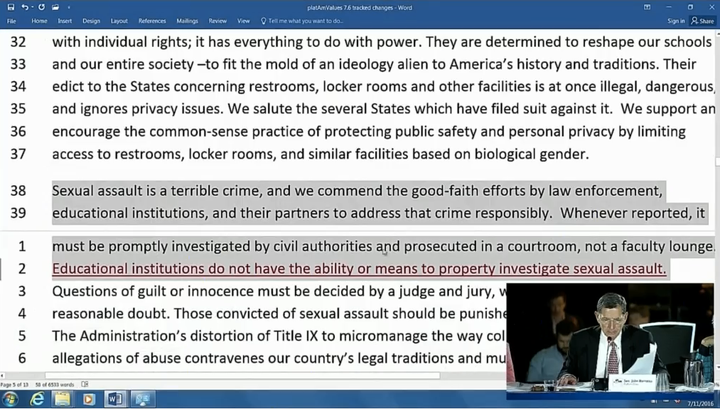 The current draft of the Republican party platform will demand that only courts determine if a college student accused of sexual assault is guilty, and criticizes federal efforts to make sure universities are not mishandling reports of rape.
Delegates met Monday evening in Cleveland, and considered language in the draft of the platform that condemned the Obama administration's "distortion of Title IX to micromanage" how colleges handle sexual assault cases, and that it "contravenes our country's legal traditions."
"Whenever reported, it must be promptly investigated by civil authorities and prosecuted in a courtroom, not a faculty lounge," the draft platform reads. "Questions of guilt or innocence must be decided by a judge and jury, with guilt determined beyond a reasonable doubt. Those convicted of sexual assault should be punished to the full extent of the law."
For decades, colleges have adjudicated cases of sexual assault as violations of school rules, not unlike how they handle physical assaults, theft and drug dealing and possession, in addition to any law enforcement investigation. But the Obama administration ramped up enforcement of how colleges respond to reports of sexual violence, and currently around 200 colleges and universities are currently under federal investigation over claims they mishandled sexual assault cases.
Two amendments failed Monday night during debate on a portion of the platform discussing sexual assault on college campuses.
Brandon Smart, a delegate from America Samoa, offered an amendment to add a line stating, "Educational institutions do not have the ability or means to properly investigate sexual assaults." It was voted down.
Bob Maginn, a delegate from Massachusetts and former state GOP chairman, offered to strike the lines saying that accusations of rape "must be decided by a judge and jury, with guilt determined beyond a reasonable doubt." His amendment would've replaced it with lines stating the party respects the "legal and contractual rights" of colleges to set rules against sexual misconduct and then enforce them, but also that they should be required to "use the courts to prosecute these crimes."
Maginn wanted the platform to reflect that in addition to criminal investigations of students committing rape, colleges would still have the right to kick a student accused of sexual assault out of class or off campus, for violating school rules. His amendment failed, meaning the current draft of the GOP platform is essentially suggesting colleges shouldn't be investigating claims of sexual assault as a violation of campus policy.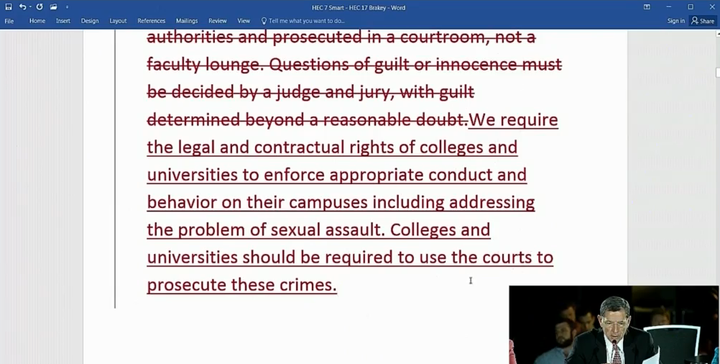 Both amendments in the Republican platform committee hearing, however, sparked discussion about what role colleges should be playing when their students commit sexual assault. Many supported language that suggests campus rape should only be investigated by cops.
Rape victim advocates and activists almost universally oppose laws that require universities to automatically refer sexual assaults to police, whether or not the victim wants to file a police report. They often argue that sexual assault is a crime that takes away a person's autonomy, and so if anyone denies a victim's right to decide whether to report it to police, it can cause further trauma.
The National Alliance to End Sexual Violence released proposed language last month for the political party platforms that asked for them to declare support for fully funding programs that support "comprehensive national, state and local responses to sexual assault focused on survivor services and prevention initiatives including full funding for the Violence Against Women Act."
Maginn mentioned the platform doesn't conform with a bipartisan bill co-sponsored by Sens. Marco Rubio (R-Fla.) and Kelly Ayotte (R-N.H.) that reforms how colleges deal with sexual assaults, but rejects any mandate that schools automatically refer rape reports to police.
"The idea that these can be only dealt with in the courts fails to recognize that a college career may last only four years, three years, two years depending on how long a person is there ― the ability to move those cases through the criminal courts [in that time] is not feasible," Maginn said. "It's also a standard of beyond a reasonable doubt, which is more than is necessary for an educational institution, which has both contractual rights with students as well as legal rights to enforce conduct and behavior on their campuses that's appropriate. So the idea of taking that right away from them ... is wrong."
"For those talking about this being a marketable document, this is a really bad idea," Maginn added.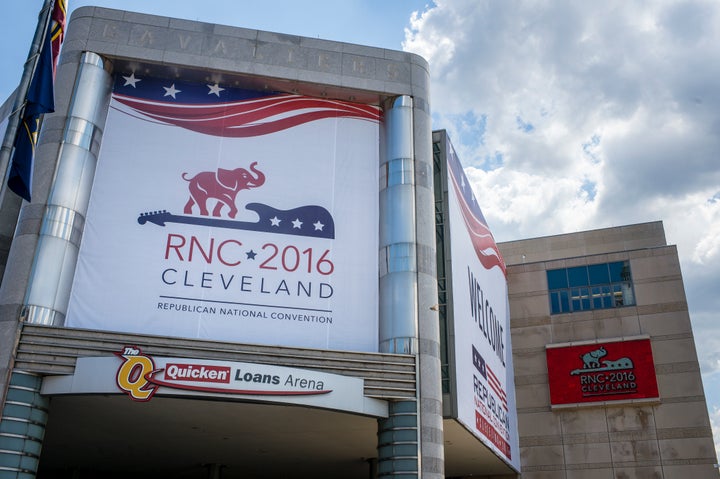 A delegate from California suggested the party should just state in the platform "that we strongly condemn date rape," but did not offer it as an amendment.
Iowa delegate Tamara Scott scoffed at Maginn's amendment and the idea that colleges shouldn't refer reports of rape to police ― though currently that decision is up to the victims at the vast majority of campuses.
"There's definitely a conflict of interest in schools when it's sports members of teams that make them great money," Scott said. "We have headlines of women 16 years back just now coming forward."
Most colleges don't allow security forces to carry weapons, Scott added, as evidence schools couldn't handle sexual assault cases. Her statement is untrue: a majority of schools actually do have armed security or on-site law enforcement.
A delegate from North Carolina referred to Duke's lacrosse case as an example of why colleges shouldn't handle them. This was odd, since the woman who accused three players at Duke University of rape wasn't a student, and the case was a criminal prosecution by Durham County District Attorney Mike Nifong, which ultimately resulted in his resignation and disbarment when the charges turned out to be false. The accused players were only suspended after they were arrested, pending the outcome of the trial.
The debate finally settled when delegates began saying the federal government shouldn't be involved.
David Barton, a delegate from Texas, said how campus rape is handled is a police power and education issue, and prescribing a national policy for it contradicts the Republican principles of leaving such matters to the states. An Ohio delegate similarly commented that the discussion was off track from where the GOP platform should be focused.
Related Coverage:
Popular in the Community