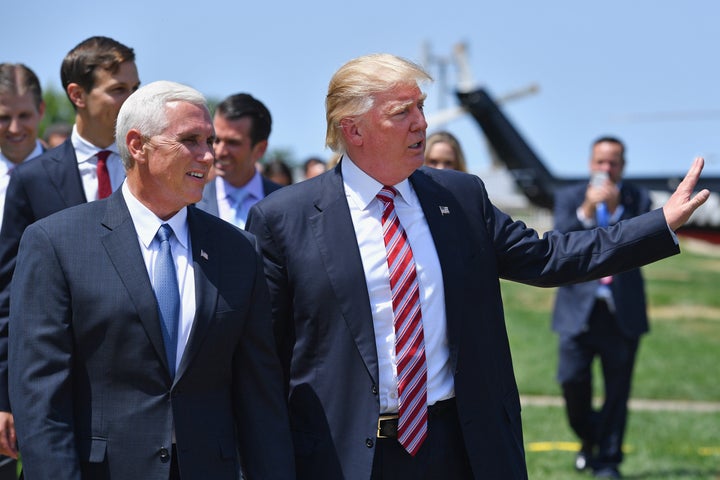 The Republican Party's platform on Social Security is jam-packed with well-worn conservative euphemisms for cutting benefits.
Not to worry, though. The progressive advocacy group Social Security Works has a helpful translation of Republican-ese. The group, which advocates benefits expansion, on Wednesday released a red-pen markup of the GOP's stance on Social Security that gives some meaning to the vague buzzwords.
Grading it as if it were a high school paper, Social Security Works gave the Republican Social Security platform an "F" grade for "failing to listen to the American people." 
But the more remarkable aspect of Social Security Works' markup is the way it elucidates evasive language designed to sugarcoat unpopular Social Security proposals. A telling example is the way the Republican Party frames its plans to close Social Security's long-term funding gap without explicitly saying how it would do so.
"As the party of America's future, we accept the responsibility to preserve and modernize a system of retirement security forged in an old industrial era beyond the memory of most Americans," the platform states.
In 2034, there will be a roughly 20-percent across-the-board Social Security benefit cut if Congress does not act. Progressives tend to favor avoiding this outcome by increasing revenue, while conservatives prefer benefit cuts or some form of privatization.
The Republican Party platform doesn't say how it would reform the program, and claims "all options should be considered." But as Social Security Works points out, the GOP clearly supports benefit cuts, since the platform later rules out tax hikes.
"Your language still means cuts," the group wrote in the margin above the words "preserve and modernize." "The right way to modernize benefits is to EXPAND them."
Check out Social Security Works' complete, teacher-style review of the GOP Social Security platform below:
Hillary Clinton, the presumptive Democratic presidential nominee, has promised to do just that, saying she would prioritize increases for the most vulnerable groups of beneficiaries. The Democratic Party platform also promises to "expand Social Security so that every American can retire with dignity and respect."
The Republican Party platform's Social Security section has not changed much since 2012. But its implicit endorsement of benefit cuts is notable this year because Donald Trump, the Republican presidential nominee, has bucked party orthodoxy, claiming he will protect the program from cuts.
Trump molded other sections of the party platform to fit his preferences. For example, Trump deputies reportedly vetoed language that would have called for arming Ukraine to resist Russian advances. Trump has long expressed his admiration for Russian President Vladimir Putin and his desire for warmer relations between the U.S. and Russia.
"Trump controls the convention," said Dean Baker, co-director of the Center for Economic and Policy Research, a liberal think tank. "So you have to assume he either doesn't care, or he even wanted this wording. It is a reversal."
Maya Rockeymoore, president of the Center for Global Policy Solutions, a progressive nonprofit, noted that the GOP platform would preserve benefits for current retirees, while effectively promising to cut them for future generations, which happen to be more racially and economically diverse. 
Such an agenda, Rockeymoore said, "carries the same troubling racial implications associated with other aspects of the Trump campaign."
Calling all HuffPost superfans!
Sign up for membership to become a founding member and help shape HuffPost's next chapter
BEFORE YOU GO