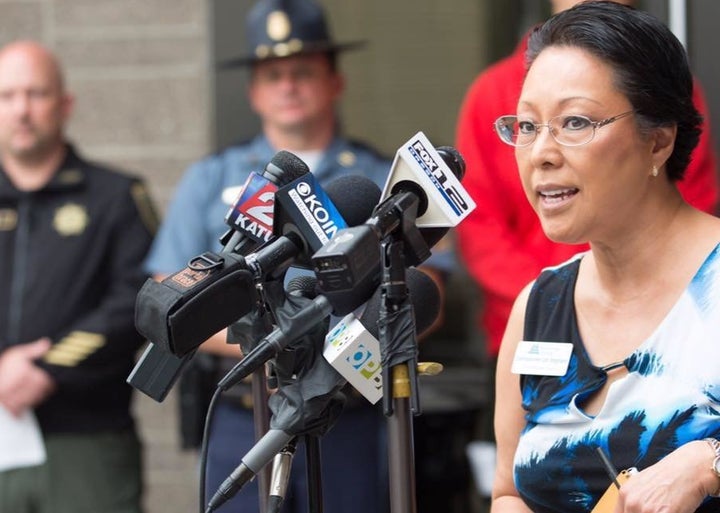 Lori Stegmann, a Multnomah County commissioner, had been a Republican for nearly four decades. But this week, she announced that she has officially become a Democrat because of the "misogyny" and "racism" of the Trump administration. 
Stegmann, 58, is a small business owner and insurance agent who was born in South Korea and adopted by American parents when she was an infant. According to her website, Stegmann has worked in local and state politics for the past decade. She has served as a commissioner for Multnomah County, where Portland is located, since 2016.
"As a woman, a business owner, a mother, an immigrant, and a minority I cannot condone the misogyny, the racism, and the unethical and immoral behavior of the current administration," she wrote in a Facebook announcement on Wednesday. "I fear for the safety of our country, for human rights, for women's rights, the environment, and the uncertainty of our future." 
Stegmann said that she did contemplate registering as an independent but wanted to "have a voice" in primary elections. 
"I've spent my entire adult life affiliated with the Republican party," she wrote. "It wasn't a single act that led me to leave the party, but the repeated blows, one after the other that attacked the ideals of who I believe we are as a country and our democracy."
The decision to change parties was a personal one, she wrote, adding that "the ideals that our country was built upon are at risk."
"We must fight to protect the rights of those disenfranchised, who bear the social, economical, and environmental, burdens being thrust upon them," Stegmann wrote.
She told The Oregonian that the Republicans are spreading a "false narrative" about immigrants, adding that "people need to see we're all immigrants."
"This decision is about who I am, what I believe in and my core values. And if you don't stand for something, then you stand for nothing," Stegmann said. "I prefer to stand. And now I stand with the Democrats."
Calling all HuffPost superfans!
Sign up for membership to become a founding member and help shape HuffPost's next chapter