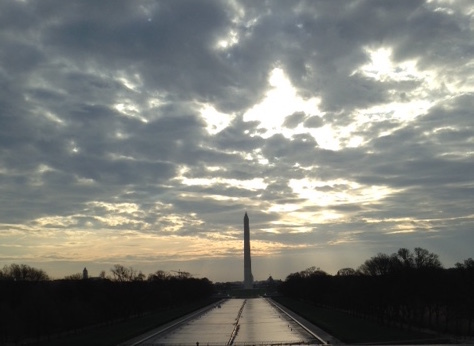 I am a liberal (or the trendier phrase, progressive) Democrat. Bernie Sanders isn't even left enough for me, and Hillary certainly isn't, though I've always loved her (and Bill). That said, for the first time in my life, I decided to watch all the debates, and thus got to know the Republican candidates a bit better. They won't get my vote, but for the first time since George Bush they started to seem human to me.
Here is my assessment, admittedly biased:
Trump: Yes, he's probably a con man, but an amiable one. Against my better judgment, I like his wife and kids (how cute is Barron?) His policies sound like disasters (deporting 11 million immigrants, for starters, and for what purpose? How will he get anyone to work at his "hot" Florida hotel if they are all gone?). But I like that he admits Planned Parenthood has its merits, and that he is willing to be "flexible," which of course resulted in quips about yoga-- something I've never heard mentioned even derisively in a debate (though Hillary did say "Yoga helps everything" after her 11-hour Benghazi grilling).

Cruz: My natural inclination is to detest this guy because I don't like religious zealots and he is certainly as far to the right as I could imagine. Since I believe in a woman's right to choose, he should surely make me quake. But I like the twinkle in his eye when he responds to Trump (after all, it was he who told Trump to "breathe" in the final debate). And I like the fact that he doesn't "lose" it. As much as I don't relish what is in his mind, he seems the most levelheaded in some ways.

Rubio: I admire his passion and his way with words, but of all the candidates he seems the most eager to diss Obama, Hillary, Bernie, and the Democrats in general. To me, this man is a divider. Some of my very best friends are Republicans, and I would be saddened if they ever talked about me in the way he talks about the Dems and our current president. Have a little respect, if for nothing else, for the office. On the other hand, I've come to like him a little bit because of this sense of humor in dealing with Trump (e.g. "You know what they say about men with small hands? You can't trust them"). Right.

Kasich: I like this guy because he tries to tone down the negativity. His policies rub me the wrong way as a progressive, but he seems kind-hearted. In the past (in the Bush days, that is) Republicans actually seemed inhuman to me. I couldn't figure out why they wanted to take away programs that benefit the poor, like making healthcare available to everyone. I still can't.

As I said, I wouldn't vote for any of these guys. Nor for Jeb, Christie, Fiorina, or the other "losers"--to use Trump-speak. But watching the debates has made me think twice about judging these folks. I don't agree with their beliefs but I respect their right to have their opinions, and I respect their passion even though I vehemently disagree.

This week, I will gather with a group of my closest friends, who are mostly Republicans (long story short, I had no idea what their politics were more than 15 years ago when we teamed up on a community project and bonded.) These folks saw me through breast cancer. They brought food to my family when I was going through treatment. We have been gathering six times every year to share a meal and talk. Many times we end up shouting. But more times we end up laughing. We're all people, after all. We disagree, sometimes fervently. But that doesn't mean we need to hate one another.

I will never love Trump or the other GOP nominees. But I do love my Republican friends. I hope and pray that I will not have to congratulate them on Election Day. But I will forever defend their right to be happy if they win. My dad was a staunch Republican, a Nixon man. My mom was a Democrat, as are my siblings. But politics were different then. My father's political beliefs had nothing to do with our love for him. These days the "haters" often seem to trump our common humanity.

I know many Democrats who refuse to watch the Republican debates and vice versa. But I would suggest it's best to know your enemies, especially since they might one day become your friends. In a perfect yogi world, after all, we are all one. "Recognize that the other person is you," is one of my favorite quotes from the Kundalini yoga master Yogi Bhajan. Even Trump? Yes, my Dem friends. Even Hillary? 'Fraid so, Republicans. Even Bush? Er...excuse me. I need a moment to step outside and breathe.
REAL LIFE. REAL NEWS. REAL VOICES.
Help us tell more of the stories that matter from voices that too often remain unheard.