The crowded race for the Republican presidential nomination has turned into a wild free-for-all, a bruising melee that has intensified in the final month before voters cast the first ballots in Iowa and New Hampshire.
You may not get a real sense for the crazy spectacle until you zoom out, and view the assembled jabs, barbs, dings, slams, and zingers -- from Sen. Ted Cruz's Canadian roots to Sen. Marco Rubio's boots -- as a whole.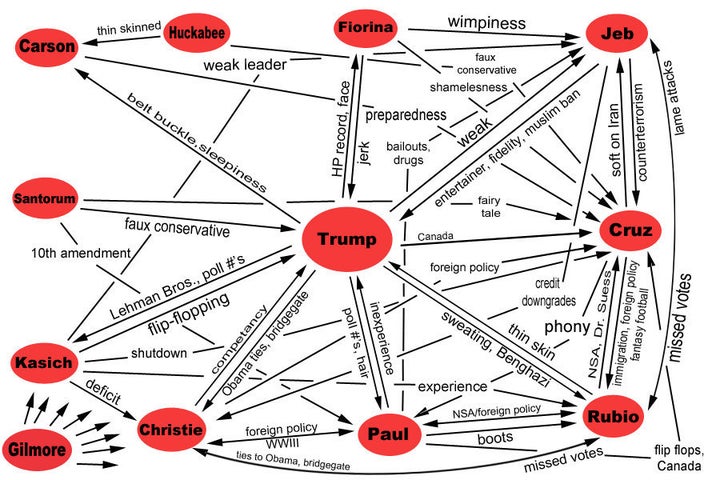 Make more sense to you now?
Okay, not for us, either. But several things stand out.
First, the degree to which real estate mogul Donald Trump has dominated the race by taking on just about everyone. Second, the threat posed by Sen. Ted Cruz (R-Texas), who is surging in Iowa, as evidenced by the growing attention paid to him by his rivals. Third, the infighting between establishment candidates with gubernatorial experience -- former Florida Gov. Jeb Bush, New Jersey Gov. Chris Christie, and Ohio Gov. John Kasich. And lastly, the degree to which former Pennsylvania Sen. Rick Santorum, former Arkansas Gov. Mike Huckabee and famed neurosurgeon Ben Carson seem to have been largely forgotten.
If there's one prediction we can safely make, it's that the race is bound to get even crazier as we barrel toward the GOP convention in July.
* We're sure we've missed a few attacks. Hell, several happened between the point we submitted this article and the time it was published.
PHOTO GALLERY
Declared 2016 Presidential Candidates
Calling all HuffPost superfans!
Sign up for membership to become a founding member and help shape HuffPost's next chapter