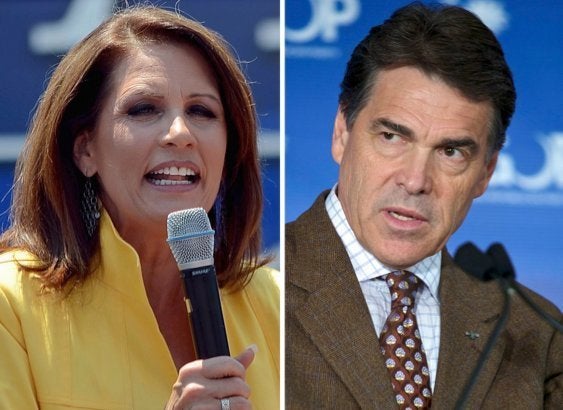 BY ASSOCIATED PRESS REPORTERS KASIE HUNT AND JENNIFER AGIESTA
(AP/The Huffington Post) WASHINGTON — After grousing for months, Republicans are growing more satisfied with their choices for president and, so far, they like what they're hearing from the newest candidate, Texas Gov. Rick Perry.
An Associated Press-GfK poll released Friday found that two-thirds of Republicans and GOP-leaning independents are pleased with the party's presidential field, compared with just half in June. And they're paying more attention, with 52 percent expressing a "great deal" of interest in the GOP nomination fight – compared with 39 percent earlier this summer – after a period that saw Perry enter the race and Michele Bachmann win a test vote in Iowa, the lead-off caucus state, threatening Mitt Romney's standing at the top of the pack.
The poll shows Perry – who has never run a national campaign and is just now introducing himself to most people – benefiting from wall-to-wall news coverage over the past few weeks as he became a candidate and jostled the until-then sleepy contest. Just 12 percent of Republicans and GOP-leaning independents have a negative impression of the Texas governor. And 63 percent of Republicans view him in a positive light, compared with 33 percent in June.
Beyond that, Republicans didn't change their impressions much about Romney. Nearly 2 in 3 still view the former Massachusetts governor positively, while just under a quarter view him negatively as he runs a cautious, methodical campaign that's facing its first true test in Perry.
Bachmann, the Minnesota congresswoman who won the Iowa straw poll, got roughly the same marks as Romney now that she's boosted her national profile. Both her positive and negative ratings rose in the two months since she entered the contest and started to become better known.
Broadly, the results suggest that Republicans are coming around to the idea that there may be a winner in the bunch after being less than enthusiastic for months and even though party elders continue to grouse that the field lacks a candidate strong enough to take on President Barack Obama. As recently as this week, New Jersey Gov. Chris Christie, Wisconsin Rep. Paul Ryan and former Florida Gov. Jeb Bush – again – insisted they weren't running for president despite urging from supporters.
Sarah Palin, the GOP's 2008 vice presidential nominee, says she'll announce in late September whether she will run.
Stay-at-home mom Jennifer Bevington of Toledo, Ohio, is among those Republicans who like what they see, saying: "Out of the top three – Michele Bachmann, Perry and Romney – of who's running, they should be able to come up with a good candidate."
Mary Parish of Troy, Tenn., had doubted for months that any of the candidates in the field were strong enough to run the country or topple Obama. Now, the retired convenience store manager says: "I like Rick Perry. I think he's a Christian, a good Christian person. I like what he stands for, and I think he's strong enough to beat Obama."
Still, while Republicans like them are warming up to the field, the overall population still has significant doubts and is largely unimpressed, which could bode well for Obama come the general election.
Just 41 percent of all those surveyed expressed satisfaction with the official and unofficial GOP candidates, about the same as in June, and only Rudy Giuliani, the former New York mayor toying with a candidacy, get significantly higher favorable marks than unfavorable ones among certain or possible presidential contenders. And no Republican candidate – declared or otherwise – is viewed favorably by a majority of people.
This GOP field has been remarkably slow to form as Republicans look to challenge a politically vulnerable Democratic incumbent saddled with high unemployment, rampant foreclosures and soaring debt.
Now, five months before the Republican nomination contests are to begin, the field is largely set with Romney, Perry and Bachmann clustered near the top of many surveys, followed by Texas Rep. Ron Paul. Nearly everyone else is languishing far behind, including former Utah Gov. Jon Huntsman, former House Speaker Newt Gingrich, former pizza executive Herman Cain and former Pennsylvania Sen. Rick Santorum.
Republicans still hoping that another candidate will jump into the presidential race and give the party a better chance of defeating President Barack Obama in 2012 may need to get over it.

...

With state-by-state nominating contests starting early next year, it will be very difficult for a newcomer to raise the money and set up a campaign apparatus to defeat other Republican candidates who have been in the race for months.
_Among Republicans who back the tea party, 80 percent view Bachmann favorably while 74 percent see Perry positively. Among those Republicans who don't back the coalition, just 37 percent have positive impressions of Bachmann and 48 percent of Perry.
_Romney earns positive reviews from a broader group of Republicans than Bachmann or Perry do. Majorities of both conservative and more liberal Republicans hold favorable views of him, which suggests he may be able to stitch together a broader coalition of supporters than his rivals to win the GOP nomination.
_Negative impressions of Romney among all adults grew 6 percentage points, topping 4 in 10 for the first time in AP-GfK polling. That's a warning sign for Romney as he executes a strategy to run a general election campaign focused on Obama and the economy while appealing to a broad spectrum of voters.
_Huntsman's negative rankings crept upward during the first few months of his campaign, and he was the only GOP candidate viewed unfavorably by as many Republicans as view him positively.
The poll was conducted Aug. 18-22 by GfK Roper Public Affairs and Corporate Communications. It involved landline and cellular telephone interviews with 1,000 adults nationwide and has a margin of sampling error of plus or minus 4.1 percentage points. The poll included interviews with 408 Republicans and Republican-leaning independents; the margin of error for these results is plus or minus 6.4 percentage points.

Popular in the Community