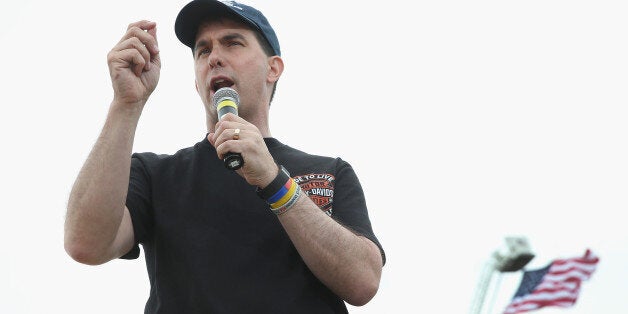 WASHINGTON -- Former Florida Gov. Jeb Bush announced his bid for the Republican presidential nomination on Monday, after nearly seven months of denying that he was a candidate while raising huge sums for a super PAC. With his official entrance into the race, only a handful of prospective candidates continue to operate in the fundraising grey area Bush just exited.
Chief among them is Wisconsin Gov. Scott Walker (R). In January, Walker announced he was considering a presidential bid and launched the 527 nonprofit Our American Revival. The only difference between a 527 group and a super PAC is that a 527 nonprofit registers and files with the Internal Revenue Service, while a super PAC does so with the Federal Election Commission.
Throughout, Walker has kept to the same careful language used by Bush during his period of campaigning as a non-candidate. At the Conservative Political Action Convention, Walker said, "What we are going to do in any decision going forward, should we choose, my lawyers love that, when I say, we are exploring a campaign, should we choose to run for the highest office in the land."
By remaining undeclared, candidates can evade campaign finance laws banning the creation of super PACs by the candidate and the coordination and fundraising for those groups. The strategy relies on the FEC's failure to enforce campaign finance laws requiring prospective candidates to abide by campaign contribution limits and other rules that would bar direct candidate involvement with super PACs (and 527s) when they are "testing the waters" or exploring a candidacy.
Campaign finance reform proponents at the Campaign Legal Center and Democracy 21 said Walker's activities are as out-of-bounds as Bush's pre-candidacy super PAC fundraising tour. In March, the two groups filed FEC complaints against Bush, Walker, former Sen. Rick Santorum (R), and former Maryland Gov. Martin O'Malley (D), alleging that they were evading rules meant to apply to those "testing the waters" of a candidacy.
The groups have since asked the Department of Justice to investigate Bush's campaign for possible violation of the Bipartisan Campaign Reform Act of 2002, a different law than the "testing the waters" provision, because of his direct involvement in creating, operating and raising money for his Right to Rise Super PAC.
"We don't know of anyone at this juncture who has engaged in nearly as extensive operation of and fundraising for a super PAC as Jeb Bush," said Paul S. Ryan, a lawyer with the Campaign Legal Center.
While the activities of other undeclared candidates may not result in calls for a DOJ investigation, Ryan said his group will continue to investigate and file complaints with the FEC.
"With respect to 'testing the waters' and candidate status, we are very much so considering filing complaints against a bunch of others," Ryan said.
Those may include other prospective candidates who have been touring early primary and caucus states of Iowa and New Hampshire with the help of committees raising funds outside of the candidate limits.
Another undeclared candidate, New Jersey Gov. Chris Christie (R), is touring early primary states with funds raised by his Leadership Matters for America PAC. The group is not a super PAC, although Christie's allies have created one for him if he decides to jump into the race.
Then there is Louisiana Gov. Bobby Jindal (R), who has been running his undeclared presidential operation out of a 527 group called American Future Project. The nonprofit is one of the earliest advertisers in Iowa, with ads that began three weeks ago.
Ryan said there is scant history of enforcement or FEC consideration of "testing the waters" rules in the past decade. This may be because candidates abided by the rules until the 2012 election. Now, thanks to the opportunities for unlimited independent spending granted under the Supreme Court's 2010 Citizens United decision and a deadlocked and dysfunctional FEC, there is reward without apparent risk.
"There is more basis for urging investigations than we have ever seen before because the violations have become so blatant in our view," Ryan said.
Calling all HuffPost superfans!
Sign up for membership to become a founding member and help shape HuffPost's next chapter
BEFORE YOU GO
PHOTO GALLERY
Declared 2016 Presidential Candidates