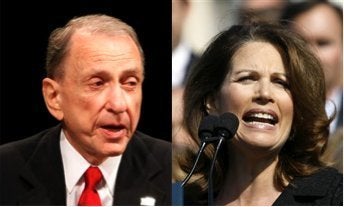 The GOP is pushing back at Arlen Specter (D-Pa.) following the heated exchange between the senator and Rep. Michele Bachmann (R-Minn.) that took place on a conservative talk radio program on Wednesday. During the debate, Specter told Bachmann, "I'll treat you like a lady, now act like one."
On Friday, RNC Co-Chairman Jon Larimer released a statement slamming Specter's comments as "rude and arrogant" and "demeaning to all women."
"Senator Specter should immediately apologize to the Congresswoman and to all of his constituents for such disgraceful behavior," Larimer said. " Women should never be treated as second class citizens. It's clear Senator Specter has spent too much time in Washington, and this November I am confident Pennsylvanians will choose a new direction."
Bachmann called in to Sean Hannity's radio show on Thursday to give her own take of the exchange:
"I was treated really like a little girl," she said. "I was patronized and basically told to go sit down and shut up in a corner. And I thought 'this is how you treat women?'...Your listeners have to hear this audio clip, I think it will be the end of Arlen Specter in Pennsylvania."
And Republicans aren't the only ones criticizing the Pennsylvania senator. Rep. Joe Sestak (D-Pa.), who is seeking to unseat Specter , gave his own opinion on the 'lady' comments in an interview with Talking Points Memo:
"I've been with Michele Bachmann on TV before a couple of times, and she overrides, but you know what, it's a debate of ideas and it doesn't have to be a sideshow...You just don't treat someone that way. Those kinds of words are unacceptable."
UPDATE: According to a written statement released Sunday, Specter has apologized to Bachmann. The Pennsylvania senator "called her last night on her cell phone, he apologized for his comments, and she accepted," Bachmann spokesman Dave Dziok told MinnPost.
Listen to the Specter-Bachmann exchange that started it all:
Popular in the Community