QAnon is a false conspiracy theory from the fringes of the internet which imagines that President Donald Trump is battling a cabal of Satan-worshipping, pedophiliac Democrats and celebrities who run a global sex trafficking operation and secretly control the world. Its believers' rantings are often coupled with Islamophobia, white nationalism, anti-Semitism, violent threats and claims that the COVID-19 pandemic is a hoax. Some have turned violent, and the FBI has said QAnon poses a potential domestic terrorism threat.
Witzke, who tried to distance herself from QAnon over the course of her race, is the second believer in the QAnon conspiracy to win a Republican nomination for the Senate.
Like the other adherent, Jo Rae Perkins of Oregon, who won a three-way Republican primary to challenge Sen. Jeff Merkley (D-Ore.), Witzke is not expected to win in a deep-blue state.
Still, her capture of the nomination — by more than 13 percentage points over an opponent the GOP endorsed — underscores that Republican voters are comfortable elevating believers in a hateful conspiracy theory to higher office.
Increasingly, so is the party.
At least 24 candidates for Congress who support the QAnon conspiracy theory will appear on the general election ballot in November; 22 of them are Republicans. Few are poised to win. But they nevertheless have support, or are encountering no resistance, from a growing roster of powerful people within the Republican Party.
QAnon believer Marjorie Taylor Greene is all but certain to win a seat in Congress, having handily won a Republican primary in deep-red northwest Georgia in August. (She may also run unopposed; her Democratic opponent dropped out of the race last week). In a 2017 video, Greene embraced the conspiracy theory that the unknown Q is poised to take out a "global cabal of Satan-worshipping pedophiles" and that Trump is "the president to do it."
In Greene's primary, House Minority Leader Kevin McCarthy (R-Calif.) did little to stand in her way despite multiple members of Georgia's Republican delegation reportedly urging him to support one of her opponents. Instead, McCarthy, who has the power to drive donors and outside groups to action by making endorsements or donations from his own PAC, remained neutral.
Trump's loudest Capitol Hill allies, meanwhile, worked doggedly to help Greene beat her GOP opponents. Reps. Andy Biggs (R-Ariz.), the chair of the ultraconservative House Freedom Caucus, and Jim Jordan (R-Ohio) endorsed Greene and did not withdraw their support after videos emerged of her racist, Islamophobic and anti-Semitic views. (Greene referred to the 2018 elections of Democratic Reps. Ilhan Omar of Minnesota and Rashida Tlaib of Michigan, the first two Muslim women to serve in Congress, as "an Islamic invasion into our government.") The political action committee affiliated with the House Freedom Caucus spent more than $43,000 in Greene's support.
The morning after she clinched the nomination, in an August runoff, Trump tweeted that she was a "future Republican Star" and "a real WINNER." She attended his acceptance speech during the Republican National Convention as a guest.
Vice President Mike Pence canceled an appearance at a Trump campaign fundraiser this week after reports revealed that the hosts had retweeted QAnon accounts and shared QAnon memes. Multiple members of Trump's circle and three Republican elected officials were also listed as hosts of the fundraiser: Republican National Committee chair Ronna McDaniel and co-chair Tommy Hicks Jr.; RNC finance chair Todd Ricketts; Kimberly Guilfoyle, a Trump fundraiser who is dating Donald Trump Jr.; and Montana's Sen. Steve Daines, Rep. Greg Gianforte, who is running for governor, and U.S. House candidate Matt Rosendale.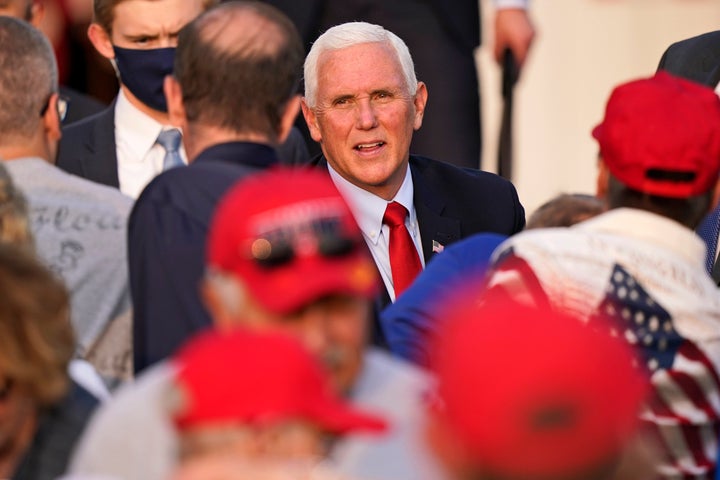 A Republican familiar with the event's planning said it did not go forward and the RNC officials were honorary hosts, not slated to attend. Daines' and Gianforte's campaigns said the candidates do not know the hosts. The hosts, Trump donors Caryn and Michael Borland, have given a combined $220,000 to Trump's reelection.
Gianforte has also donated to the campaigns of several Republican candidates for the Montana statehouse who have posted content about "the deep state" and #SaveTheChildren — QAnon lingo. His campaign did not respond to a request for comment.
Perkins, the Republican candidate for Senate in Oregon, has not lost the support of the county Republicans and statehouse Republicans who have endorsed her, despite her outright embrace of the Q conspiracy. (Having taken down a Q-supporting video, she later backtracked and told Oregon Public Broadcasting, "I stand with Q and the team.") Her campaign claims the Oregon Republican Party is "on board," which the state party has not disputed.
And after Lauren Boebert, who has said of QAnon, "I hope that this is real," beat a five-term Republican congressman in his primary, the National Republican Congressional Committee refused to disavow her candidacy. Boebert is running in a competitive district. The Majority Committee PAC, McCarthy's leadership PAC, has kicked in $5,000 — a small donation that is nevertheless a sign of the party's favor. The conservative Club for Growth Action and the House Freedom Fund have spent more than a quarter of a million dollars in her support.