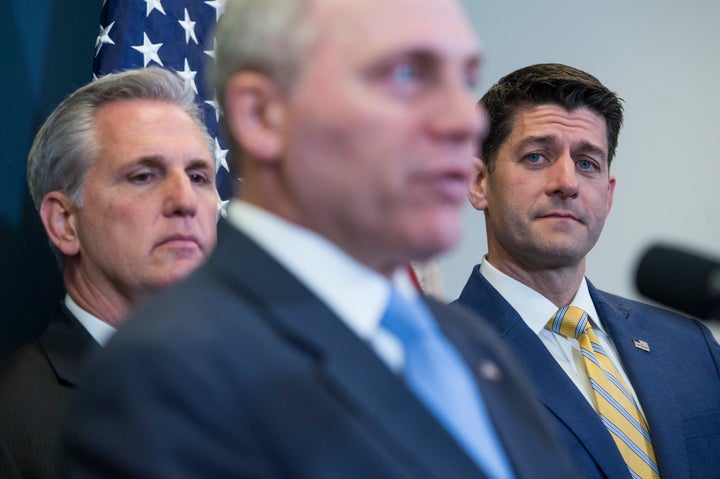 Majority Leader Kevin McCarthy (R-Calif.) and Majority Whip Steve Scalise (R-La.) are the two clear favorites for the speakership, should Republicans keep the majority (in no way a given). While Scalise said recently he wouldn't challenge McCarthy for the gavel, the possibility that he now passes on a run seems unlikely. He'll presumably be engaging in the same jockeying McCarthy will be doing for the next seven months: striking a careful balance between publicly saying you're focused on keeping the majority while privately maneuvering to secure as many votes as possible.
Ryan's decision to remain speaker for the rest of the year practically ensures a messy battle. And again, there's no guarantee the shadow race for speaker ever results in a contested vote. It's completely conceivable for Republicans to lose the majority and have Scalise decide it's not worth challenging McCarthy to be minority leader.
Scalise could very well have the inside track for the speakership, while McCarthy remains the favorite to be minority leader.
But there are dozens of other outcomes as well. For one, Ryan could decide his situation as a lame-duck speaker is untenable and decide to resign before his term is up. Or Republicans could force the issue by pushing to move up the leadership elections now.
According to a senior GOP aide who requested anonymity to discuss a private conversation, Rep. Tom Graves (R-Ga.) was already working the House floor Wednesday pushing to hold leadership elections sooner rather than later ― a move Scalise might favor if he thinks he has the votes now, or McCarthy could get behind if he wants to force Scalise's hand in either challenging him for the position or supporting McCarthy to be speaker.
As always, there are also all sorts of different wrenches the House Freedom Caucus could throw into the mix.
Freedom Caucus Chairman Mark Meadows (R-N.C.) was quick to tell reporters Wednesday that everyone was going to start jockeying for positions now, making it seem like such a situation would be bad for Republicans. But later in the afternoon, after conservatives had thought about the race a little more, Freedom Caucus members seemed happy to see how the midterm elections shake out before choosing a new Republican leadership team.
"The criteria for what makes a good minority leader might be a little different than what makes a good speaker," Rep. Warren Davidson (R-Ohio), the Freedom Caucus member who replaced former House Speaker John Boehner (R-Ohio), told HuffPost on Wednesday.
Conservatives may think that one of their own ― like Meadows or former Freedom Caucus Chairman Jim Jordan (R-Ohio) ― has a chance at taking the minority leader spot if Republicans lose the House.
Although the vote threshold for such a move is much lower than the 218 votes required on the House floor for a speaker ― the minority leader simply needs the support of a majority of Republicans behind closed doors ― it's still unlikely a conservative could muster the roughly 100 votes needed for the top spot in the GOP conference. But it's not impossible, and it's much more likely than one of them taking the speakership.
In fact, the idea is just plausible enough that it may hold together the fragile situation for Ryan. If the Freedom Caucus refuses to advocate for moving up the leadership elections or pushing Ryan out before the year is up, it's difficult to see another group of Republicans becoming the instigators in the GOP conference.
And so Ryan's original vision, where he stays atop the GOP conference through Election Day, might actually come to pass, meaning McCarthy and Scalise and whoever else may want the job will have to campaign delicately for months to come. And even then, the Election Day results could stymie their plans. If GOP losses are really bad, enough Republicans could decide they need a whole new slate of candidates. 
Ryan's original vision, where he stays atop the GOP conference through Election Day, might actually come to pass, meaning McCarthy and Scalise and whoever else may want the job will have to campaign delicately for months to come.
Some Republicans have already floated the idea of a "caretaker" speaker, a Republican who would serve for a limited time, like Rep. Tom Cole (R-Okla.) ― whom Rep. Peter King (R-N.Y.) floated to HuffPost on Wednesday ― or Rep. Rob Bishop (R-Utah) or Rep. Mike Conaway (R-Texas), whom other Republicans have mentioned in the past.
Or the race between McCarthy and Scalise could get so bad that both men end up excluding themselves. They could effectively spoil the conference on either person and a tactician like Chief Deputy Whip Patrick McHenry (R-N.C.) ends up being speaker. Coupled with a sex scandal, that's pretty much how now-disgraced former Rep. Dennis Hastert (R-Ill.) ascended from the chief deputy whip position to the speakership in 1999.
McCarthy, who's already made his closeness with President Donald Trump a centerpiece of his run for the speakership, could also decide to move on from Congress after the elections, potentially taking a job as White House chief of staff or as a Cabinet secretary. Or maybe he could just decide that he, like Ryan, has had enough of Congress and finally wants to move on.
And Scalise, whose life was already turned upside down less than a year ago when he was shot during a practice for the Congressional Baseball Game, could also decide the continued headaches of leadership just aren't worth it ― though that seems much more unlikely than McCarthy passing on a job that he already passed on once.
The point is, there are so many outcomes and moving parts to these races that it's impossible to predict how leadership elections will turn out in seven long months. There's no telling what Trump might do in the next week, and Ryan's retirement announcement might embolden the speaker to actually stand up to the president (though don't hold your breath).
But we do know, right now, that both McCarthy and Scalise are interested in the job. Both men have served as the GOP whip and know how to wrangle support. Both seem determined to play the string out and quietly secure support while pretending to remain friends.
REAL LIFE. REAL NEWS. REAL VOICES.
Help us tell more of the stories that matter from voices that too often remain unheard.