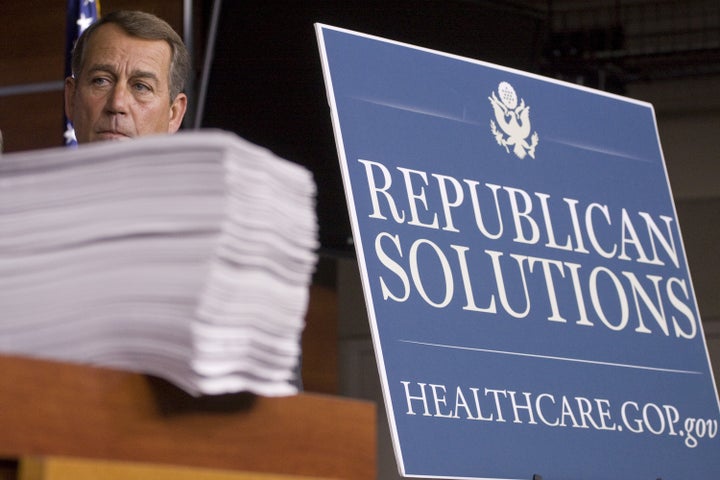 House Republicans introduced their outlines for health care reform this past week to much anticipation. The minority leadership had pledged to produce a bill roughly 140 days earlier and finally, health care watchers would get to see an alternative product.
Turns out, the GOP's bill could have been read earlier. At least three key reform proposals put forth by Republicans in the House of Representatives mirror the suggestions put forth by the lobbying entity of the private insurance industry way back in December 2008.
Under the America's Health Insurance Plans "Vision for Reform," for instance, a $50 billion federal performance grant program would be established to "assist states in expanding access to coverage." Under the GOP proposal, the same pool of cash -- $50 billion -- would be established to provide "incentives to states who adopt reforms that reduce the cost of health insurance and expand coverage."
Under AHIP's proposal, states would be required to create "Guarantee Access Plans" that would be available to enrollees "with the highest expected medical costs." These plans - loosely modeled on state high-risk pools (where individuals would be eligible if there claims were expected to be more than twice the statewide average) found their way into the GOP proposal. The Republican plan would require states to establish "Universal Access Programs" that would be supplemented by $25 billion in federal funds.
"States will have to eliminate high risk pool waiting lines and premiums for enrollees in high risk pools would be limited to 150% of the average premium charged in a state (currently capped at 200%)," according to the GOP proposal.
Under the AHIP proposal, universal health accounts would be provided to help low-income Americans purchase coverage through the creation of a "Health Saver's Credit." Meanwhile, according to the GOP proposal, coverage for low and moderate-income individuals would be expanded by the creation of a "'saver's credit' to cover contributions to Health Savings Accounts (HSAs), making HSAs more attractive to families earning under $50,000 annually." Democrats have, of course, adopted AHIP's positions on reform as well, including an expansion of SCHIP and the general notion that pre-existing conditions should no longer be a point for denying coverage (a pill that the insurance industry has been willing to swallow in exchange for the government mandating coverage). But, considering how long it took for Republicans to put out a proposal - and the limited amount of time it's been debated - it's worth noting just where the intellectual foundation of their effort came from.