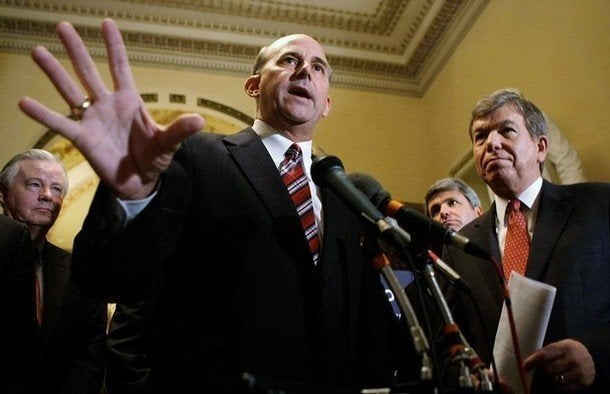 Several weeks ago, the Republican Party reacted with shock and horror after a Democratic congressman got on the House floor and accused the GOP of having an approach to health care reform that encouraged people to "die quickly."
Florida Rep. Alan Grayson's remarks were deemed "despicable" by the National Republican Congressional Committee. His personality was characterized as "unstable." Multiple demands for him to apologize were issued, and House Speaker Nancy Pelosi was called upon to denounce his behavior.
Flash forward two weeks and the shoe is firmly on the other foot.
Rep Louie Gohmert (R-Tex.) took to the floor of the House on Thursday night to relay a conversation he had with a senior citizen. The Texas Republican -- who already caused a stir by predicting that one in five people would die if Congress were to pass 'socialized' medicine -- proclaimed that Democrats were "willing to let [seniors] die" in their efforts to slash the Medicare budget.
REP. GOHMERT: I was talking to a senior that I consider a very wise individual, and this weekend she said, "You know what concerns me about the 500 billion in cuts to Medicare? Maybe not, but I can't help but think they know that as seniors we've been through World War II, we've seen the evils that lurk in this world, we have gained great wisdom from our years, and they're willing to let us die off more quickly so that we're not around to try to get our wisdom across to the young people of what is at risk by this government takeover."
This is just one in a series of instances in which a member of Congress has used the specter of looming death to push his or her health care argument forward. And, by in large, the whole ploy has become so commonplace that it is now almost unremarkable. Still, the NRCC went hard after Grayson for his remark, so it will be noteworthy to see what they have to say now. A call to the committee, along with an email, was not immediately returned.
UPDATE: John Randall, the NRCC eCampaign Director, responds by arguing that the Grayson and Gohmert instances are not comparable.
"I disagree this is similar to Grayson's despicable personal claims of what Republicans want all Americans to do," he emails. "This was a case of a Congressman relaying a concern of his constituent to his colleagues - unlike Grayson who aired his own unacceptable views."
Popular in the Community