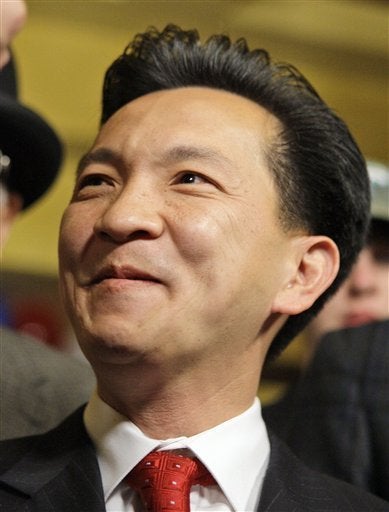 Rep. Anh "Joseph" Cao, a Republican in a deeply Democratic Louisiana district, was welcomed on Tuesday night into the Congressional Asian Pacific American Caucus.
Addressing the group at a ceremony in the Capitol Visitors Center, Cao did a little bipartisan outreach.
"Don't tell the Republicans, but I might be a closet Democrat," said Cao to a round of laughter.
He then added that party shouldn't define a member of Congress and that "we are basically servants of the citizens of the United States."
Last election, Cao upset the indicted-Rep. William Jefferson, who famously was caught with $90,000 in alleged bribes stuffed in a freezer (in retrospect a sound investment). The district's overwhelming Democratic slant, however, has led to speculation that Cao might switch parties to avoid getting knocked off in 2010 by an opponent not under indictment. His quip about being a closet Democrat can only fuel such speculation.
It shouldn't, said his aide, Clayton Hall. "Joseph has a great sense of humor," Hall said, adding that he told Cao that the Huffington Post would report his remark and Cao responded, "Can't a congressman make a joke?"
Cao, on Tuesday night, continued with the bipartisan outreach, asking the Democrats at the ceremony to campaign for him in two years.
"I hope to be part of this caucus for a very, very long time, even though the next two years will be a fight, a constant battle against me. And with that, I'm pretty sure I will need all of your help. I will ask that in two years you come down to New Orleans and assist me," he said to another round of laughter.
Cao was the subject of fierce lobbying by GOP leadership to make sure he voted against the stimulus to maintain the House Republicans' perfect-zero vote against it. He initially voted no, then indicated he might vote for it the second time around. After his second no vote, Republican Whip Eric Cantor (R-Va.) said he had personally spoken to Cao before the vote to urge him to stick with the GOP line. For his votes, he now faces a recall petition at home, organized by a group of ministers, along with Democratic attack ads on the radio.
Rep. Mike Honda (D-Calif.), chair of the caucus, gave some bipartisan affection back to him. "Cao's a strong addition to the Asian Caucus. Regardless of party line, he is serious about representing his constituents and bolstering economic recovery efforts in New Orleans, particularly for small businesses and minority communities," he said. "He's the only Republican in a minority caucus."
Popular in the Community