With hours to go until Michael Cohen testifies in an open congressional hearing, Rep. Matt Gaetz (R-Fla.) had a message for him ― and a bizarrely threatening one at that.
"Hey [Michael Cohen] - Do your wife & father-in-law know about your girlfriends?" he asked in the since-deleted post.
"Maybe tonight would be a good time for that chat. I wonder if she'll remain faithful when you're in prison. She's about to learn a lot ..."
Whether or not Cohen is having an extramarital affair is not widely known, nor particularly relevant. Many observers pointed out that what Gaetz had done could be potentially considered witness tampering, a violation of federal law carried out in full view of the public.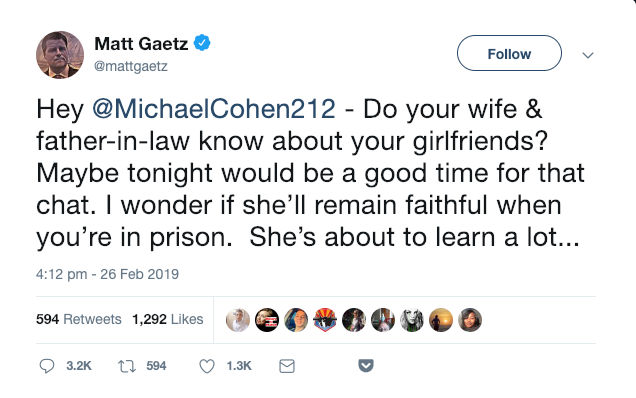 MSNBC's Rachel Maddow responded by sharing multiple links to the legal statute ("Obstruction by Intimidation, Threats, Persuasion, or Deception") that Gaetz may have violated, before asking a question surely on others' minds: What now?
Cohen's attorney Lanny Davis said in a statement that he would not respond to Gaetz's comments "except to say we trust that his colleagues in the House ... will repudiate his words and his conduct."
"I also trust that his constituents will not appreciate that their congressman has set a new low," Davis said.
"No, it is challenging the veracity and character of a witness," he said of the tweet. "We do it every day. We typically do it during people's testimony."
He added: "This is what it looks like to compete in the marketplace of ideas."
He denied threatening Cohen again Wednesday.
"Watch tomorrow," Gaetz told Ward in a text message.
"Will do ― anything I should be prepared for?" Ward said.
"Fireworks," the congressman replied.
Cohen is scheduled to testify before the House Committee on Ethics and Government Reform, where he will be asked about his dealings with the Trump Organization, including any possible tax violations or criminal acts. Cohen worked for over a decade as Trump's loyal "fixer" before agreeing to cooperate with special counsel Robert Mueller's investigation into collusion between the Trump campaign and Russia. He has also cooperated with federal prosecutors in New York.
Cohen now stands as a major threat to the Trump presidency, and Republicans are expected to largely paint him as a liar at Wednesday's hearing.
Gaetz deleted his original tweet late Tuesday and apologized, writing, "I should have chosen words that better showed my intent."
In a Tuesday night tweet of her own, House Speaker Nancy Pelosi (D-Calif.) cautioned members of Congress to act responsibly on social media, although she did not mention Gaetz by name.
"I encourage all Members to be mindful that comments made on social media or in the press can adversely affect the ability of House Committees to obtain the truthful and complete information necessary to fulfill their duties," she wrote.
"The committee on ethics should vigilantly monitor these types of states, which may not be protected by the speech or debate clause."
This story has been updated to include a statement from Lanny Davis reported by The Wall Street Journal, a tweet by House Speaker Nancy Pelosi and Gaetz's apology.
Popular in the Community