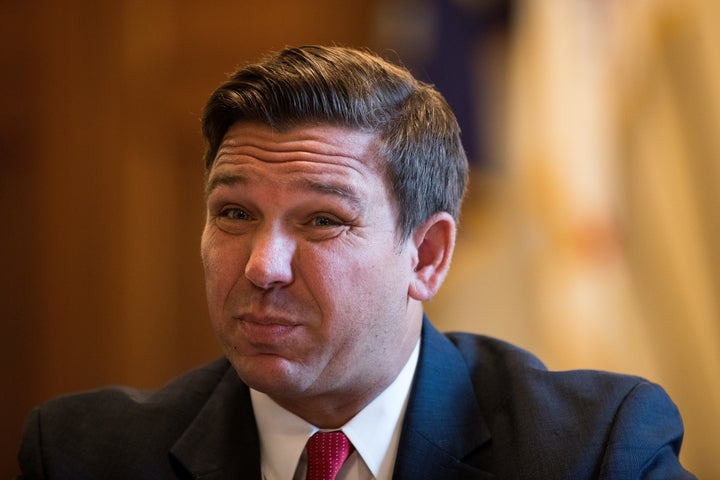 Some parents fill their babies' play areas with plush toys and introduce them to literature through Where's Spot?
DeSantis, who is running in the Republican gubernatorial primary in Florida, is out with a new campaign ad touting his ardent support of President Donald Trump ― support so obsessive he's already schooling his young children in the ways of #MAGA.
In the ad, DeSantis, who recently earned Trump's endorsement over his main Republican rival, Florida Commissioner of Agriculture Adam Putnam, is introduced by his wife, Casey.
"People say Ron's all Trump," she begins, "but he is so much more."
The viewer is then treated to a tongue-in-cheek yet still remarkably unsettling portrayal of the congressman's parenting style.
In one scene, he urges one of his children to "build the wall" with a set of cardboard play bricks.
In another scene, he reads Trump's The Art of the Deal to his child with the words "PITBULL TRUMP DEFENDER" splashed in all caps across the screen.
"Then Mr. Trump said, 'You're fired,'" DeSantis coos. "I love that part."
He also teaches his daughter to talk by using a "Make America Great Again" Trump lawn sign. Casey DeSantis calls her husband a "great dad."
Despite his apparent willingness to inculcate his children with blase attitudes about job loss and xenophobia, DeSantis' strategy appears to be paying off. A survey released by Florida Atlantic University last week found DeSantis leading Putnam 36 to 27 percent, with 23 percent undecided.
It's not all bad. Studies find that young children who are regularly spoken to by their parents exhibit higher cognitive functioning later in life. Maybe DeSantis' children will grow up and not make the same decisions as their father.
Check out our rundown of 2018′s worst campaign ads.
Brett Favre: Bar bar bar bar! I Ain't No Politician! Bar bar bar bar!
On the surface, this Chamber of Commerce spot for newly appointed Republican Sen. Cindy Hyde-Smith's Senate campaign starts like a lot of boilerplate political ads: a retired football player, a bucolic setting and twangy music -- in another world, it could just as easily be an ad for a new erectile dysfunction pill.
No erections here. Just Hall of Fame quarterback Brett Favre.
"I don't like to talk politics, but I love Mississippi way too much to stay quiet in this election," Favre begins, the implication being that he is much too busy sitting at his favorite fishin' hole, thinkin' about God, his favorite dog and ownin' the libs -- or whatever it is people ruminate over at fishin' holes these days -- to worry about affairs of state.
The rub here is that Favre,
as HuffPost's Kevin Rollibard pointed out
, is no stranger to politics. In fact, this isn't even his first ad on behalf of Chamber of Commerce. Magnolia State politicos may recall
a 2014 campaign ad/boner pill hustle
that Favre cut for Sen. Thad Cochran (R), who retired this year and for whose seat Hyde-Smith was appointed to fill. It was almost the same exact ad.
Even in the political arena, where false modesty is as endemic as grift, playing the I-don't-do-this-much-but-I-just-had-to-speak-out card on your
second
Chamber of Commerce ad is a bit vomit-inducing. You might as well have an ad featuring Mitch McConnell on a rocking chair, hocking a loogie into a spittoon and remarking that repealing the carried interest loophole is a big ol' can of fooey.
Dumpster Fire
Richard Painter was the chief White House ethics lawyer from 2005 to 2007 and later the vice chair of the Center for Responsibility and Ethics in Washington. Richard Painter loves ethics. Richard Painter fights for ethics. Richard Painter talks about ethics. By all accounts, Richard Painter eats, drinks and dreams ethics. If you hold a buffalo nickel in your left hand, say "ethics" three times and wink at the moon, Richard Painter will appear beside you and mutter something about the Hatch Act.

OK, that isn't true. What is true is that Painter's campaign to represent Minnesota in the Senate had one of the strangest ads this cycle. In the spot, Painter stands in front of a dumpster fire -- yes, a literal dumpster fire -- and condemns the ethical situation in Washington as such.

"There is an inferno raging in Washington, but here in the land of 10,000 lakes," Painter says as a cascade of water extinguishes the blaze, "we know how to put out a fire."

Painter doesn't really say what he'll do to combat unethical behavior in Washington, or why he would be better pick than his opponent in the Democratic primary, Sen. Tina Smith. However, the ad did attract a lot of attention to Painter's campaign -- plus, it put Smith on the defensive over whether she supports giant piles of burning trash.
Ouch
Next time you hear a politician say they want to see regime change in North Korea, tell them to put up or shut up and invade North Korea themselves to show us just what a good idea that would be.

Levi Tillemann, a candidate in the Democratic primary in Colorado's 6th District, was onto something this year when his campaign released an ad focused on his support for non-lethal deterrents to school shootings. Rather than simply proposing that teachers be armed with pepper spray, as another, weaker, candidate might, Tillemann pepper-sprayed his own damn face.

Hell yes.

Tillemann spends the next minute (!) grunting, wheezing and professing the immense amount of pain he is in, dunking his head in a bucket of clearing solution and firing a hose at his incapacitated eyeballs.

It's an interesting approach, and Tillemann deserves credit for putting his money where his mouth (eyes?) is (are?). However, the whole thing is a little absurd, considering the abrupt change from traditional campaign ad to something akin to a super woke episode of "Jackass." Even as facts about school shootings are flashed on the screen, the viewer is much too distracted by Tillemann's writhing to actually read the message.

"It's incredibly painful, and now I just can't see anything," Tilleman declares. True enough.
'China People'
Remember
Chuck Testa
? The low-affect taxidermist from Ojai, California, went viral earlier this decade when an ad for his business -- featuring an array of people convinced Testa's products were alive, only to be corrected by him with an abrupt "Nope" -- took the internet by storm.
Former Massey Energy CEO Don Blankenship, who was convicted in 2014 of violating mine safety standards and impeding investigations, exudes a similarly low-energy vibe, except instead of making a living by sluicing preserving chemicals on animal skins and being a lovable weirdo, Blankenship made millions as 29 miners were killed in his facility and is an absolute monster.
Still, Blankenship -- like Testa before him -- went viral in 2018 by being strange and exuding all the excitement of a tranquilized sea slug. However, there was nothing to smile about in Blankenship's ad, in which the candidate refers to the "China family" and "China people" who were allegedly enriching Senate Majority Leader Mitch McConnell (R-Ky.). McConnell's wife, transportation secretary Elaine Chao, was born in Taiwan.
Does Don Blankenship have any shame?
Nope
. Did Don Blankenship's message resonate with West Virginia voters?
Nope.
Top Gun, aka Veteran McVeteranface
This isn't an ad, it is a master class in goobering -- that is, the art of being a total goober. Dan Helmer, an Army veteran, ran what might be this cycle's cheekiest ad in his ultimately failed bid for the Democratic nomination in Virginia's 10th Congressional District (he lost to state Rep. Jennifer Wexton).

The ad, titled "HELMER ZONE," depicts Helmer arriving at a bar, a la "Top Gun," on a motorcycle and dressed in a bomber jacket. He is informed that Rep. Barbara Comstock, for whose seat Helmer and his Democratic opponents were vying, is at the bar. Keeping with the "Top Gun" theme, Helmer proceeds to serenade Comstock (or rather, a Comstock lookalike), to the tune of "You've Lost That Lovin' Feeling," switching out the lyrics for ones about town halls and extreme voting records.

It's all very silly and it's clear that Helmer is more than in on the goober-ness of the whole affair ("I'm Dan Helmer, and I approve of town halls, bad singing and this message," he concludes).

However, the best (worst?) part of the ad is Helmer's T-shirt, on which is emblazoned, in giant letters, "VETERAN."

Voters are used to having their hands patronizingly held by candidates for office, more or less expecting to be rapped on the nose with a newspaper and told tersely, "No! No! We do that HERE!" But even by that standard, the flagrant telegraphing of Helmer's shirt is a bit ridiculous.

Now look, maybe Helmer is fond of this shirt, and his service has certainly earned him the right to wear it. However, the T-shirt's glaring creases suggest that it was purchased for the ad with the express purpose of driving home the fact that Helmer is a veteran. Did you catch that? A veteran.

Then again, maybe the shirt actually is part of Helmer's wardrobe and he's so much of a goober that he irons his T-shirts. If so, we salute you, Dan Helmer: Patriot. Veteran. Goober.
Popular in the Community