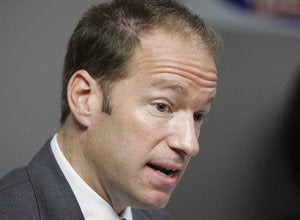 Republican Congressman Peter Roskam appeared to equate abortion with the execution of rapists during an interview with the suburban Pioneer Press editorial board, a statement that Springfield chronicler Rich Miller believes "might do some damage" to the Wheaton incumbent in the final days of his close race against Democratic opponent Jill Morgenthaler.
Under the heading "Values Clash," the Pioneer Press wrote (emphasis added):
Morgenthaler, who vaulted over Roselle businessman Stan Jagla in the Democratic primary election with 77 percent of the vote, calls Roskam an "ideologue" because, for example, he opposes abortion even in the case of rape or incest. Citing the late Congressman Henry Hyde, who represented the 6th District for 16 terms until 2006, Roskam said people cannot be categorized by the way in which they were conceived and asked in the Pioneer Press interview why women can have abortions if rapists cannot be executed.

"You know, my position is the same as Henry Hyde's. And Henry Hyde put it best when he said, when somebody is the victim of a crime, the law
currently says that a rapist can't be put to death. That's the law. A rapist under the court doctrines can't be put to death. He said, why is it that the baby who is the result of that criminal behavior can be put to death? He said, isn't that a sad, sad thing. So my feeling is, look, in the case of that, that's the hard case, right? That's the ultimate painful and difficult case. And what we need to do is love that person and encourage them and support them. But once people are categorized by how they were conceived and the circumstances of their conception, you end up going down a route that ultimately I don't think we want to be."
Peter Roskam refused to discuss his statement on abortion with NBC 5 political reporter Mary Ann Ahern.
Related
Popular in the Community