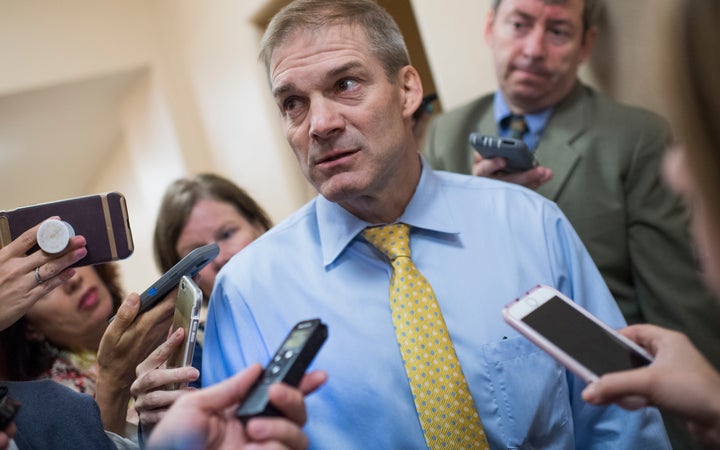 Former Ohio State University wrestlers are accusing Rep. Jim Jordan (R-Ohio) of turning a blind eye to sexual abuse allegedly committed by a former team trainer while Jordan was an assistant coach.
"I considered Jim Jordan a friend. But at the end of the day, he is absolutely lying if he says he doesn't know what was going on," former Ohio State wrestler Mike DiSabato told NBC News in an investigative report published Tuesday.
Jordan, who became a congressman in 2007, was an assistant wrestling coach at the university from 1986 to 1994. In April, Ohio State officials announced the school was opening an investigation into accusations that Dr. Richard Strauss sexually abused athletes during his tenure as a school trainer from the mid-1970s to the late 1990s. Strauss died in 2005, but the investigation into his alleged actions is ongoing.
Four former wrestlers told NBC News that it was "common knowledge" that Strauss inappropriately touched students during appointments and often showered with them. The athletes said it would have been nearly impossible for Jordan to not have known about the abuse.
"Everybody used to snicker about how you go into his office for a sore shoulder and he tells you to take your pants down," an anonymous former wrestler said.
Former wrestler Dunyasha Yetts told NBC News that he reported Strauss' alleged behavior to Jordan in the early '90s.
"I remember I had a thumb injury and went into Strauss' office and he started pulling down my wrestling shorts," Yetts said. "I'm like, what the fuck are you doing? And I went out and told [former head coach] Russ [Hellickson] and Jim what happened. I was not having it. They went in and talked to Strauss."
Former wrestler Shawn Dailey told NBC News on Thursday that he was also groped several times by Strauss in the mid-1990s. Daily said he and other wrestlers took part in a "locker-room talk about Strauss" with Jordan.
Jordan has repeatedly denied that he knew anything about sexual abuse allegations against Strauss. In a statement responding to NBC News' report, he reiterated through a spokesman that he was not aware of sexual assault accusations.
"Congressman Jordan never saw any abuse, never heard about any abuse, and never had any abuse reported to him during his time as a coach at Ohio State," spokesman Ian Fury said. "He has not been contacted by investigators about the matter but will assist them in any way they ask, because if what is alleged [is] true, the victims deserve a full investigation and justice."
DiSabato, whose accusations triggered Ohio State to open an investigation into Strauss, estimates that the former trainer may have sexually abused as many as 2,000 athletes during his tenure at the university.
"Strauss sexually assaulted male athletes in at least fifteen varsity sports during his employment at OSU from 1978 through 1998," DiSabato wrote in a June email to the law firm representing the university that was obtained by NBC News. "Athlete victims include members of the following programs: football, basketball, wrestling, swimming, cheerleading, volleyball, lacrosse, gymnastics, ice hockey, soccer, baseball, tennis, track and cross country."
"We estimate that Strauss sexually assaulted and/or raped a minimum of 1,500 [to] 2,000 athletes at OSU."
He continued, "Based on testimony from victim athletes from each of the aforementioned varsity sports, we estimate that Strauss sexually assaulted and/or raped a minimum of 1,500 [to] 2,000 athletes at OSU from 1978 through 1998."
Jordan leans very conservative and is a devoted ally of President Donald Trump. His name is often brought up as a possible replacement for House Speaker Paul Ryan (R-Wis.).
"These are serious allegations and issues," Doug Andres, a spokesman for Ryan, said in response to NBC News' report. "The university has rightfully initiated a full investigation into the matter. The speaker will await the findings of that inquiry."
In an interview with Politico on Tuesday night, Jordan said he "would have done something" about the abuse if he had known about it at the time.
"It's not true. I never knew about any type of abuse," he said. "If I did, I would have done something about it. And look, if there are people who are abused, then that's terrible and we want justice to happen."
Jordan added in an interview with CNN on Wednesday that he "never knew of any abuse" during his time at OSU.
"There's no truth to the fact that I knew of any abuse. I've talked to other coaches, and they didn't know of any abuse," Jordan said. "I never knew of any abuse from Dr. Strauss, plain and simple."
This article has been updated to include comments from Jordan in response to NBC News' report and with comments from a fourth wrestler who says Jordan knew of the abuse.
Popular in the Community