As Rep. Mike Gallagher (R-Wis.) took the House floor to nominate Rep. Kevin McCarthy (R-Calif.) for speaker Wednesday, he acknowledged that the process of finding a new majority leader has not exactly gone off without a hitch.
The day before, the House went through three rounds of voting and still could not agree on who should be speaker.
In Gallagher's eyes, though, the chaos did not reflect poorly on the Republican Party. Instead, he suggested fault lay with the media documenting the turmoil and Democrats waiting for Republicans to organize themselves so members can be seated and the House can begin its work.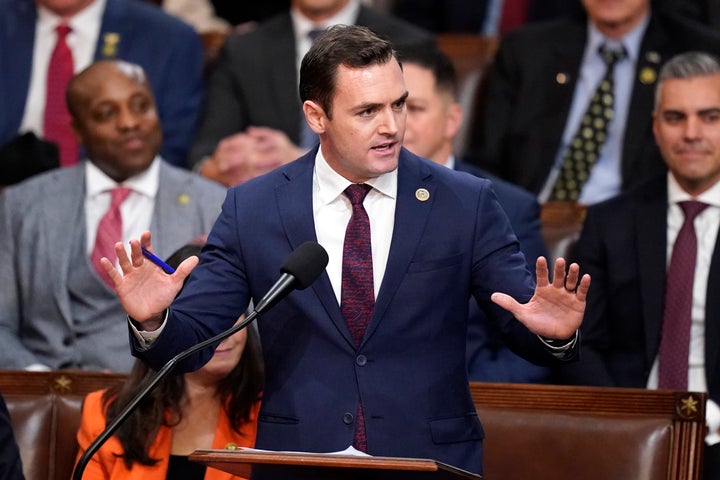 "You might tweet out some more popcorn emojis. I get it. You might write your headlines," Gallagher said from the floor. "But what I see right now is energy ― a tremendous amount of energy in this Republican caucus who want to do the work of the people."
Republican and Democratic majorities had, for a century, been able to elect a leader in just one round; the last time the chamber needed to hold multiple rounds was in 1923. While reports prior to the first vote indicated the race for House speaker would be tight, few predicted that it would take so much effort.
One member of Congress, Rep. Ted Lieu (D-Calif.), had posted a photo of himself holding a full bag of popcorn outside his office on Tuesday morning with the caption, "About to go to the House Floor."
Gallagher said he knew the process "looks messy."
"But democracy is messy," he said, prompting a standing ovation from conservatives.
"Democracy is messy by design. By design. And that's a feature ― not a bug ― of our system," he said.
Yet even former President Donald Trump seemed to acknowledge that the discord Americans have watched play out is not a good look for Republicans. In a Truth Social post, Trump urged his party: "REPUBLICANS, DO NOT TURN A GREAT TRIUMPH INTO A GIANT & EMBARRASSING DEFEAT."
"Kevin McCarthy will do a good job," he said.
McCarthy lost a fourth time, then a fifth time, and then a sixth time Wednesday afternoon.
Popular in the Community