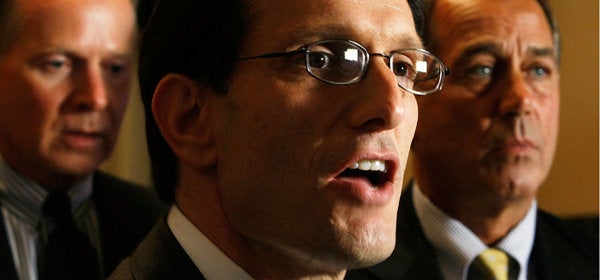 At a moment when the country needs our help, it would be a great mistake for the House GOP to turn inward and simply become the party of "no." We want our new president to succeed, and America needs our new President to succeed, which is why we will contribute the full force of our ideas to help him navigate the choppy waters. That's why our leadership met with the president three times to offer him our ideas on the stimulus, including among other proposals a reduction in small business tax liability by 20 percent.
Of course, all 178 Republicans in the House refused to vote for the stimulus package. And while they requested one meeting with Obama, it was the president who invited them in and brought them back twice. Not only did he listen to Republican ideas, he incorporated them into the stimulus -- including tax cuts and asking for some Democratic provisions to be removed.
So the Republicans have pinned the blame on a different Democrat. "The onus is on Speaker Pelosi. She needs to meet with us," Cantor said after the vote. "She needs to open her doors. We need to begin to work truly in a bipartisan fashion."
Popular in the Community