***UPDATE*** GOP Rep. Joe Wilson has apologized for yelling out "You lie!" to Obama during his health care speech in front of Congress:

This evening I let my emotions get the best of me when listening to the President's remarks regarding the coverage of illegal immigrants in the health care bill. While I disagree with the President's statement, my comments were inappropriate and regrettable. I extend sincere apologies to the President for this lack of civility.
The non-partisan organization FactCheck.org has debunked the claim that health care reform would mandate coverage for illegal immigrants.
During President Obama's major health care speech on Wednesday, South Carolina Rep. Joe Wilson (R) yelled out "You lie!" when the President said the legislation would not mandate coverage for undocumented immigrants.
The Associated Press noted:
It wasn't the only interruption during Obama's speech to a joint session of Congress in the House of Representatives. Earlier, Republicans laughed when Obama acknowledged that there are still significant details to be worked out before a health overhaul can be passed.

Wilson's outburst caused Obama to pause briefly before he went on with his speech. Overhead in the visitors' gallery, first Lady Michelle Obama shook her head from side to side.
Watch the video below. During an appearance on CNN after Obama's speech, Sen. John McCain (R-Ariz.) said Wilson's outburst was "totally disrespectful -- [there's] no place for it in that setting or any other and he should apologize immediately."
McCain calling for Wilson to apologze (H/t Jon).
Here's a photo of Wilson yelling: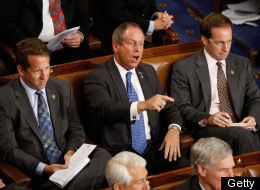 Send us tips! Write us at tv@huffingtonpost.com if you see any newsworthy or notable TV moments. Read more about our media monitoring project here and click here to join the Media Monitors team.
Support HuffPost
The Stakes Have Never Been Higher
Popular in the Community