A second attempt to pass a bipartisan disaster aid package has failed after a House Republican voted on Tuesday against a bill that would secure $19 billion in emergency relief.
Rep. Thomas Massie (R-Ky.) objected to the legislation's passage during a voice vote and asked that another vote be held after the House returns from recess next week.
Lawmakers are currently on a 10-day recess for Memorial Day. Because of the recess, the bill required a unanimous vote to pass. This rule can be removed if recess is ended early, Roll Call reported.
"The Constitution is unambiguous, conducting this type of business requires at least half of Congress to be present," Massie said on Twitter. "If Speaker [Nancy] Pelosi considered this must pass legislation, why did she send everyone home on recess for ten days before voting on it?"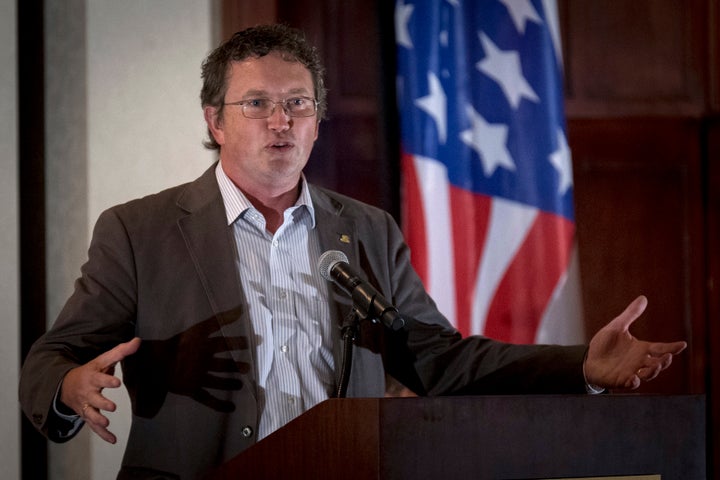 House Democrats had hoped to send the bill to President Donald Trump on Friday before Memorial Day weekend. In an earlier vote that same day, however, Rep. Chip Roy (R-Texas) rejected the bill and demanded that it contain a "modest $4.4 billion" in funding for border security.
The bill, which Trump has said he will sign, contains funding for rebuilding and infrastructure improvements in areas affected by recent natural disasters, including hurricanes, tornadoes and wildfires.
Sen. David Perdue (R-Ga.) was quick to lash out at Massie on Twitter, accusing him of putting his "own self-interest ahead of the national interest."
"It's pathetic that some members have chosen this moment to grandstand & get into the national headlines," he wrote. "It's time to quit the political games & get this disaster relief across the finish line."
Pelosi also slammed the objecting vote as "heartlessness," especially in the wake of deadly tornadoes in Oklahoma, Ohio and Indiana over the weekend.
"House Republicans need to immediately end this shameful sabotage, and allow the House to pass the bill that the bipartisan Senate has finally agreed to," Pelosi said in a statement. "How many more communities need to suffer before Republicans end their political games?"
House Majority Leader Steny Hoyer (D-Md.) told reporters that lawmakers will try to pass the bill unanimously again on Thursday. If that attempt also fails, the House will vote on it next week once all members have returned from the Memorial Day recess. 
Calling all HuffPost superfans!
Sign up for membership to become a founding member and help shape HuffPost's next chapter