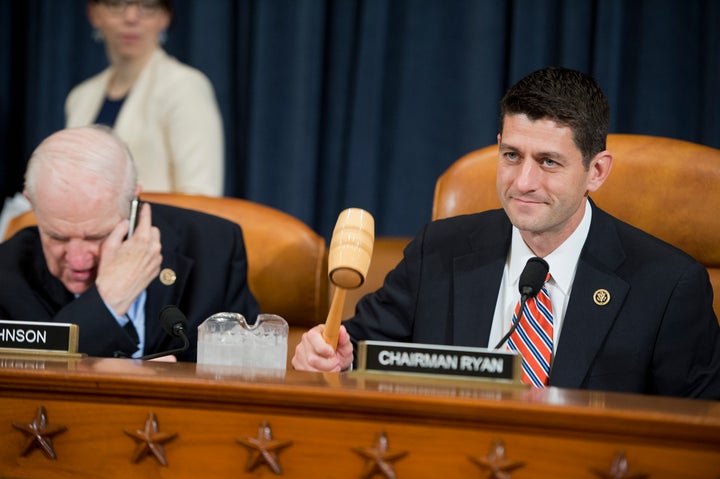 WASHINGTON -- Planned Parenthood and Obamacare are probably the two things the GOP hates most. House Republicans are targeting both this week with an obscure procedural move that could finally advance opposition bills to President Barack Obama's desk.
The procedure is called budget reconciliation, and legislation advanced that way cannot be filibustered in the Senate, is subject only to limited amendments and needs only simple majority votes to pass, according to House and Senate rules.
It would then be up to Obama to veto the measures, which he would be all but certain to do. But the process would move two cherished GOP goals through the Senate, pushing them further than they've ever gotten before.
"Obamacare remains as unpopular as ever, and this package gives us our best shot to put a repeal bill on the president's desk," said Brendan Buck, a spokesman for House Ways and Means Committee Chairman Paul Ryan (R-Wis.), who is leading the Obamacare attack and rolled out his plans Monday.
Congress set up the moves last spring when it passed a budget plan that included reconciliation provisions -- essentially instructions for various committees to draw up legislation targeting the Affordable Care Act and other unspecified issues. Senate committees are expected to take similar steps to those in the House.
Ryan's legislation targets the ACA by ordering the repeal of several key parts of the law, including the mandate for people to purchase health care, the cost-controlling Independent Payment Advisory Board, a tax on medical devices, and the so-called "Cadillac plan" tax on high-cost health insurance.
The legislation cannot target all of the Affordable Care Act because reconciliation bills must be focused on taxes, spending or the debt limit, not on policy. But according to the Ways and Means Committee's assessment, "the repeal of these provisions would be a devastating blow to Obamacare."
It is the Energy and Commerce Committee, chaired by Rep. Fred Upton (R-Mich.), that is drawing up the bill to defund Planned Parenthood.
"We also will take steps to protect taxpayer dollars from programs and organizations that do not live up to the standards and priorities of the American people," Upton said in a statement announcing his plans. "As this committee continues to investigate Planned Parenthood and its affiliates, the flow of taxpayer dollars should end."
Republicans have ratcheted up their efforts against Planned Parenthood ever since the emergence of heavily edited sting videos that purport to show the health care provider scheming to profit from selling fetus parts. That claim has been debunked, but lawmakers have seized upon it, even trying to link it to funding for the federal government.
Democrats saw the moves as yet another waste of time, and charged that GOP leaders were simply trying to appease their right-wing members in hopes of keeping them in line to pass a bill to keep the government funded this week. Hardline conservatives had been spoiling for leaders to use that funding bill as a vehicle to defund Planned Parenthood, thereby sparking a shutdown fight that House Speaker John Boehner (R-Ohio) wants to avoid.
"These reconciliation bills aren't about legislating – they're about appealing to recalcitrant Republicans to try to win votes for a clean Continuing Resolution [funding bill]," said the top Democrat on the Ways and Means Committee, Rep, Sander Levin (Mich.) in a statement. "The bills before Ways and Means, which amount to the 61st vote to repeal the Affordable Care Act, won't become law. Republicans are so worried about fixing the growing divisions in their own party that they're failing to govern."
Obama could be forced to uncap his veto pen as soon as October.
Michael McAuliff covers Congress and politics for The Huffington Post. Talk to him on Facebook.
Popular in the Community