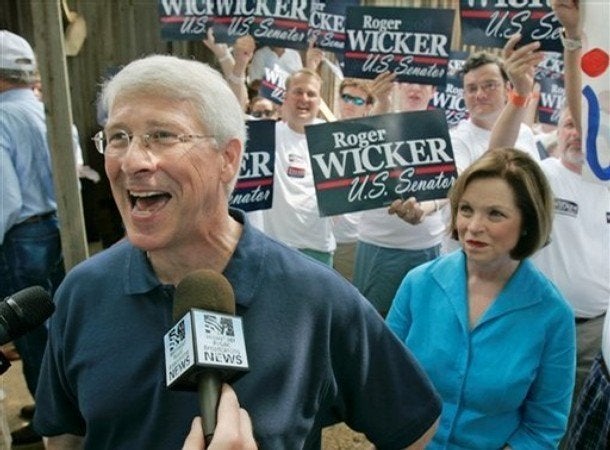 Republican Senator Roger Wicker is facing the fight of his life for reelection in Mississippi. So what is he doing to ensure another six years in Congress? He's apparently painting himself as a Democrat.
A sample ballot reportedly put out by the Senator -- who has been in office for less than a year and could very well lose his race to former Gov. Ronnie Musgrove -- seems designed to deceive voters into thinking he is on the same ticket as Obama-Biden.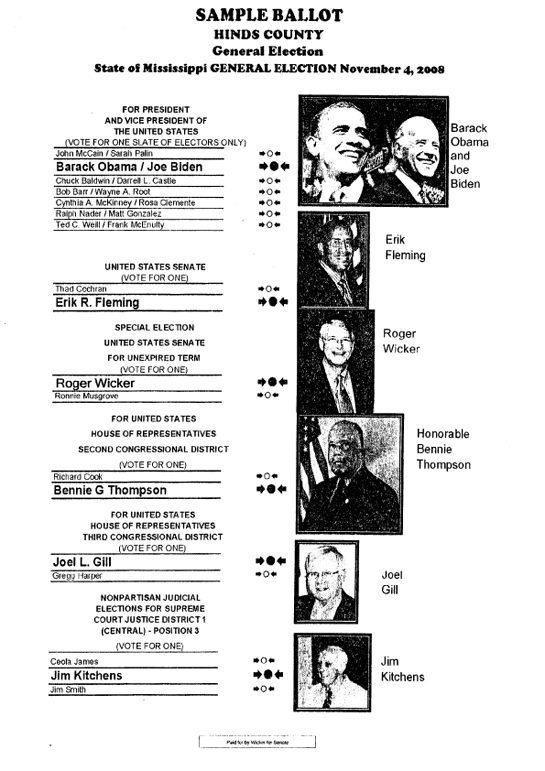 The flier, which has been reported in the Delta and Jackson regions of the state, checks off and makes bold the name of every Democratic candidate on the ballot -- plus Wicker. The desired effect is to make recipients believe that, if they vote down the Democratic party line, they should check off Wicker's name as well.
The late-game scheming is reflective not just of how tight the Mississippi Senate race truly is, but how fundamentally the Southern political landscape has shifted with Obama on the ticket. The idea that a Republican Senate candidate in the deep South would actually want to be associated with a black presidential aspirant is downright mind-boggling. At the same time, Wicker may just be trying to stir up enough confusion to siphon off the needed Democratic vote to propel himself to victory. Either way, it's dirty.
Update: The Wicker campaign denies involvement in an the sample ballot. Spokesman Ryan Annison, speaking to Talking Points Memo, says: "The honest to goodness truth is this is the first time we've seen it... At five o'clock the night before the election, I can't say that our opponent's press releases are a priority."
REAL LIFE. REAL NEWS. REAL VOICES.
Help us tell more of the stories that matter from voices that too often remain unheard.