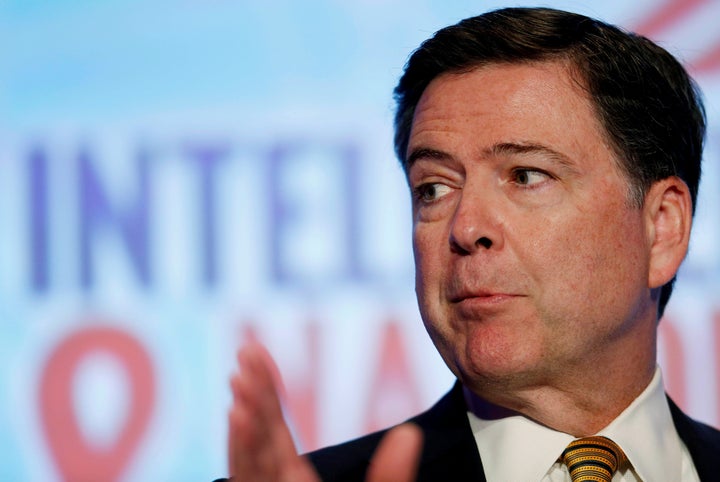 WASHINGTON ― Whether or not FBI Director James Comey wanted to upset next week's election by revealing the bureau is again looking at Hillary Clinton  emails, the National Republican Senatorial Committee is trying to leverage that news to buttress its dwindling chances of keeping the Senate.
According to HuffPost Pollster's detailed poll modeling, the Republicans' chances of maintaining a majority in the upper chamber are down to 17 percent ― a precipitous fall from a couple of weeks ago when they had about a 60 percent shot at holding on.
To that end, the committee dropped a new ad Tuesday aimed primarily at the web that tries to use the new news to motivate voters whose distaste for GOP presidential nominee Donald Trump might have clouded their memories about how little they like his Democratic rival.
"It's time to start asking why are Democrat Senate candidates still standing with Hillary Clinton?" the spot states. A montage then runs that includes Clinton meeting with Arab leaders, a smashed computer, and 1984-like footage that appears lifted from an old ad supporting President Barack Obama in 2008.
"They already know about the smashed private email servers, sketchy meetings, shady political donations, special immunity deals," the commercial continues.
"Now Hillary Clinton is under FBI investigation… again," it says, before noting that a pro-Clinton Super PAC, Priorities USA, is backing the Democrats. (The ad is called "Priorities H.R.C.")
"If these Democrat Senate candidates are letting her get away with these scandals now, just imagine what they would let Hillary Clinton get away in the White House, the spot concludes.
The FBI has still not suggested its latest review of the former secretary of state will change its earlier decision that she broke no laws, and there's little evidence that Comey's announcement has moved voters. But the NRSC at least thinks Comey's move could help the GOP.
"Democrat Senate candidates across the country must now spend the last week of the campaign explaining to voters why they are so eager to vouch for Hillary Clinton's honesty and trustworthiness," said NRSC spokeswoman Andrea Bozek.
If the GOP's new ad didn't make clear how Republicans feel about Comey's decision to raise the issue of Clinton's email near the end of the election, Sen. Richard Burr (R-N.C.) told supporters over the weekend that Comey's letter to Congress Friday was a gift.
"I know that people are on the fence. Some of them are Republicans. We got to get 'em off the fence, folks. We gotta get them to the point where they say, 'I'm gonna do it,'" Burr told supporters in an eastern North Carolina gun shop.
"And we were given a gift yesterday," said Burr, who is locked in a tough re-election fight with former Democratic state Rep. Deborah Ross. "I walked into a rally in Smithfield, and I said, 'Let me show you what I got today,' and I pulled out of my pocket my letter from Jim Comey, opening up the investigation again."
This post has been updated with comments made by Sen. Richard Burr.
Calling all HuffPost superfans!
Sign up for membership to become a founding member and help shape HuffPost's next chapter
BEFORE YOU GO
PHOTO GALLERY
Republicans Who Have Withdrawn Their Support For Donald Trump