Sen. Rob Portman (R-Ohio) on Friday refused to answer a voter's questions about a bill critics say will paralyze public health agencies and make it easier for corporations to pollute. He then laughed in the woman's face when she asked him to stop taking donations from fossil fuel giants.
At the Ohio State Fair in Columbus, Meryl Neiman, an entrepreneur and mother of two, confronted Portman about the Regulatory Accountability Act, which environmentalists say would thwart rules to protect public health and wildlife by making it easier for companies to hinder regulations in costly lawsuits.
In a video posted to Facebook by the progressive group Indivisible Columbus District 3, Neiman follows Portman as he exits a building, asking him about the bill and why people should support a bill that could cause damage to the environment and public health.
"It's a cost-benefit analysis," Portman says, seated on the passenger side of a golf cart. The audio then becomes momentarily muffled. 
"Well then could you stop taking money from the fossil fuel industry?" she says. "Because then I'd feel more comfortable that you're doing it for the right reasons."
Portman smiles and chuckles, then pulls away without responding.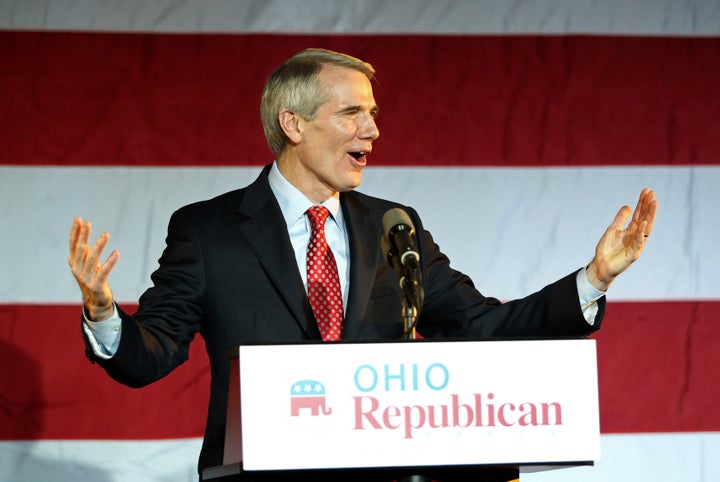 Between 2011 and 2016, Ohio-based Marathon Petroleum Corporation donated $74,635 to Portman, making it the 10th biggest campaign contributor behind financial giants like Goldman Sachs, Citigroup and JPMorgan Chase & Co., according to data collated by the Center for Responsive Politics. FirstEnergy Corporation, one of the largest investor-owned utilities in the country, fell just six slots behind Marathon with $61,730 in donations to Portman.
Companies and trade associations that lobbied for the House version of Portman's bill also donated at least $3.3 million to Portman's 2016 reelection campaign, according to an analysis by the Environmental Working Group. 
The act proposes adding 53 requirements to the rule-making process, including a mandate that all regulations with an economic impact exceeding $110 million go through a lengthy review. This could make it harder for agencies such as the U.S. Department of Agriculture to update meat and poultry safety standards. It could also impact of the Food and Drug Administration's ability to issue new rules on opioids and the Mine Safety and Health Association's ability to upgrade protections for workers. 
The bill, co-sponsored by Sens. Heidi Heitkamp (D-N.D.) Joe Manchin (D-W.Va.), would require agencies to make public "all studies, models, scientific literature, and other information" used to draft a new rule. But some raw data cannot be publicly disclosed, either because scientists own proprietary rights to the information or doing so would violate subjects' privacy, thus limiting the amount research available to regulators and giving more weight to industry-backed findings. In May, Los Angeles Times columnist Michael Hiltzik skewered Portman and his co-sponsors for "faking concern for the 'best' science" in a bill that amounts to "an attack on environmental regulations." 
Portman's spokesman defended the act as a "regulatory reform bill that will help create jobs and increase wages" and dismissed Neiman as a rabble-rouser.
"Rob's met with this professional protester before," communications director Kevin Smith told HuffPost. "Our staff has met with and talked with her more than 50 times. She likes to wear chicken suits at our offices."
Neiman, who runs a service that helps parents set up playdates online for kids, said she's not paid for her activism. She traveled to Washington, D.C., ahead of the failed Republican effort to repeal the Affordable Care Act last month, and took part in a sit-in at Portman's office. She criticized the senator for not holding town halls or public meetings to discuss the bill, which he has championed as his signature legislation in recent months. (Smith said Portman held at least six town halls this year.)
"I don't disagree that there's some regulations that are overly onerous or take too long, but this act doesn't go back and try to address any of that, all it does is basically put a hold on anything going forward," Neiman said. "We're going to be back in the times when Pittsburgh was shrouded in black and rivers were burning in Ohio and there were no regulations on toy safety, car safety and worker safety."
Calling all HuffPost superfans!
Sign up for membership to become a founding member and help shape HuffPost's next chapter
BEFORE YOU GO
PHOTO GALLERY
Top 10 Cities With The Worst Air Pollution 2016