WASHINGTON ― Sen. Todd Young (R-Ind.) spent much of 2017 urging greater accountability for the American role in the civil war in Yemen ― presenting himself as one of few GOP critics of the Trump administration's policies and aligning with prominent critics of U.S.-backed Saudi-United Arab Emirates operations in Yemen, like Sen. Chris Murphy (D-Conn.) and a bevy of national security experts on the left and right.
Now he is trying to undercut the clearest shot war skeptics have of forcing the U.S. to change course.
Young and Sen. Jeanne Shaheen (D-N.H.) on Thursday quietly filed new legislation, first reported by HuffPost, in response to a bill unveiled last week by Murphy and Sens. Bernie Sanders (I-Vt.) and Mike Lee (R-Utah). The Sanders-Lee-Murphy bill would force a Senate vote on whether to end U.S. support for the Saudi-UAE coalition fighting Iran-backed rebels in Yemen. It's unprecedented by design, guaranteed to come to the floor because it invokes the War Powers Resolution and the Arms Export Control Act; it invites Congress to flex its foreign policy muscles in a way it hasn't in decades.
The Young-Shaheen amendment is less ambitious. It requires the secretary of state to certify to key congressional committees within 30 days that the Saudis are investing in diplomacy to end the Yemen conflict and increasing humanitarian access to the more than 20 million Yemenis who need some kind of help. The secretary would have to submit similar certifications two further times: one month later, and eight months after that. If such certifications cannot be provided, the bill says the U.S. must end the aerial refueling the Saudi-UAE coalition relies on for bombing runs ― though it says American help can flow to that coalition if it is targeting Yemen's Al Qaeda and Islamic State branches or Iranian activity, raising the specter of an outright U.S.-funded proxy battle with the Islamic Republic.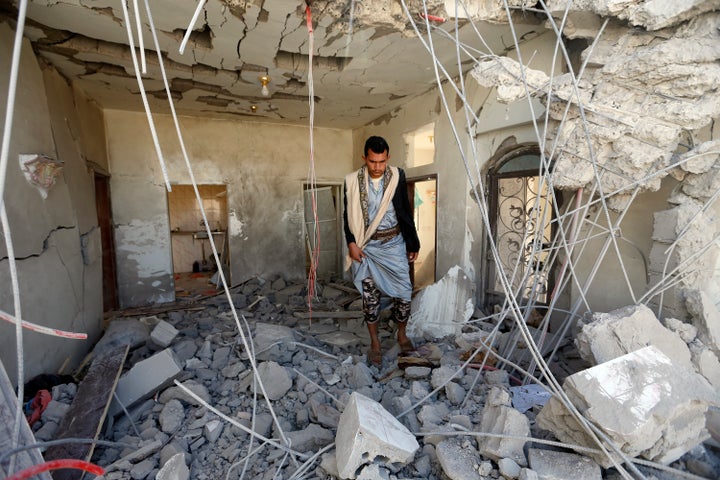 That proposal would effectively greenlight continued Saudi-UAE operations for months, at the very least.
It's a striking move by a man who just six months ago told HuffPost, "The actions of the Saudis in Yemen undercut our national security interests and our moral values — exacerbating the world's largest humanitarian crisis."
The worry among supporters of the Sanders-Lee-Murphy bill is that Senate leaders will encourage both pieces of legislation to be considered in short succession. That would allow lawmakers to appear to be acting on the Yemen crisis while avoiding an ambitious vote that would represent a rare congressional check on presidential war-making powers. They feel Young's requirements would be easy for the Trump administration to meet and unlikely to pressure the Saudis, mostly just incentivizing them to emphasize ties between the rebels and Iran to justify escalation and American assistance.
The Young-Shaheen camp maintains that its bill is a pragmatic alternative given the Defense Department's view that the War Powers Resolution does not apply in the case of Yemen and the likelihood that Trump would veto the original Yemen resolution.
"The [Sanders-Murphy-Lee] legislation will not accomplish its stated objective because it will almost certainly not become law," a Senate aide told HuffPost. "Even if it were to become law, it would not successfully compel the administration to take the desired steps in Yemen. The Young-Shaheen legislation actually could become law and could play a positive role in pressuring the Saudis to provide better humanitarian access and take concrete steps to end the civil war."
Supporters of the Young-Shaheen bill believe the certification requirement would make it more likely for Trump to push the Saudis. And they say more public shame on the Saudis through the Sanders-Murphy-Lee debate would have little effect, and reject claims of authorizing U.S. support for actions against Iran.
But their alternative also relies on the idea that embarrassment has an impact. It suggests that either the U.S. can force the Saudi-UAE coalition to improve its behavior so it can be certified and retain refueling support, or the U.S. can issue the weak certifications that activists are worried about and that lawmakers and advocates can use those to humiliate the coalition and demand progress.
And while it does not use the word "authorization," it explicitly protects U.S. support for Saudi-UAE missions against "Iranian terrorist activities" ― a broad phrase officials could easily use to justify all manner of attacks ― and "the transport, assembly, or employment of Iranian ballistic missiles or components in Yemen."
The competition between the bills seems likely to lead to Senate drama in the run-up to votes anticipated next week. Young is the most high-profile mainstream GOP skeptic of the Yemen war, so Republicans feeling pressure over it could easily say they are addressing the issue by voting for his proposal. Their leader, Sen. Mitch McConnell (R-Ky.), has led them to largely support the Saudi-UAE coalition during other votes seen as proxy Senate judgments on it, like a Senate fight last year over a weapons sale to Riyadh. While some top Senate Democrats, like Senate Democratic Whip Dick Durbin (Ill.) and Sen. Elizabeth Warren (Mass.) have endorsed the Sanders-Lee-Murphy resolution, Senate Minority Leader Chuck Schumer (D-N.Y.) has yet to weigh in and Shaheen's involvement in the Young effort may give some cover to other Democrats keen to look tough on Iran and respectful of longtime U.S. partners in the Arab world.
A spokesperson for Schumer did not respond to a HuffPost request for comment on his position.
For months, Young seemed fixated on the Saudi-UAE coalition's treatment of aid, particularly preventing the delivery of four U.S.-purchased cranes to help unload supplies at the crucial port of Hodeidah and halts on aid flows to rebel-held areas. Since Trump personally commented on the aid problems in December, the coalition has allowed the cranes to reach the port and launched a new $1.5 billion Yemen Comprehensive Humanitarian Operations plan. And Young has become far less critical of the U.S.-backed effort in Yemen, even as he has continued to meet with humanitarian leaders as part of his Senate Foreign Relations Committee work.
"I am grateful for the recent steps the Trump administration took to make clear to Riyadh that the use of food as a weapon of war is immoral, counterproductive, and illegal," he said in a Dec. 21 statement. "If Saudi Arabia fails to implement its commitments or resumes its starvation blockade, I will work with the administration and my colleagues in Congress to implement relevant U.S. law."
Now he seems to have more faith that Trump-Saudi dialogue is achieving the goals he has cited ― even though aid groups say some of the coalition's most punishing tactics, like an on-off blockade of Hodeidah port and bombing that has killed thousands of civilian lives, are ongoing.
And his bill paves the way for more conflict by describing the coalition as potentially helpful against Al Qaeda ― a group analysts say (and Young once said) it has actually fought alongside in some cases and helped to rise ― and providing the first official U.S. endorsement of coalition action against Iranian efforts to resupply the rebels.
"The Trump administration has made it clear that it wants a war with Iran. [Young's plan] would hand them that war on a silver platter by providing a de facto authorization for the use of force for vague Iranian threats," said an activist involved in Capitol Hill advocacy who asked for anonymity to preserve relationships. "That's troubling on its own, but when it's coming from a Senator like Todd Young who has positioned himself as a champion of ending Yemeni suffering, it's even more disturbing to see him endorse more conflict that will only exacerbate the U.S.-supported starvation of millions of civilians in Yemen."
"This always happens when Congress has a real opportunity to step up on issues of war and peace," Elizabeth Beavers of Indivisible, a nonprofit organization, wrote on Twitter. Lawmakers "try to construct a half-hearted off ramp that ultimately does nothing and goes nowhere, instead of taking their chance to have real impact. Don't let them do it this time."
Spokespeople for Shaheen and Young declined to comment for this story.
This article has been updated with more details on the legislation from Young and Shaheen.
Popular in the Community