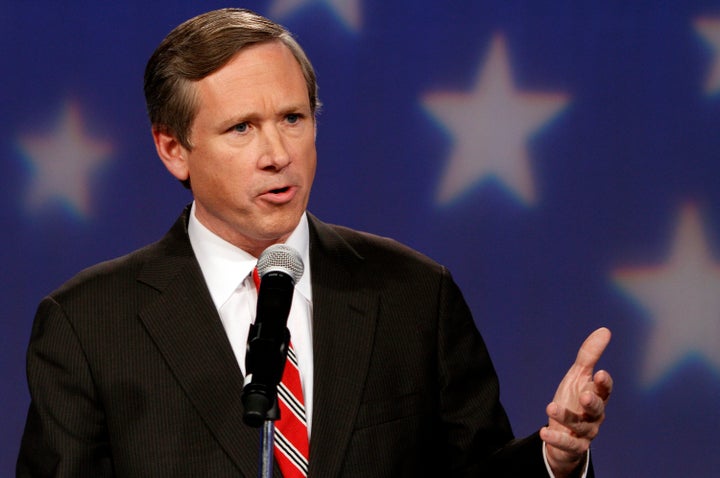 Sen. Mark Kirk (R-Ill.) became the first Republican member of Congress to rescind an endorsement of Donald Trump, saying on Tuesday that he could no longer support his party's presumptive nominee for president after Trump's racist attacks against a federal judge.
"I cannot and will not support my party's nominee for President," he said.
Kirk's statement was the most powerful denunciation of Trump to come from Republicans on Capitol Hill, but it was hardly the only one, suggesting that Trump's racist attacks are finally starting to worry GOP lawmakers.
Sen. Jeff Flake (R-Ariz.), one of the few Republican senators who have not backed Trump, went a step further, arguing that Trump's comments could motivate Republicans to challenge him at the party's convention in July.
"Where there's no talk of a convention challenge or anything else, this might spur it," he told reporters on Capitol Hill. "Let's face it: meet the old Trump, just like the new Trump. We've got what we've got. That's not somebody who can win the White House."
Flake's remarks came just a day after affirming that he still cannot support Trump. He said that Trump accusing U.S. District Judge Gonzalo Curiel of bias because of his "Mexican heritage" marked "a whole new level" for the presumptive GOP nominee. Flake also slammed Trump for not having serious policy proposals.
"'We're going to build a wall and make Mexico pay for it' is not a serious proposal," Flake said. "They want serious proposals on how to deal with this war on terrorism. Saying that you're going to ban Muslims from entering the country is not a serious proposal."
Sen. Susan Collins (R-Maine), another senator who has yet to back Trump, told a local radio station on Tuesday that Trump's comments "make it very difficult for me. It makes the decision a hard one."
"He's got this defining period that's over the next two or three weeks where he could pivot, can pivot, hopefully will pivot to a place where he becomes a true general election candidate," Corker said.
"I have spent my life building bridges and tearing down barriers – not building walls. That's why I find Donald Trump's belief that an American-born judge of Mexican descent is incapable of fairly presiding over his case is not only dead wrong, it is un-American," he said.
Kirk told NBC News that the rest of the party should follow his lead.
"I think we should send a strong message that racism and bigotry are not going to be tolerated in the party of Lincoln," he said, adding that he plans to write in retired Army general and former CIA director David Petraeus in November.
"If anybody was looking for an off-ramp, this is probably it," Graham said, referring to Trump's attacks against Curiel.
Support HuffPost
The Stakes Have Never Been Higher
Popular in the Community