WASHINGTON ― When former FBI Director James Comey appears before the Senate Intelligence Committee on Thursday to discuss the circumstances of his firing by President Donald Trump, his reputation won't be the only one on the line.
The Republicans sitting on the dais also face a tremendous amount of pressure. Comey has already submitted written testimony that, among other bombshells, confirms that Trump asked him to lay off the FBI's investigation into former national security adviser Michael Flynn. The senators can either choose to press the former FBI director in his lone public hearing for more information about one of the most critical investigations Congress has undertaken in decades, or they can use the occasion to run political interference for the nominal leader of their party. There will be very little in between.
"These people who thought … that they were going to go in there and make this about a different topic, I think those people have realized it's a dead end," said GOP strategist Rick Wilson, a vocal Trump critic. "This is clearly a story now about the president trying to suborn and corrupt our federal law enforcement agencies to protect himself and his friends. The magical power of Donald Trump to control what the press covers has reached its limit. This is where it ends."
Republican senators, Wilson added, must start distancing themselves from Trump or "play defense on the indefensible."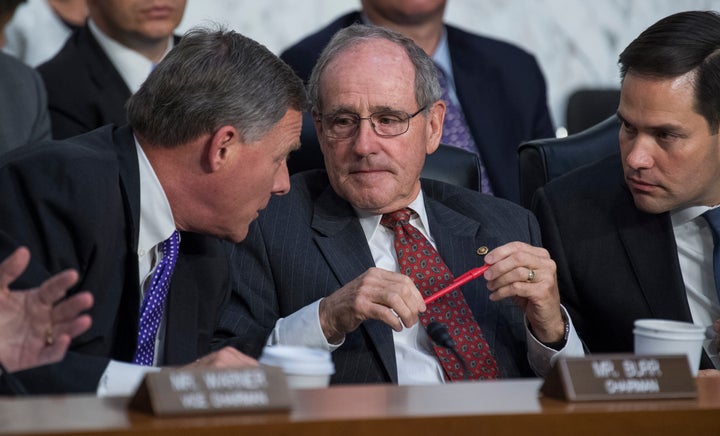 Leading up to Thursday's high-profile hearing, many lawmakers have indicated they want to explore those matters that trouble Wilson and others: namely, the extent to which Trump interfered in the FBI's Russia probe and the circumstances surrounding Comey's firing.
But the pressure for Republicans to help shield Trump politically will be strong too. The White House has indicated that they want to turn the tables on Comey, with reported plans to attack the former director as a "showboat." A pro-Trump nonprofit has bought time for a 30-second spot that will run during Thursday's hearing and question Comey's credibility.
If past hearings are prologue, some Republicans may be persuaded to mimic those lines or at least try to turn the hearing toward different issues, like the origin of leaks that have damaged Trump and Comey's decision not to raise his concerns about interference in real time. GOP lawmakers have already shown a remarkable willingness to admonish but not abandon the president, even as his scandals pile up.
Wilson himself said he doesn't have much confidence that Republicans will ask the questions they should, adding that it would "absolutely" cost them politically.
In the days before the hearing, few Republicans on the Intelligence Committee hinted how they would approach the grilling of Comey. Sen. James Lankford (R-Okla.) said he wants Comey to explain the purpose of the memos he reportedly kept and whether Russian officials engaged with any American citizen. But not much more.
That said, the committee includes senators who have been deferential to Trump as well as those who have been more openly critical.
Sen. Jim Risch (R-Idaho) scolded reporters for chasing stories that Trump had shared classified information with Russian officials, arguing that the focus should be on those leaking details of the president's private meetings. Risch defended the administration in an Intelligence Committee hearing on Wednesday when lawmakers questioned Dan Coats, the director of national intelligence, and Adm. Mike Rogers, the director of the National Security Agency, about conversations they'd had with the president concerning the FBI's investigation.
Sen. Richard Burr (R-N.C.), who chairs the Intelligence Committee, has also attempted to shift attention away from Trump and onto the press. When reports emerged that Comey had kept detailed notes on that key meeting with Trump, Burr called on The New York Times to supply the memo and openly doubted that the president had asked Comey to drop the Flynn investigation.
"The director of the FBI shared more information with Sen. Warner and myself than any director has ever shared," Burr said. "I think something as material as that, probably would have been something he would have shared, had it happened."
But along with Sen. Mark Warner (D-Va.), the vice chair of the committee, Burr has also come to Comey's defense when Trump has criticized him in the past.
Sen. John McCain (R-Ariz.), a firebrand who has been one of Trump's harsher critics, will also have a chance to question Comey. As an ex-officio member of the committee, he is allowed to sit in on the hearing. How he will focus his questions is not yet clear. When asked his thoughts about Comey's prepared testimony on Wednesday evening, McCain simply said that he wasn't surprised and that more shoes will drop.
Because they're up for re-election only every six years, senators are often less vulnerable to political pressure than their brethren in the House. But Julian Zelizer, a Princeton University historian, said that senators would still run real risks if they came off as administration patsies on matters as serious as these.
"If the scandals turn out to be real and they didn't ask the tough questions, then they become part of the problem," Zelizer said of Republicans. "If they don't say anything, if they let it slide, that's dangerous. ... It would show partisanship is so powerful a force that our institutions can weaken."
Some preview of how Republicans will handle Comey may have come during Wednesday's committee hearing with Coats and Rogers. During that session, Marco Rubio (R-Fla.) was one of the most aggressive GOP senators on the question of Trump's involvement in the Russia probe. Rubio pushed Coats and Rogers on whether Trump had asked them ― as opposed to merely pressuring them ― to interfere in the FBI investigation.
When Coats said he wasn't prepared to answer that, Rubio didn't leave it alone, arguing that he wasn't seeking any information that was classified. He was fairly dogged and pointed. And even then Wilson didn't think the senator went far enough.
"As a Republican, as a conservative, I'm deeply concerned that my party has continued to believe that just because Trump makes the media angry, that it's sufficient enough to forgive every sin," Wilson said. "I'm worried about representatives who are willing to burn themselves for this guy for nothing in return."
Support HuffPost
The Stakes Have Never Been Higher
Popular in the Community