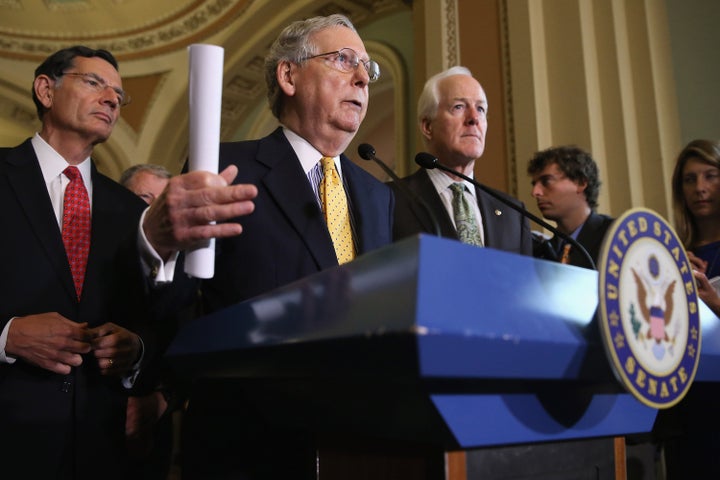 WASHINGTON -- Republican senators are finding themselves in the hot seat for promising to block President Barack Obama's potential nominee to replace the late Supreme Court Justice Antonin Scalia.
As Democrats tried to raise the pressure on their recalcitrant colleagues on Thursday by accusing them of abandoning their responsibility to the Constitution, Republicans on Capitol Hill were ducking and dodging reporters' questions on what's shaping up to be one of the biggest battles in Washington.
Several senators ran away from The Huffington Post this week as we tried to ask if they thought a Supreme Court nominee should get a hearing.
Sen. Joni Ernst (R-Iowa) said she had to "go vote," even though she could have talked as she walked to an elevator down the hall. Sen. David Vitter (R-La.) didn't even let HuffPost get the full question out before saying, "I don't do hallway interviews." Sen. Dan Coats (R-Ind.) said he had to "run to a meeting" and disappeared into an elevator. Sen. Rand Paul (R-Ky.) listened to the question and, with a blank look, said, "I'm not doing any interviews."
Sen. Chuck Grassley (R-Iowa) -- chairman of the Senate Judiciary Committee, where majority support is needed to advance the nomination -- attempted to shield himself from cameras by raising "a binder to cover his face" while exiting the Senate chamber on Wednesday. He opposes the prospect of even meeting Obama's potential nominee, a hard-line stance Democrats hope to exploit during Grassley's re-election fight later this year.
Sen. Jeff Flake (R-Ariz.) dodged questions about a potential backlash toward Republicans for vowing to block Obama's Supreme Court pick before the president has even named one.
"I'll let Sen. Grassley talk about it," Flake said.
Asked about his signature on a letter stating that Obama's nominee shouldn't get a hearing or a vote, Flake reiterated he did not wish to discuss the subject.
"Yeah, but I want to let him talk about it," he said of Grassley.
Pennsylvania Sen. Pat Toomey, a vulnerable GOP senator who has also pledged to keep the Supreme Court seat vacant until the next president enters the White House, told a reporter to "move back so that my elevator can go down." Reporters are sometimes invited inside members-only Senate elevators to conduct interviews.
Asked by a Politico reporter whether he supported holding hearings on a Supreme Court nominee, Sen. Thom Tillis (R-N.C.) gave a reasonable -- if not entirely true -- excuse:
And Senate Majority Leader Mitch McConnell (R-Ky.), who drew the line in the sand on potential Obama nominees within hours of Scalia's death, put an exclamation point on his party's opposition. He skipped town on Thursday afternoon, even though the White House had attempted to arrange a meeting between the president, McConnell and Grassley that day.
Before You Go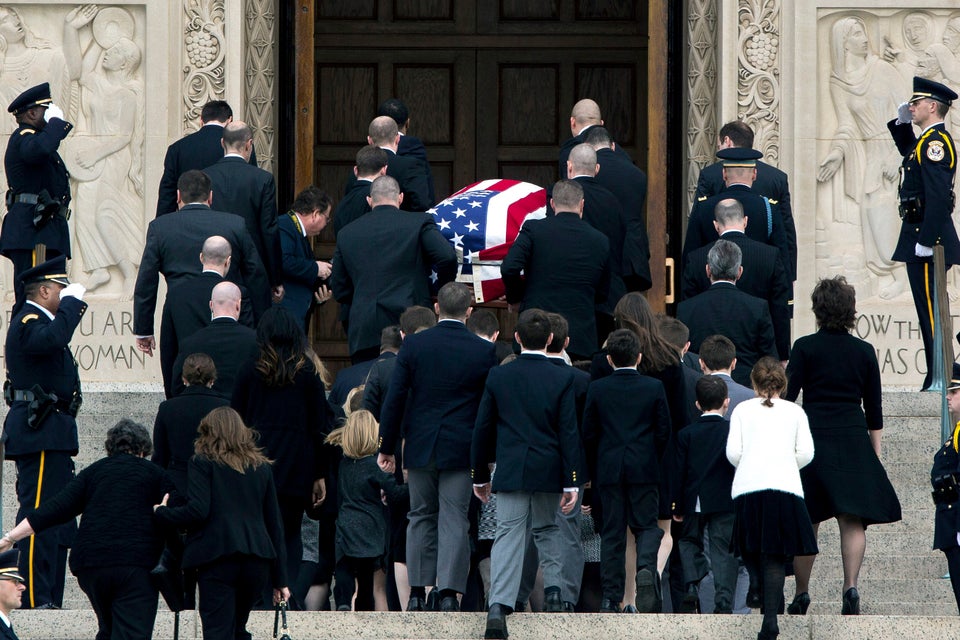 Funeral Of Supreme Court Justice Antonin Scalia
Popular in the Community