WASHINGTON ― Sen. Bob Corker (R-Tenn.) wants answers about any contact that occurred between Russian officials and top members of Donald Trump's presidential campaign, and he wants them fast, before the steady trickle of revelations cripples the Republican agenda.
Whether it's reforming tax laws or repealing Obamacare, Corker said, "you name it," that's an issue Republicans won't be able to focus on until they get to the bottom of what now-former Trump adviser Michael Flynn told Russia's U.S. ambassador about sanctions.
After fielding questions about Flynn all Tuesday, Corker and his fellow Republicans were again flooded with queries on Wednesday ― this time about reports that members of Trump's campaign were in "constant contact" with senior Russian intelligence officials in the year leading up to the election.
Corker, who chairs the Senate Foreign Relations Committee, told reporters Wednesday that the latest development "influenced" his thinking on how Republicans need to proceed with an investigation.
"I think with this continuing ― every day you guys are asking us questions ― it's obviously disruptive to governing," Corker said. "We need to figure out a better way to handle this, and I don't know what the answer to that is right now."
"The only way to make sure the country is not concerned about additional issues is to figure out a way to get it all out there, not dribble it out every other day so it's totally disruptive," he continued.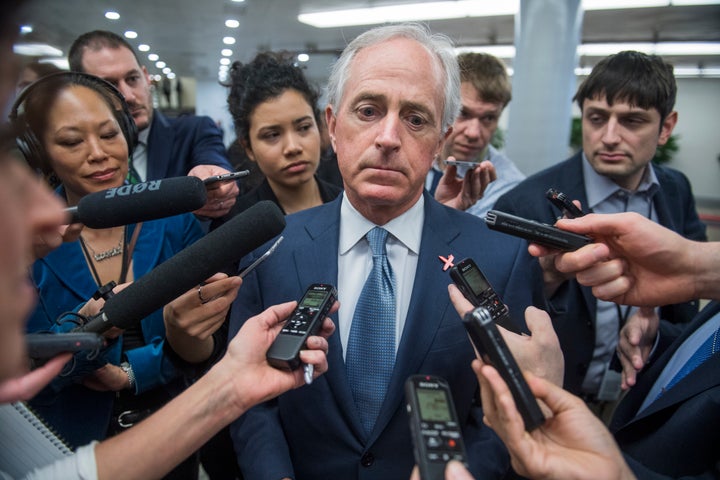 The investigation into what Flynn and others on Trump's campaign team did, and what the White House knew and when, will fall primarily on the shoulders of the Senate Intelligence Committee. But that panel's meetings are closed to the public and press. So Corker said he and others are weighing the best options for how other committees should proceed to make sure the American public gets some answers.
"We're talking about this and not something else. We've got to figure out a way to get it behind us," he said, adding that he's "hoping the White House will tighten up" and stop sending conflicting messages.
Sen. Roy Blunt (R-Mo.), a member of the Intelligence Committee, agreed that timing is key.
"I think sooner is better than later," Blunt said, noting that an independent commission could possibly delay the story by months.
Republicans aren't alone in feeling besieged by the constant stream of leaks about Trump's administration. Sen. Chris Murphy (D-Conn.) called it "extraordinary" that the U.S. "intelligence services seem to be at war" with the president.
"This is an unprecedented moment," Murphy told reporters on Wednesday. "I've never been a part of something like this in my political career. News is breaking at such a dizzying pace."
The top-ranking Democrat on the Senate Intelligence Committee, Mark Warner (Va.), said the investigation needs to be done "expeditiously" and "thoroughly."
"The challenge is not a day goes by without some new incident potentially complicating things," he said.
Sen. John McCain (R-Ariz.) had expressed similar frustrations on Tuesday. A reporter told the senator that he had a non-Flynn question. McCain lifted his arms and hugged the reporter. 
"It sucks the oxygen out of the room," McCain said of the constant scandals. "We're like small children, in that we only have certain priorities. Our attention spans are short and when you take the attention away from one issue and put it on another, honestly, it slows the progress of the issue that is not paramount at the time."
Speaking Wednesday, McCain disputed the idea that the Flynn scandal was distracting Capitol Hill leaders from getting work done, although he said it's important for Republicans to "keep our eye on the ball." The bigger threat to the GOP's ability to advance its agenda is the general "dysfunction" at the White House, he said, where it's unclear who is calling the shots and why communication has been so bad.
The "mixed messages" and "contradictory statements" coming out of the White House can't be denied, McCain told reporters.
"On literally every major issue there is, there's been contradictory statements," he said.
McCain had some free advice for Trump on how to restore order. "Set up a process of decision-making in the White House," he said. "You get somebody who's really well-regarded as the new national security adviser, and you start the machinery. And don't, by the way, roll out again a refugee executive order that takes everybody by surprise."
Pressed for his thoughts on those reports that Trump's campaign team communicated regularly with Russian officials, McCain couldn't say with "confidence" that such contact didn't extend all the way up to the president.
"All of it is concerning, all of it is very concerning, all of it is very concerning." he said.
Calling all HuffPost superfans!
Sign up for membership to become a founding member and help shape HuffPost's next chapter