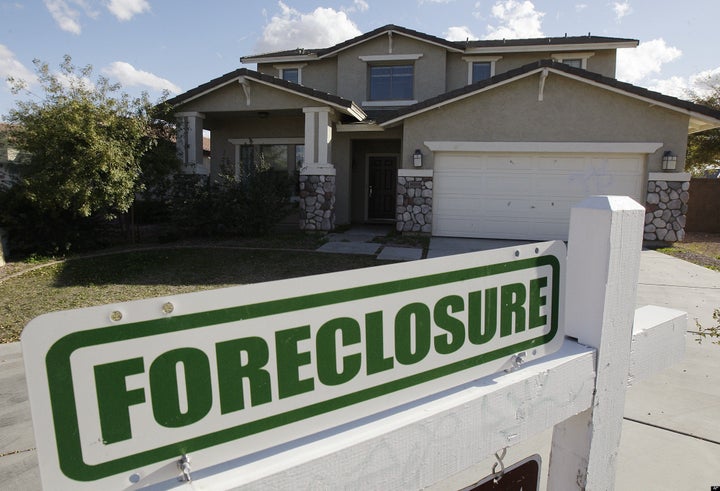 WASHINGTON -- As state and federal officials near an agreement with the nation's largest financial firms to settle allegations of abusive foreclosure practices, top Republicans in Congress are aggressively disputing their authority, decrying the possibility of expensive penalties against banks and questioning the need to help distressed homeowners.
But the calls from Capitol Hill run counter to those made by Republican state attorneys general, who are involved in the 50-state investigation seeking restitution for improper foreclosures.
The debate over how best to heal the nation's troubled housing market exposes a rift between Washington legislators and local law enforcement, who are investigating potential violations of state laws.
It also undercuts lawmakers' prior demands last autumn for a full investigation into widespread allegations of wrongful foreclosures.
On Wednesday, leading Republicans on the House Financial Services Committee sent a letter to Treasury Secretary Timothy Geithner expressing their concerns with any proposed settlement that would further regulate the mortgage industry or lead to large fines being levied against financial institutions. Also Wednesday, Sen. Richard Shelby of Alabama, the top Republican on the Senate Banking Committee, blasted the negotiations between banks and government officials, likening them to a "shakedown."
At least rhetorically, such attacks undermine government efforts to seek restitution for wronged borrowers. They also bode ill for attempts to reform what's widely acknowledged to be a broken mortgage finance system. It's a reprise of last year's debate to reform the broader financial system, during which many Republicans sought to kill a proposed agency dedicated to protecting consumers from abusive lenders.
The temporary head of that nascent agency, Elizabeth Warren, now finds herself cross-wise with the congressional GOP. So do state attorneys general, many of them Republicans, who serve as their states' top law enforcement officials and view improper foreclosure practices as violations of state law.
"We want to remedy losses that have occurred as a result of those problems," John Suthers, Colorado's attorney general, said of bank errors during the foreclosure process. Suthers is a Republican and one of four attorneys general leading the states' settlement talks with the nation's five largest mortgage firms.
"Let's go now and negotiate with the banks," said Mark Shurtleff, the Republican attorney general of Utah. Shurtleff added that the Republican attorneys general are waiting for a proposed final settlement agreement before deciding whether they will support it.
The current spate of criticism from GOP leaders contrasts with their calls for a wide-ranging investigation into foreclosure practices last fall. The current negotiations are a direct result of state and federal inquiries into the matter.
In October, Shelby demanded that federal banking regulators "immediately review the mortgage servicing and foreclosure activities" at major banks to "determine exactly what occurred at these institutions." He asked for the findings to be presented to the banking committee "without delay."
That same month, a spokesman for House Speaker John Boehner (R-Ohio), then the lower chamber's minority leader, told The Huffington Post that "at a time when economic uncertainty and unemployment are putting great pressure on homeowners and the housing market, it is imperative that we get all of the facts about this situation, and quickly."
A spokesman for Boehner was not immediately available for comment Friday. But Rep. Randy Neugebauer, a Texas Republican who serves on the financial services committee, said Thursday that the current settlement discussions are a "terrible" move that "verges on extortion."
Still, Neugebauer emphasized that he wants a full investigation into bank practices, and for those findings to be made public. "There should be more transparency to these processes," he said.
Neugebauer declined to support the kinds of penalties regulators are now discussing.
All 50 state attorneys general joined together last fall to probe bank foreclosure practices after several companies halted home repossessions when improper paperwork practices -- like the so-called "robo-signing" scandal -- came to light.
The law enforcement officers have said they've found that banks violated numerous state laws.
State and federal officials are considering a large-scale settlement with the largest banks that could include penalties totaling up to $30 billion and requirements to modify distressed mortgages, people involved in the discussions said.
A settlement agreement and requirements to modify troubled mortgages could help calm the roiling housing market, officials said.
In January, Sheila Bair, the Republican chair of the Federal Deposit Insurance Corporation, said that "chaos in mortgage servicing and foreclosure has created a dangerous new uncertainty in this fragile market."
Bair is among the officials looking for at least a $20 billion settlement, according to people familiar with the discussions.
Reforming the industry is one of the primary goals of the settlement talks, according to senior Treasury Department officials. Meeting with reporters Thursday, one top Treasury official said that bank foreclosure practices remain terrible, four years after the subprime crisis erupted.
Some Republican attorneys general are also looking for broader industry reforms. Suthers said that he and other law enforcement officials are looking forward to hearing mortgage firms' ideas on "how to structure a system that isn't the mess the system has been the past couple years."
Meanwhile, however, congressional Republicans have scored some political points by latching onto Warren's involvement in the discussions, part of a broader GOP effort to hamstring the emerging Consumer Financial Protection Bureau before it gets off the ground.
Last month, House Republicans voted to slash the bureau's budget for this year by about half. Now, in letters to the administration and in speeches, they're singling out Warren in questioning the bureau's authority to even participate in efforts to protect consumers and reform the broken process by which troubled mortgages are modified and homes are repossessed.
"They're trying to scapegoat her," said a person involved in the settlement discussions who wasn't authorized to speak publicly.
That person added that some of the Republicans who opposed the creation of the agency during last year's debate to reform the financial system, like Shelby and Alabama Rep. Spencer Bachus, now appear to be trying to undermine Warren's participation in the settlement discussions as a way to disrupt the government's enforcement effort and also isolate and marginalize the still-developing consumer unit.
Bachus, the Republican chairman of the House Financial Services Committee, was one of the signatories to Wednesday's letter to Geithner. Spokespersons for Shelby and Bachus didn't respond to calls seeking comment.
Neugebauer didn't hold back, however. "We question whether Ms. Warren has any authority to be playing a role, because she is not the head of the bureau," he said.
"I was in the homebuilding business. There's a difference between the homebuilder and the homeowner," Neugebauer continued. "As I look at Ms. Warren's task, she's supposed to be the homebuilder, not the homeowner. That agency, they have no head. The emperor has no clothes."
The settlement discussions have only just begun, people familiar with the matter said. But unlike their Republican colleagues in Washington, state attorneys general are open to significant fines.
The 50-state probe is led by an executive committee of 13 attorneys general, six of whom are Republicans.
During their association's annual spring meeting in Washington this week, many Republican attorneys general said they strongly supported the settlement talks.
When asked if a $20 or $30 billion penalty was too high, Shurtleff of Utah said no, pointing to numerous settlements state officials have entered into over the years with individual subprime lenders that totaled in the hundreds of millions -- in the case of Countrywide Financial, more than $8 billion.
"The servicers themselves acknowledge there are very serious problems in the foreclosure process," Suthers said. "That's a good starting point."
*************************
Zach Carter is a staff reporter in The Huffington Post's Washington bureau. He can be reached at zach.carter@huffingtonpost.com.
Calling all HuffPost superfans!
Sign up for membership to become a founding member and help shape HuffPost's next chapter