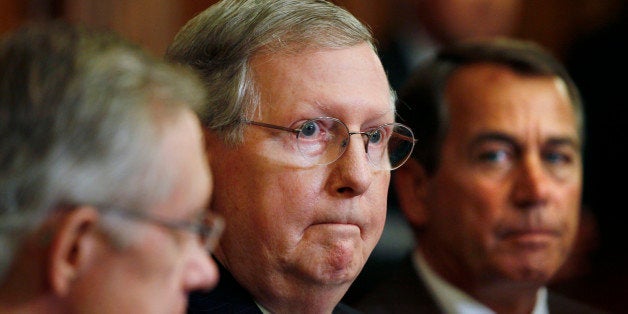 Five years ago, Joe Lucas, a house painter from Pittsburgh, was recovering from an aortic aneurism and faced insurance premiums nearing $1,000 a month, and only if he was offered coverage at all. This was after years of having no coverage because of high premiums, leaving him to foot a $69,000 hospital bill. Joe is one of millions of Americans who once faced bankruptcy resulting from a health scare. But, thanks to the Affordable Care Act, in just five short years Joe is now one of the millions with an affordable plan, and who receives a tax credit to make it more affordable.
Yet, despite the 16.4 million Americans who have obtained insurance under the ACA, and the millions more who have better coverage than before, both House and Senate Republicans proposed budgets last week to repeal the law.
Every single GOP budget since the ACA was passed has aimed to repeal the law, including the ones released last week. To be clear, budgets are moral documents reflecting the values of their author, and the GOP budgets show the wide gap between the party's rhetoric and their actual policy prescriptions for important issues such as how to achieve middle class growth, help those in poverty climb into the middle class, and improve our nation's education.
But perhaps no proposal illuminates the split between GOP rhetoric and reality more than health care, where Republicans have put forth no plan to insure the millions of Americans who would lose coverage if their budget became law.
When President Barack Obama first signed the Affordable Care Act into law on March 23, 2010, the president made clear his aspirations for the law, which he proclaimed enshrined "the core principle that everybody should have some basic security when it comes to their health care." In its five years of existence, the ACA has generated a seismic transformation of America's broken health care system, ending the practice of insurance companies rejecting people with pre-existing conditions, allowing young people to stay on their parents' insurance plans, and giving tax credits to millions to make coverage affordable. These reforms have not just made people feel secure about their health; they have solidified financial security as well.
But since the law's passage, Republicans have fought every day to eliminate it. Under Republican leadership, the House has voted more than 50 times to repeal or undermine the ACA. Conservatives have filed multiple lawsuits, culminating in a conservative loss in the Supreme Court in 2012. Unsatisfied, conservatives - through a manufactured issue -- have brought the law back to the high court in King v. Burwell, with the threat of taking away the tax credits from millions of Americans.
The message is clear: Republicans in Congress simply don't value access to affordable health care for millions of Americans.
Here is what conservatives are fighting to take away: Health coverage for the 3.1 million young Americans who have gained access to coverage under their parents' health plans. Access to coverage through Medicaid expansion for millions of low-income adults and children in states where governors are not fighting the same ideological battle as their congressional Republican friends. And for self-employed Americans, the ACA's marketplaces have made individual coverage more accessible and affordable, allowing more Americans to pursue entrepreneurial opportunities without worrying whether an unexpected illness or injury could plunge them into bankruptcy.
For seniors, the Affordable Care Act has substantially strengthened Medicare, providing better prescription coverage at a fraction of the cost. Importantly, the law also offers Medicare recipients certain preventative care services, allowing more patients to access live-savings screenings and wellness checks that allow medical professionals to detect and properly treat illnesses before they become life-threatening concerns.
Five years later, we know that the Affordable Care Act is working. People like Joe have seen their lives positively transformed by the law. Unfortunately, we also know Republicans have no plan to "fix" the ACA: During the King oral arguments earlier this month, Republicans promised to offer a fix if the court struck down the law's tax credits, then turned around days later and introduced two budgets that would repeal the law in its entirety. If the most recent conservative lawsuit against the ACA is successful, it will deal a devastating blow against the economic security of working families across the country. It is long past time for Republicans to end this ideological battle against health coverage for millions of Americans.
Emily Tisch Sussman is the Campaign Director for the Center for American Progress Action Fund
REAL LIFE. REAL NEWS. REAL VOICES.
Help us tell more of the stories that matter from voices that too often remain unheard.