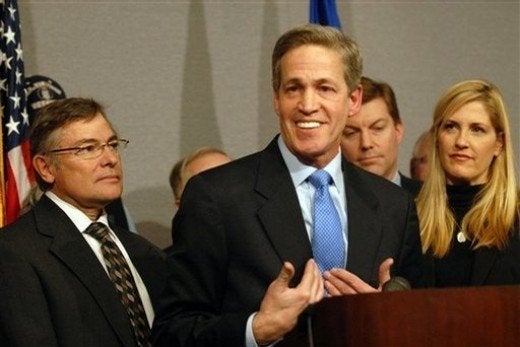 Norm Coleman is risking long-term damage to his reputation and any chance of running for office down the road if he keeps prolonging the Minnesota recount, a high-ranking Republican strategist warned on Wednesday.
Long-time GOP consultant Craig Shirley, CEO of Shirley & Banister Public Affairs, said that he supports and expects the former Minnesota Senator to appeal a recent three-judge-panel decision declaring Al Franken the recipient of the most votes in the Senate election.
"At this point, he might as well play the hand he's been dealt," said Shirley. "He has nothing to lose."
Beyond that, Shirley added, Coleman is playing with fire and putting his legacy and future on the line. "If this goes much farther, he will lose whatever goodwill he has remaining with the voters of Minnesota and he can kiss a political comeback goodbye. There is a fine line between toughness and obstinacy."
The remarks are some of the most sober yet on Coleman's options from within the GOP. On Wednesday, The Hill newspaper quoted an anonymous Republican campaign operative saying of the St. Paul Republican: "He's cooked ... At this point, continuing to carry on only damages his brand for future bids for office."
Not everyone in the GOP, naturally, feels this way. The NRSC and RNC, after a small delay, both produced public statements cheering along Coleman's decision to keep all political and legal options open. John McLaughlin, another long-time Republican consultant and principle at McLaughlin & Associates, said he should keep fighting.
"I don't think there will be long-term damage made," he said, of appealing the decision all the way to the U.S. Supreme Court. "Because, first of all, it has been so long, there have been times when Coleman has been ahead and Franken has been ahead. Franken exhausted his appeals and Coleman will be given the support to do so to ... But because [Coleman] has to raise money and pay those legal bills, when it gets to that point that it doesn't look worth it ... that's when the party will pull the plug."
Of course, the real arbiter of how much good will Coleman has left comes from the voters in Minnesota. And on this front, the former Senator seems to be on his last legs. A Public Policy Polling survey released on Wednesday showed that, by a two-to-one margin, Minnesotans believed that Coleman should concede the Senate race.
"63% think that Norm Coleman should concede," the study finds. "59% think [Gov.] Tim Pawlenty should certify Al Franken as the winner of the election."
Calling all HuffPost superfans!
Sign up for membership to become a founding member and help shape HuffPost's next chapter