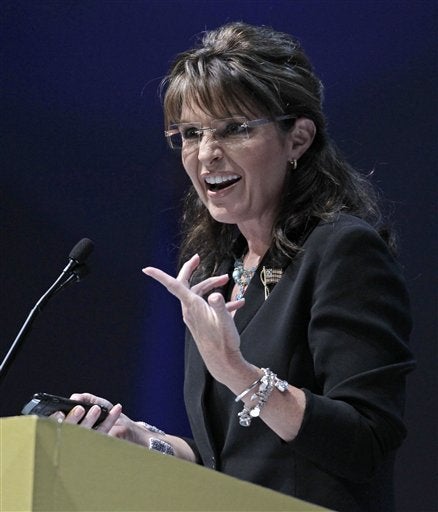 A GOP strategist employed by the same company contracted by California Republican Senate hopeful Carly Fiorina recently had some unenthusiastic words for half-term Alaska Governor Sarah Palin, who endorsed Fiorina earlier this month.
In a Facebook update, Matt Rexroad, a managing partner of strategy firm Meridian Pacific, Inc. though not working with the Fiorina campaign, wrote of Palin's endorsement that he "understands it works with Republican voters.....but if Sarah Palin endorsed me I would be too embarrassed to tell anyone.
"I hope it's not a big deal!" he laughed. "I support Carly and I'll be voting for her, and I think she's going to win. But from my point of view, I don't know how you quit as the governor of your state and get taken seriously. I have a client this cycle who tells me I should keep this to myself, but it's my opinion. Look at Ross Perot -- he was rock star for a while, and then after a while people said, hey, he's kind of crazy."
Rexroad continued on to explain that there were plenty of more qualified, more respectable politicians who had come out in support of Fiorina. The intense focus on Palin's endorsement, Rexroad said, might be good politics, but it was selling the seriousness of Fiorina's candidacy short.
As Weigel points out, Rexroad's critical and unorthodox view of Palin is indicative of a large schism felt between veteran GOP leadership and Palin's raw power as an influential -- but perhaps not fully competent -- political figure:

At the Southern Republican Leadership Conference, Palin got, by far, the best reception of any possible 2012 candidate who took the stage. But she came in third in the straw poll, and plenty of Republicans told reporters that they hesitated to back her because they didn't think she could handle the job of president yet.
John Peschong, a partner at Meridian Pacific, responded to the Rexroad's comments Friday:
Matt Rexroad is my business partner, but when it comes to Sarah Palin he has no idea what he is talking about and is wrong in his assessment of her and the value she brings to campaigns. I have known Sarah Palin and her family for years in my roles as the Republican National Committee's Western States Political Director and as Western States Campaign Manager for McCain-Palin and have the highest regard for her. She is a true conservative and great Republican leader who cares deeply about the direction our country is headed. Matt is not in any way involved in Carly Fiorina's campaign, and even if he was, it is clear that his advice would have gone completely ignored. Carly is honored to have Governor Palin's endorsement and we look forward to continuing to make sure Republican voters know who she is supporting in this election.
Popular in the Community