The New York Times published a captivating story on Monday recounting the anger and disillusionment amid the men that served with U.S. Army Sgt. Bowe Bergdahl. But the report about the only known American prisoner of war in Afghanistan, who was released in a prisoner swap secured by the Obama administration this weekend, also revealed a larger story about the backlash against Bergdahl by disclosing that Republican strategists organized media interviews with members of his former platoon.
"Yes, I'm angry," Joshua Cornelison, a former medic in Sergeant Bergdahl's platoon, said in an interview on Monday arranged by Republican strategists. "Everything that we did in those days was to advance the search for Bergdahl. If we were doing some mission and there was a reliable report that Bergdahl was somewhere, our orders were that we were to quit that mission and follow that report."
"He wouldn't drink beer or eat barbecue and hang out with the other 20-year-olds," Cody Full, another member of Sergeant Bergdahl's platoon, said in an interview on Monday also arranged by Republican strategists. "He was always in his bunk. He ordered Rosetta Stone for all the languages there, learning Dari and Arabic and Pashto."
On Tuesday, BuzzFeed identified Richard Grenell, who once served as an aide to U.S. ambassador to the United Nations John Bolton and later worked for Mitt Romney's 2012 presidential campaign, as playing a key role in publicizing Bergdahl's critics.
"My role was to ask the firm to help facilitate the interviews for free. Brad Chase agreed to do it. He is handling all the requests. He isn't political. I originally spoke to Cody, the leader, via Twitter then asked the firm," Grenell told The Huffington Post's Sam Stein.
Certainly Bergdahl's release on Saturday raises legitimate questions about the circumstances surrounding his capture, the legality of the exchange and whether it merited the release of five Guantanamo Bay detainees. But the fact that Republican operatives are shopping around interviews behind the scenes meant to stir opposition to the Obama administration threatens to turn the debate over a prisoner of war into another partisan slugfest ahead of the November midterm elections.
And that's not to say some members of Bergdahl's platoon aren't speaking out on their own. Fellow soldiers who served with him also said the 28-year-old was a deserter who unnecessarily cost the lives of men who were searching for him months after he went missing on June 30, 2009.
But in disclosing the nature of the interviews, some conservatives accused The New York Times of politicizing Bergdahl instead.
"New York Times tries to make soldiers speaking out about Bergdahl political -- incredible," Steve Krakauer, vice president of digital content for The Blaze, wrote on Twitter.
Republicans could continue criticizing the manner in which President Barack Obama secured the release of Bergdahl by arguing that he circumvented the law in failing to notify Congress of the negotiations. And they could raise further concerns about what kind of threat the released detainees could pose in the future. But conservatives are instead targeting Berghdahl and his father, Bob, who grew a beard and learned Arabic, for posting and deleting a tweet that said he was "still working to free all Guantanamo prisoners."
The Army may still pursue an investigation that could lead to desertion or other charges against Bergdahl, but nevertheless Obama defended the prisoner swap on Tuesday.
"Regardless of the circumstances, whatever those circumstances may turn out to be, we still get an American soldier back if he's held in captivity. We don't condition that," he said at a press conference in Warsaw, Poland.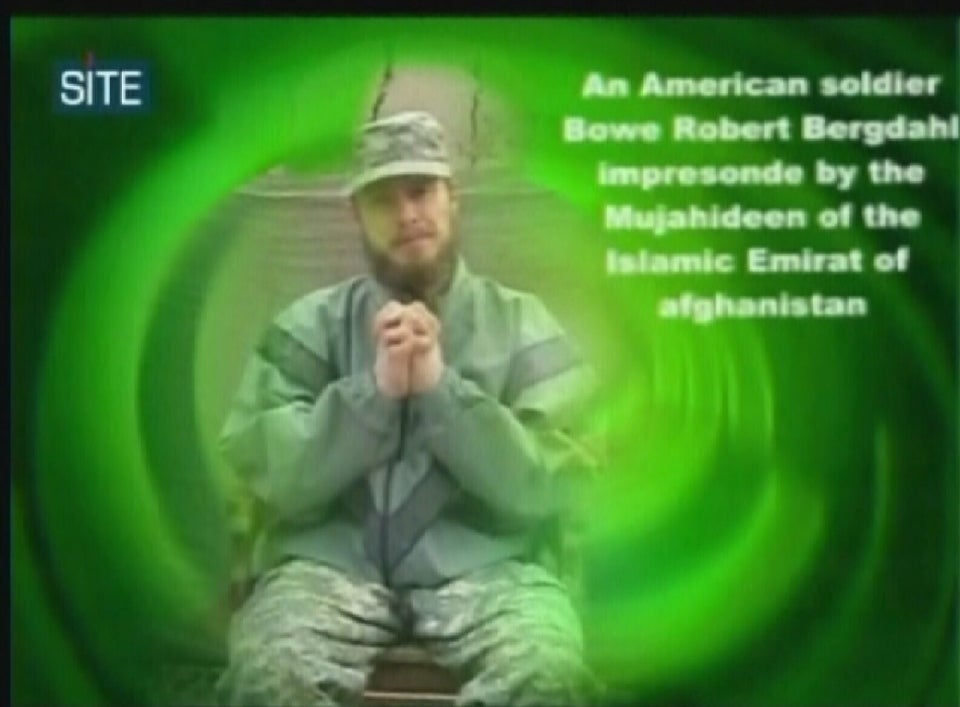 Bowe Bergdahl
Popular in the Community