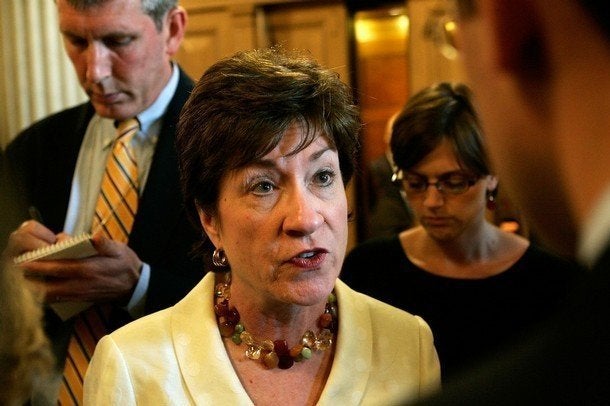 [with reporting from Ryan Grim]
Remember way back in the day, President Obama delivered his Not Really The State Of The Union address, and the GOP trotted out Future Of The Republican Party Supra-Genius Bobbly Jindal to provide a rebuttal? Well, we all had some laughs, didn't we? Mainly because Jindal was all: "They want to spend stimulus money on volcano monitoring? Why everyone knows that the Hill Witch keeps tabs on our volcanoes by floating chicken bones in her own intestinal ichor!" And then Alaska's Mount Redoubt erupted, suggesting there might be something to this "let's monitor volcanoes with government-funded science" idea.
Well, as it turns out, volcano monitoring wasn't the only worthwhile public safety program that was deemed extravagant in the stimulus package, funding for pandemic preparation was axed as well. And playing a critical role was Susan Collins -- for whom the necessity of obtaining her vote is in inverse proportion to the intelligence she shows in policy making.
Famously, Maine Senator Collins, the supposedly moderate Republican who demanded cuts in health care spending in exchange for her support of a watered-down version of the stimulus, fumed about the pandemic funding: "Does it belong in this bill? Should we have $870 million in this bill No, we should not."

Even now, Collins continues to use her official website to highlight the fact that she led the fight to strip the pandemic preparedness money out of the Senate's version of the stimulus measure.
The wisdom of Collins' lawmaking is already being celebrated, in video:
Naturally, it's tough to keep an economy stimulated if productivity gets diminished by a pandemic. And, hey, it turns out that the lack of a stable and well-funded public health infrastructure may ">not be so good for economic recovery as a whole:
On Monday, the question began to be answered, as Associated Press reported -- under the headline: "World Markets Struck By Swine Flu Fears" -- that: "World stock markets fell Monday as investors worried that a deadly outbreak of swine flu in Mexico could go global and derail any global economic recovery."

Before U.S. markets opened, the Wall Street Journal reported: "U.S. stock futures fell sharply Monday as the outbreak of deadly swine flu stoked fears that a possible recovery in the global economy could be derailed."
Karl Rove, from his perch at the Wall Street Journal, criticized the inclusion of "$462 million for the Centers for Disease Control, and $900 million for pandemic flu preparations," on the grounds that "health care also added jobs" in the previous year. Such expenditures were, to Rove, "disturbing" and an example of President Obama's "lack of engagement and leadership."
UPDATE: HuffPost's Ryan Grim has been chasing down comments today, in an attempt to measure the effect the swine flu outbreak is having on everyone's hindsight:
"We had $870 million in the committee-reported stimulus bill for buying anti-virals, vaccines, planning, etc. It was dropped in Collins-Nelson because it was 'not stimulative,'" said a Senate leadership aide.

"We did put over $500 million in the omnibus, and HHS/DHS are fairly well-supplied, but it was an opportunity lost for being appropriately prepared."

Sen. Tom Harkin (D-Iowa) was among those who had pushed for the pandemic money after pressing the Bush administration to take bird flu seriously.

"The Senator was disappointed that the money was taken out of the economic recovery package because that money was to develop the capacity to produce pandemic vaccines quickly in the U.S. in response to any pandemic," said his spokeswoman Kate Cyrul. "This capacity is not there yet and would not be if we had appropriated the money, but the current outbreak reminds us that we need to be prepared."
As Ranking Member of the Senate Homeland Security Committee, Senator Collins has led hearings on pandemic flu preparedness, worked on "bioshield" legislation and funding, and helped strengthen our nation's preparedness for a pandemic flu.

Claims that she is opposed to increased funding for pandemic flu research are blatantly false and politically motivated. In fact, in December 2008, Senator Collins joined in a letter to Senate leaders requesting a $905 million increase for the Public Health and Social Services Emergency Fund at the Department of Health and Human Services.

There is no evidence that federal efforts to address the swine flu outbreak have been hampered by a lack of funds. Senator Collins does, however, believe that it is a problem that the Centers for Disease Control and the Department of Health and Human Services still do not have top positions filled. She hopes the Senate will move promptly to confirm Governor Sebelius for HHS Secretary.

Dave Obey (D-Wisc.), who backed the pandemic preparedness funding in the stimulus package, also released a statement today:
"We have been trying to get adequate funding to prepare the nation for a pandemic outbreak since 2005. We tried again as recently as January in the economic recovery package. Whether or not this influenza strain turns out to have pandemic potential, sooner or later some strain will."


"We are not prepared today. Let's hope we don't need to be. Because we need to become prepared as soon as possible, I intend to again request additional funds in the upcoming supplemental."
Here's what Obey said about pandemic funding in the report that accompanied the House version of the recovery package:
Pandemic influenza poses a major threat to the nation's public health, security, and economy. CBO has estimated that an influenza pandemic might cause a decline in U.S. gross domestic product of between 1 and 4.25 percent depending on the severity of the pandemic. Providing additional funding to prepare for and respond to a pandemic will ameliorate the morbidity and mortality associated with worst case scenarios of an influenza pandemic thereby reducing the potential economic burden. Another program funded in this recovery package is BARDA, which supports advanced development and procurement of medical countermeasures, such as vaccines, therapeutics, and diagnostics for chemical, biological, radiological, and nuclear agents, as well as other emerging infectious diseases. According to a recent independent economic analysis of BARDA, in order to develop countermeasures for all biodefense requirements identified in HHS's Public Health Emergency Countermeasures Enterprise Implementation Plan, significant increased investment in advanced development is required. BARDA also provides for the expansion of the domestic manufacturing infrastructure to support new vaccines and other countermeasures, where an expansion of domestic manufacturing is desired to provide sufficient quantities of products in a timely manner.
[Would you like to follow me on Twitter? Because why not? Also, please send tips to tv@huffingtonpost.com -- learn more about our media monitoring project here.]
Popular in the Community