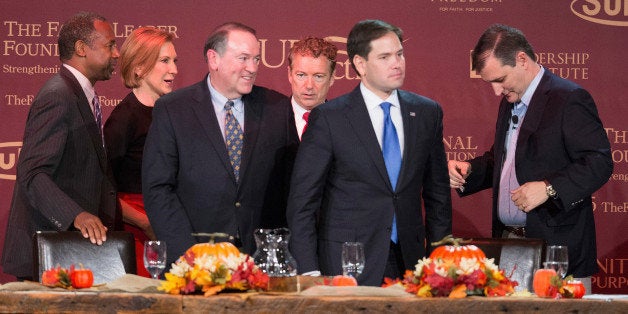 Remember how New Jersey's Governor Chris Christie ("coincidentally," the State where thousands of "Arabs" gathered to cheer the fall of the World Trade Center on 9/11 according to his rival for the GOP presidential nomination, Donald Trump) came out tough as nails in the autumn of 2014 in favor of mandatory quarantines for all returning health care workers from Ebola-infected areas, regardless of lack of any symptoms? As Christie put it, his policy was not "draconian" but merely "common sense," which the federal Centers for Disease Control and Prevention obviously lacked.
Senator Ted Cruz, another Republican candidate for president, also expressed his concern last fall that "the administration is not treating [Ebola] ... with the gravity it deserves and is not focusing ... on protecting Americans from being unnecessarily at risk from this public health outbreak. And Senator Ryan Paul, likewise a GOP presidential candidate now, sounded the alarm that Ebola was "a lot more transmittable" than the CDC officials were saying (by direct contact with infected bodily fluids only).
All these prospective Republican presidential candidates were drawing from assertions made by the same right-wing talk radio broadcasters who are vociferously supporting many of them. Michael Savage, for example, accused Obama of purposely bringing the Ebola virus into the United States in order to bring the country down, stating: "That's the way to make things fair and equitable. You can't have a nation with such good health in a world where there's such sickness. Obama wants equality, and he wants fairness, and it's only fair that America have a nice epidemic or two or three or four in order to really feel what it's like to be in the Third World. You have to look at it from the point of view of a leftist." At the time, he also claimed that Obama was guilty of treason for sending US soldiers to help out in Ebola zones so that they would bring the virus back to America, and that the virus was directly linked to Obama's "open borders" policy.
Not to be outdone, Savage's competitor Rush Limbaugh alleged that Obama would not divert flights from Africa to the US because he thinks Americans deserve Ebola as payback for slavery. Mark Levin and other right-wing journalists and commentators also blamed Obama's immigration stand for allowing Ebola to pass into the US. Levin and other like Limbaugh and Sean Hannity are often mentioned by Cruz in his campaign speeches and proposals.
Donald Trump, of course, took to Twitter on the subject of Ebola, asserting that even the American doctors who left to help treat Ebola victims in Africa should not be let back into the country because they had to suffer "the consequences" of their actions. Trump also said Obama should resign over refusing to follow his advice with respect to doctors trying to come back from African Ebola zones.
Does all this sound familiar, in the wake of ISIS's actions in Paris earlier this month and the issue of whether or not to allow additional Muslim Syrian refugees into the US? Certainly talk radio has brought out the same playbook used back in "Ebola time" (when, by the way, all their dire predictions and conspiracy theories were proven wrong, simply because they did not in fact happen!). Michael Savage doubled down as well on the "Obama the traitor" approach, with his allegations that the President is trying to bring in 100,000 non-Christian refugees to overthrow the people, and that "'only Donald Trump can stop Obama" from forcing all American children "to bow to Allah."
Besides the Savage/Trump duet, Senator Cruz and Sean Hannity are also singing from the same hymnal, when it comes to Muslims and refugees, as they opened up during the Ebola scare. Cruz most recently said that Obama's radical ideology was putting American lives in danger, distinguishing Irish and Italian immigrants of the past from refugees now coming here to blow up and murder Americans. Mark Levin joined in, asserting that Obama and Hillary Clinton have "blood on their hands" for the rise of ISIS.
Doctor Ben Carson has also embraced an Ebola-like stance with respect to Muslim refugees from Syria, likening them to "rabid dogs" that Americans would surely want to shield their children from by calling in the Humane Society. Not quite the same as quarantine, given that rabid dogs are usually "neutralized," to use the current police metaphor for shooting to kill. And Governor Christie made clear he would even ban orphans as young as three years old due to his distrust of Obama - the same distrust he cited in his eventually futile campaign to ban medical staff returning from Ebola-plagued areas of Africa.
Striving for competitive credibility, Mike Huckabee also denounced Obama for his ISIS and refugee policies as a "cub scout" response to ISIS and the threat posed by refugees.
Carson, Cruz, Trump, Christie and Huckabee (and to a lesser extent Rubio) all seem to be competing for the role of "the acceptable face" of outright racism and xenophobia when it comes to African blacks and Muslim refugees, basically using the same assertions of treachery and evil intent on the part of the first black President that are propagated daily for 12 hours on talk radio, using hyperbole and outright lies marketed as "news" across America. All of these candidates are benefitting from this unofficial but very real "SuperPac" network of talk radio promoters. We might even ask if we are also seeing a replay of the "payola" scandals of the 50s and 60s, as well as the failed campaign to set up Obama's impeachment or worse in the context of Ebola hysteria.
Calling all HuffPost superfans!
Sign up for membership to become a founding member and help shape HuffPost's next chapter